Slovenia joined the SOAR family in April 2022. The Republic of Slovenia is located in Central Europe and is bordered by Italy to the west, Austria to the north, Hungary to the northeast, Croatia to the southeast, and the Adriatic Sea to the southwest. Slovenia is mostly mountainous and forested with a population of 2.1 million. Slovenes constitute more than 80% of the country's population. Slovenia has historically been the crossroads of Slavic, Germanic, and Romance languages and cultures. In June 1991, Slovenia became the first republic to split from Yugoslavia and become an independent sovereign state. Slovenia is a developed country with a high-income economy ranking in the Human Development Index. It is a member of the United Nations, the European Union, the Schengen Area, the Council of Europe, and NATO.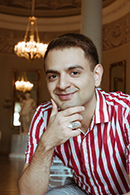 Aram Vermishian
President
Born in Saint-Petersburg (Russia), Aram has been living in Slovenia since 2011. He is a Translator specializing in Russian and English languages at The Bridge Research Network, as well as a Social Media Manager at Matrix Music Distribution.
Currently, Aram is completing his Bachelor studies at the University of Primorska, focusing on Tourism Enterprise Management, and is going to further pursue Master studies in Heritage Tourism. After having received the Bilingual Diploma of the International Baccalaureate Program in 2016, he has engaged in a number of career experiences, from being a small business owner and an English language teacher to being a translator and an administrator of reception. Aram speaks 6 languages (Armenian, Russian, English, Slovene, along with some Italian and German), which is a result of residence abroad and interaction with diverse individuals representing various cultures and backgrounds throughout the years. He believes in and strives for discipline, focus, and tenacity.
Aram feels honored to join the SOAR team and looks forward to contributing to the improvement of the lives of the Armenian children in need.