SOAR - Assumption University Group
The Assumption University Group joined the SOAR family November 2019. Assumption University is located in Worcester, MA. This club of Assumption University students supports SOAR by engaging its student body in our mission and holding fundraisers.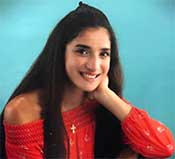 Lilit Kevorkian
President
Lilit was adopted from Gyumri, Armenia when she was 4 years old. She got the opportunity to start the next chapter in her life in New York. Lilit is currently a student at Assumption University in Worcester, Massachusetts and is very involved in the American-Armenian community in the Northeast. Being Armenian has taught her so much about the value of her cultural heritage. She loves helping others and is very excited to start the SOAR Assumption group at her university.
February 2020
On Monday, February 10, SOAR Assumption College Group held its Kickoff Meeting led by President Lilit Kevorkian (center)! Lilit recently established the group in 2019, and hit the ground running in 2020 mobilizing the student body behind the mission of SOAR. Follow the group's exciting fundraising plans this year on Instagram @soar_assumption!