SOAR - Zurich Chapter
Switzerland became part of the SOAR family in September 2013. The first Armenian families settled in Switzerland at the end of the 19th century, fleeing persecution of Sultan Abdul Hamid in the Ottoman Empire. They settled mainly in French-speaking Switzerland. During and immediately after the Armenian Genocide of 1915, other refugees arrived. In the 1920s, Pastor Kraft Bonnard created an orphanage in Begnins where more than 200 orphans and genocide survivors found refuge. After finishing their studies, some remained permanently in Switzerland.
At the end of the Second World War, the community in Switzerland reached approximately 300 people. Since then, the number has continued to grow. The situations in the Middle East, in the former Soviet Union, and in independent Armenia have encouraged many Armenians to immigrate to the West. It is estimated that approximately 5,000 Armenians live in Switzerland today.
The majority of Swiss Armenians are members of the Armenian Apostolic Church, under the jurisdiction of the Mother See of Holy Echmiadzin. There are four church regions: Geneva, Zurich, Neuchatel and Lugano. The Saint Hagop Church in Troinex serves mainly the West of the country, while Armenians living in the East conduct their religious services in a number of sister Swiss churches. There are also a smaller number of Armenian Catholics belonging and even a smaller number of Armenian Evangelicals.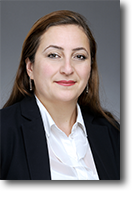 Lernuhi Tchang Baghdasaryan
President
Lernuhi earned her Bachelor's Degree as an Economist/Accountant/Financier from Armenian Agricultural Academy. She went on to earn her Master's Degree as an Economist from the State Agrarian University of Armenia. On top of that, Lernuhi has completed extensive training from Foreign Currency Operations and Project Management, to varied law and financial training through Central Law Training Ltd in Zurich.
Lernuhi currently works as a Head of Finance and Human Resources at SUEZ Group. She has held positions in the past as a Financial Specialist, Senior Trust Accountant, Financial Reporting and Controlling, Chief Accountant, and also as a Deputy Manager and Marketing and Sales Manager in various world leading companies, showing her diversity. Being able to speak five languages; Armenian, Russian, English, German, and French is another of Lernuhi's skills.
Lernuhi says that her reason for joining SOAR is, "To offer less fortunate children a chance for a better future".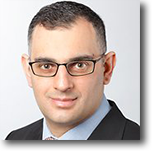 Markus Yünkes-Baghdassarian
Vice President
Markus is the founder and CEO of Nolexis and therefore accountable for the strategic direction and the day-to-day business. Prior to founding Nolexis, Markus worked as as lawyer in several legal fields but left because could not express his visionary way of seeing things in the day-to-day routine of a lawyer's world.
He is an entrepreneur with a lot of passion. He is fluent in German, English, French, Turkish and learning Armenian. Markus loves being involved with Armenian causes in Armenia and around the world. Being a nature lover, he enjoys hiking, skiing, and swimming.
Markus was born and raised in Switzerland and currently lives in Zurich and Geneva. He visits Armenia frequently and also travels between Asia and the US.

Tania Gulekjian Mobayed
Treasurer
Tania was born in Beirut, Lebanon, and grew up in Fort Lee, NJ and New York City, earning a B.A. in economics and an M.B.A. in finance. She founded a student credit union at Rutgers University and worked at the S.E.C. in Washington D.C.. Tania has worked as a private banker with Citigroup and currently is employed at Credit Suisse in Zug, Switzerland.
Tania and her family have lived in Zug for 20 years. She is fluent in German, French and Armenian and enjoys skiing, cooking, and traveling. Tania loves being involved with Armenian causes and a recent trip to Birds' Nest has inspired her to support SOAR in Switzerland.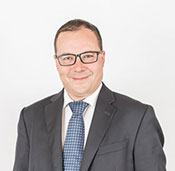 Fabien Tchang
Executive Secretary
Fabien is the "first gentleman" in the SOAR Zurich chapter, having the pleasure and luck of being married to Lernuhi Tchang-Baghdasaryan, who is currently serving as its president.
Fabien has been a Line and Project Manager in Financial IT since 2001 with special knowledge in core banking as well as card and bank payments infrastructure. He is an Alumni from HWZ where he studied Business Engineering and is an expert in organization, Lean Management, IT Operations and infrastructure as well as SW Lifecycle processes and quality assurance.
Fabien is currently working as a Consultant for varying companies in the Financial Sector mainly in the greater Zurich area. In the past he worked as Systems Engineer/Database Admin, Test Expert and Test Manager, Head of Department and Project Manager. His French-Swiss bi-nationality and his language skills in English, French, German as well as some Spanish and Armenian round up his profile.
"I believe to be rightfully happy if in this life I can support and encourage orphans and drop by drop, hollow the heavy stone of their fate."
Tamar Artinian
Tamar moved from Kuwait with her family to Switzerland. She has two children and has worked in retail and credit banking. Currently Tamar is learning German while raising her children. She is passionate about cooking and also about becoming a member of SOAR and assisting in their mission.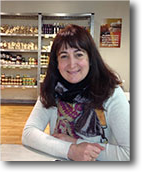 Carla Kapikian
Carla was born in NYC and grew up on Long Island, in Manhasset. After earning an SB in Mathematics from MIT and an MBA from Harvard University, Carla worked on Wall Street in banking and on Madison Avenue in advertising. Carla moved to Baar, Switzerland in 2008 where she currently resides with her husband. She is working at the Lucerne University of Applied Sciences and Arts, lecturing and managing the development of the only engineering Bachelor's degree offered in English in the Swiss university system.
Carla is actively involved in volunteer activities for both her alma maters. From the time she was a student, she has worked with the MIT admissions office, meeting with prospective students. Today, Carla also mentors local children, committed to the education and learning process in Switzerland. For generations, Carla's family has contributed toward the needs of Armenia and Armenians around the world. Carla continues this legacy and looks forward to raising awareness of SOAR within the community.