Warsaw joined the SOAR family in April 2018. Armenians in Poland have an important presence going back to the 14th century. At the beginning of the 20th century, there were about 6,000 Armenians in Poland, living mostly in what is today Western Ukraine, with centers in Lviv, Ivano-Frankivsk, Berezhany, Lysets, Tlumach, and Snityn. Polish-Armenians were an integral part of the movement to restore Poland's independence after the First World War. After suffering heavy losses in the Second World War, the Polish Armenian community suffered a second loss. The regions of Poland where Armenians were concentrated, like Eastern Galicia, were annexed into the Soviet Union at the Yalta Conference. As a result, the Polish Armenian community became dispersed across Poland. Many resettled in Krakow, Gliwice, Opole, Wroclaw, Poznan, Gdansk, and Warsaw. To combat this dispersion, Armenians began to form cultural associations. Additionally, the Armenian Catholic Church opened two parishes, in Gdansk and Gliwice. There are approximately 5,000 Armenians living in Poland today.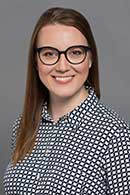 Patrycja Hadryjan
President
Patrycja Hadyjan has a Bachelor's Degree in Russian Philology – teaching specialization, she is also a third year law student at Lazarski University and a first year philosophy student at Domuni University. Patrycja passed the secondary-school leaving exam with Latin and was studying classical languages at Jagiellonian University (unfortunately due to personal issues she was forced to interrupt her studies, but she is planning to resume them as soon as possible).
Patrycja loves children, therefore she chose teaching for her profession. In the future, she would like to work in the family law area, especially as a probation officer or judge. Philosophy and ethics are her second passions. She is conducting special workshops for people from all over the world about 'Philosophy in everyday life'.
Patrycja would like to have 5 children, she loves Aram Khachaturian and in her free time, she plays the cello. She is trying to be like a sponge and absorb all the knowledge she can get by working for organizations with open-minded people.  Gordon Ramsay, Margaret Thatcher, and Marcus Aurelius are her role models.
Patrycja's core values: Excellence, commitment, loyalty.