SOAR-Toronto joined the Society for Orphaned Armenian Relief- SOAR Family in April 2012.  Armenians began settling in Southern Ontario and eventually the city of Toronto in the late 19th and early 20th centuries, escaping persecution by the Ottomans and the 1915 Armenian Genocide.  Thousands more Armenians emigrated after Federal immigration policies became less restrictive in the 50s, and a larger number settled in Ontario escaping the conflicts in the Middle East and furthermore after the collapse of the USSR.  Today the GTA- Greater Toronto Area –that includes the City of Toronto and its ever-expanding suburbs, is home to a thriving and vibrant Armenian Community with its many Churches, Community centers, Day & Saturday Schools and its many cultural, political and professional organizations.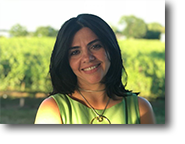 Anita Koundakjian
Co-President
Born and raised by her own Armenian family (Petrosian), Anita is a proud mother herself blessed to experience the greatest joy in life of watching her son prosper. SOAR's humanitarian effort and mission to provide disadvantaged Armenian Orphaned children the profound support for their development, is a cause very close and dear to Anita's heart. Anita holds a Professional Engineers Ontario (PEO) Licence for her Bachelor's Degree in Chemical Engineering. As a professional, she has over 20 years of expertise in the areas of Validation and Compliance with the regulations of various regulatory agencies such as Health Canada, FDA, EMEA, ICH within the Pharmaceutical and Biotechnology fields across Canada, USA, and Europe. She has lead initiatives in support of both the sterile and solid dosage form manufacturing facilities as well as being awarded first place for her Thesis paper on Seal Integrity Testing at the International Society for Pharmaceutical Engineers (ISPE) Canada Affiliate and is a current member of ISPE. Working in the biotechnology world is truly rewarding for her; being part of a team and making a difference. Essential roles throughout her career as Consultant, Auditor, Supervisor, Manager, Technical Leader, and Defender in Internal, Client & Regulatory Audits, have broadened her strength and desire to lead and is passionate about contributing to SOAR with her vast experience and enthusiasm.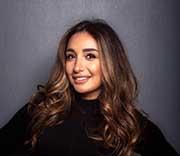 Nayri Nersessian Santourdjian
Co-President
Nayri has a Bachelor degree in Business Administration and Accounting/Finance. She has more than 8 years of professional experience in Syria, Lebanon and Dubai, before moving and stablishing her family in Toronto, Canada. She has also completed a PowerMBA program while raising 2 beautiful girls. She has recently re-joined the workforce as an accountant at a well-known firm and working towards her CPA designation.
Nayri, alongside her husband, operate ONQ LIVE ENTERTAINMENT, a company that provides entertainment solutions (musical, artistic and audio visual) for corporate, private and social events.
In her volunteer time, she was very active in the Armenian Society back in Syria, teaching and mentoring the younger generation about their heritage and culture.
Nayri is honored to be part of the SOAR organization and to help Armenian Orphans towards a better future with greater opportunities.
Gayane Ordukhanyan
Vice President
Gayane has more than 10 years of experience in a range of financial institutions from the commercial bank and the Central Bank of Armenia up to managing half of Armenia's public pension funds. She holds a master's degree in Mathematics from Yerevan State University where she has lectured as an Adjunct Professor of Risk Management and Financial Mathematics.
Throughout her career Gayane worked on several projects organizing events and activities for children. She has also designed board games on personal finance for the Nationwide Education Campaign that have been used in more than 100 rural community schools of the country.
Be it tutoring, mentoring, or teaching music, Gayane is honored to be a part of SOAR's efforts to brighten the days for the orphaned children in Armenia.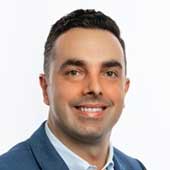 Joel Martins
Treasurer
Joel Martins is passionate about diverse communities and takes pride in volunteering and giving his time to SOAR, a humanitarian non-for-profit organization that provides relief to orphaned Armenian children and adults with disabilities throughout the world.  Joel is a Senior Finance Professional with 10+ years' experience working across the CPG spectrum, including large privately held organizations, and government agencies in North America and Europe. Joel is proficient in bridging finance and operations through sound reporting, analytics, and insights that keep organizations financially and operationally strong. On a personal level, Joel loves cooking and sports, and enjoys lifelong connections to diverse cultures and peoples.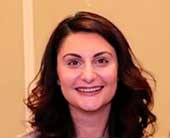 Sarah Shahmouradyan
Director of Community Relations
With over 10 years of experience working in governmental and non-governmental organizations, Sarah brings her project management background and passion for charitable causes to SOAR Toronto.
In her work life, she has led multi-million-dollar campaign fundraisers for the United Way, local food banks, and a variety of health and wellness charities across Canada.
In her volunteer time, she has been active in the Armenian community. This includes helping launch the first ever Canadian Armenian Community Services Centre in Toronto, a non- profit that expanded after-school arts and social programs to hundreds of youth and newcomers.
Sarah enjoys spending quality time with her family, watching sports, and a good laugh.