SOAR - Thessaloniki Chapter
Thessaloniki joined the SOAR family in July 2018. The Armenian presence in Greece began centuries ago when Armenians settled in the wider area of Thessaly, Macedonia, and Thrace. Armenians in Greece, however, acquired the character of a community after the 1920s, when 70,000 to 80,000 survivors of the Armenian Genocide fled to Greece from Cilicia, Smyrna, Ionia, Constantinople and Asia Minor, scattering all over Greece.
Today, the number of Armenians in Greece is estimated at approximately 30,000, living mainly in Attica (Athens, Piraeus and the suburbs) and in smaller communities in Thessaloniki, Kavala, Komotini, Xanthi, Alexandroupolis, Didimoticho, Orestiada and Crete. The majority of Greco-Armenians are Armenian Apostolic. There are a number of Armenian institutions in Greece, including two kindergartens and elementary schools and one high school, in Athens and Piraeus, which belong to the Armenian Blue Cross; the Armenian Community Cultural Center in Thessaloniki; and Armeniki, an amateur soccer club in Athens.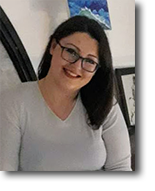 Dr. Iren Hovhannisyan
President
Iren Hovhannisyan was born in Armenia and moved to Greece in 2010 to pursue her academic studies. She holds a PhD degree in English Language and Philology from the Aristotle University of Thessaloniki. She has recently completed her Postdoctoral research and right now she has focused her research interests on issues related to bilingualism and heritage language preservation. During her academic studies, she has been awarded a number of scholarships and research excellence grants. Alongside her academic development, she was determined to preserve her national identity, language and culture and to serve her knowledge for this end. She is a volunteer teacher of Armenian in the Armenian Saturday school of Thessaloniki and a member of ARS Thessaloniki "ANI" chapter.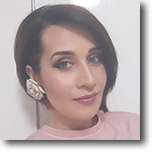 Dianna Bayazetyan
Dianna has lived in Greece for the last 14 years; she is a devoted wife and mother of two girls. She is a makeup artist and an active member of the Armenian community. Since 2015, Dianna has been a member of ARS Thessaloniki "Ani" chapter. Strong feelings of philanthropy and patriotism have lead Dianna to join and to participate in various philanthropic events and organizations and also to join out Chapter with hope to contribute in any possible way to the Armenian orphans.
Kristina Hakobyan
Kristina moved to live in Greece 9 years ago, she is a devoted wife and a mother of three girls. In 2017, Kristina graduated from the Aristotle University of Thessaloniki, School of English language and philology and she has recently opened her own foreign language school "Always Seek Knowledge" where she works as a teacher of English. 2014-2018 Kristina was a volunteer teacher of Armenian at the Armenian Saturday school, thus trying to pass to migrant generations of Armenian children the love for their mother tongue and the appreciation of the Armenian literature and the culture. She is a member of ARS Thessaloniki "Ani" chapter.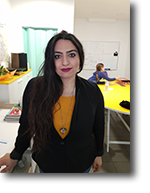 Meline Kocharyan
Meline has recently moved to Greece from Russia, she is a caring mother of a girl. Meline graduated from Vanadzor State Pedagogical University specializing in English language and pedagogy. Notwithstanding the fact that Meline is currently undergoing the adaptation period in Greece, she is eager to participate in all the activities and programmes of the Chapter thus making her contribution, including her participation in the the Cultural Discovery Programme and the Global Hosting programme.