Tennessee became part of the SOAR family in February 2015. Unlike most of SOAR's other Chapters, SOAR-Tennessee exists in a considerably smaller Armenian market. The community consists of Armenians from Armenia, Turkey, Iraq, Iran, Azerbaijan, Romania, Russia and other countries around the globe, galvanized by the Armenian Church of Nashville. Their local Board of Directors brings a heartfelt level of enthusiasm and commitment that epitomizes SOAR's mission to orphaned Armenians throughout the world.
Gayane Barkhiyan
Pic and Bio coming soon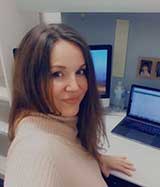 Jill Manoukian
Jill is currently a PhD candidate in English Rhetoric & Composition at Ohio University. She has an MA in English with an emphasis in TESL from IUPUI and a BS in architectural studies. Previously, she worked as an English instructor at the American University of Ras Al Khaimah in the UAE, wrote a weekly column for a Jordanian newspaper, and worked as a Research and Development officer in Beirut, Lebanon. She speaks a little Arabic (Shami) and enjoys learning about other cultures. Her research interests include refugee literacy development, the impact of cultural values on dispositional value in transfer theory, discourse analysis of metaphors and politeness theory in media discourse, cross-cultural (mis)communication, voice, the circulation of blame, and the impact of the material environment on writing.