Tennessee became part of the SOAR family in February 2015. Unlike most of SOAR's other Chapters, SOAR-Tennessee exists in a considerably smaller Armenian market. The community consists of Armenians from Armenia, Turkey, Iraq, Iran, Azerbaijan, Romania, Russia and other countries around the globe, galvanized by the Armenian Church of Nashville. Their local Board of Directors brings a heartfelt level of enthusiasm and commitment that epitomizes SOAR's mission to orphaned Armenians throughout the world.
Davit Sargsian
President
Davit Sargsian is currently a law student at Lincoln Memorial University Duncan School of Law. In May of 2024, he will graduate with Juris Doctorates Degree and will take the Bar exam to become a licensed lawyer. Mr. Sargsian is a member of several professional and student organizations, including the Phi Alpha Delta Law Fraternity, International, Real Estate legal Society, and the LMU Federalist Society Chapter.
During the last three years, Davit worked at E*TRADE Morgan Stanley as Account Executive and Equity Compensation Education. E*TRADE is part of Morgan Stanley, a leading global financial services firm renowned for the quality of its wealth management, investment advisory services, research, and market insights. This experience taught him about investments and financial markets, advising individual clients' investment needs, and establishing authentic relationships with clients. In addition, Davit obtained licenses by successfully passing the SIE, Series 7, and 63 exams. In the long term, he is looking forward to achieving his goal of working for in-house counsel at a business.
Outside of academics, Davit is involved in university activities and is currently the Vice President of the Federalist Society, where he manages the chapter and holds events for speakers. Davit enjoys many hobbies such as hiking, weightlifting, Comedy Stand up, board games, and Dungeons and Dragons.
Gayane Barkhiyan
Pic and Bio coming soon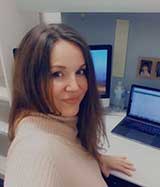 Jill Manoukian
Jill is currently a PhD candidate in English Rhetoric & Composition at Ohio University. She has an MA in English with an emphasis in TESL from IUPUI and a BS in architectural studies. Previously, she worked as an English instructor at the American University of Ras Al Khaimah in the UAE, wrote a weekly column for a Jordanian newspaper, and worked as a Research and Development officer in Beirut, Lebanon. She speaks a little Arabic (Shami) and enjoys learning about other cultures. Her research interests include refugee literacy development, the impact of cultural values on dispositional value in transfer theory, discourse analysis of metaphors and politeness theory in media discourse, cross-cultural (mis)communication, voice, the circulation of blame, and the impact of the material environment on writing.