Tbilisi joined the SOAR family in April 2019. An Armenian community has existed in Tbilisi, the capital of Georgia, since at least the 7th century. By the late Middle Ages, there were 24 Armenian churches and monasteries in and around the city. Under the Russian Empire, the city of Tiflis became the center of Russian rule for the whole viceroyalty of Caucasia. During the 19th century, Tiflis became the center of the Eastern Armenian cultural revival and an Armenian cultural hub second only to Constantinople.
Until recently, the neighborhoods of Havlabar and the area across the river were very heavily Armenian. The older Armenian neighborhood of Tbilisi, on both sides of the river between Freedom Square and Havlabar, carry Armenian names, including Tumanyan, Abovian, Akopian, Alikhanian, Sundukian, Yerevan, Ararat, and Sevan. Today, Armenians are the largest ethnic minority in Tbilisi, with nearly 5% of the population, or approximately 53,400 people.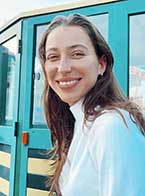 Alexandra Knyazyan
Alexandra was born and raised in Tbilisi, Georgia. She graduated from Tbilisi State University, Georgia, with a specialization in journalism. After earning her Bachelor's Degree, she decided that becoming a Public Relation Manager would be closer to her interests and more suited to her skills. Alexandra realized this after she became a member of the self-government in the Tbilisi State University where she was a part of the organizational team of cultural events. She had an opportunity to plan, evaluate and implement different kinds of events and projects.
Alexandra used to write news texts and articles for radio FM "Imedi", TV "Imedi" and other regional television broadcasters and online news platforms. Currently she works in the marketing and advertising field. Being a part of Global Creative Agency FCB she is communicating with the different worldwide brands, creating and implementing digital and traditional marketing strategies for them. In her free time, she loves to engage in helping children.
Having a very creative side, Alexandra graduated from the Vakhtang Chabukiani Tbi lisi State Art and Ballet School, where she learned art and developed her creative thinking. Later she was invited to work as an actress at the Tbilisi State Opera and Ballet Theatre. Being a part of the art for twenty years she developed her creative skills as well as deep knowledge of music and understanding its effects on the audience, dance technology and movement philosophy and spatial thinking. In its turn, this supported Alexandra in implementing academic and work projects within her professional life.
Alexandra speaks Georgian, Russian, English, and Armenian.