SOAR - Tallahassee Chapter
Tallahassee, the capital of Florida, joined the SOAR family in April 2018. With a population of nearly 200,000, Tallahassee is home to Florida State University and is known for its large number of law firms, lobbying organizations, trade associations, and professional associations. The name "Tallahassee" is a Muskogean word often translated as "old fields" or "old town." It was likely an expression of the Creek people who migrated from areas of Georgia and Alabama to this region in the late 18th and early 19th centuries. They found large areas of cleared land previously occupied by the Apalachee tribe.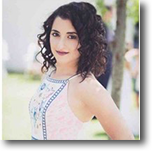 Margaret Atayants 
President
Margaret Atayants is a full-time Realtor with Property Finders-Nguyen Realty and is building a new family business under the name of SkyLine Building and Investments Inc. SkyLine focuses on finding land, building dream homes, and selling ones property with the number one priority being customer satisfaction. Before Margaret moved to Florida to finish high school, her family lived in South Dakota. South Dakota, along with North Dakota, were two of many very popular places that Armenians were sent when leaving Baku during the fall of the Soviet Union. Margaret is a first generation American coming from a family of refugees from Azerbaijan. Besides business and real estate, Margaret is currently involved with the Greek Orthodox church community, teaching Sunday school, writing music (one of her greatest passions), and dedicating a large portion of her time to a beautiful martial art called Jiu-Jitsu. Margaret has been to Armenia every summer since 2015 and plans on visiting Armenia every summer that she can to share experiences and opportunity with the Armenian community. Margaret enjoys spending time with her family and talking to people about leading a healthy lifestyle through mindfulness and self-care.