SOAR - Sydney Chapter
Sydney joined the SOAR family in May 2015. Armenian Australians have become one of the key Armenian Diasporas around the world and among the largest in the English-speaking world. While the Armenian community in Australia is among the youngest of all Diasporas, Australia's economic prosperity over the past decade has attracted a large number of skilled Armenian migrants. The influx of Armenians into Australia has come from many different Diaspora countries. The main concentration of Armenians in Sydney are in Ryde, Willoughby, and Warringah. Smaller communities exist in Adelaide, Brisbane and Perth. Australians of Armenian heritage are well known in Sydney and hold an annual festival each year which attracts over 25,000 visitors. Increasingly, Australians of Armenian heritage are being recognized for their success in politics, banking & finance, and law.
The oldest and largest Armenian Church in Australia and throughout the world is the Armenian Apostolic Church, led by Archbishop Haigazoun Najarian, the Primate of the Australian and New Zealand Armenian Apostolic churches. The Armenian Catholic community is led by Father Parsegh (Basil) Sousanian. There is also a presence of the Armenian Evangelical Church in Sydney and Melbourne, in addition to the Holy Trinity Armenian Brotherhood Church and the Armenian Evangelical Brethren Church, both in Sydney.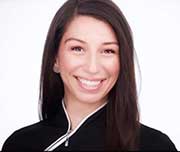 Taki Kafedjian, CPA
Treasurer and Interim Chapter President
Taki Kafedjian earned a Bachelor of Arts in Accounting Information Systems from Queens College, City University of NY, and a Masters of Science in Taxation Law from Pace University Lubin School of Business. She is a Certified Public Accountant practicing in the NYS Jurisdiction. She has over 10 years of accounting and tax experience in the public and private sectors. Taki recently moved from New York City to Sydney, Australia with her husband, Dejan.