Sydney joined the SOAR family in May 2015. Armenian Australians have become one of the key Armenian Diasporas around the world and among the largest in the English-speaking world. While the Armenian community in Australia is among the youngest of all Diasporas, Australia's economic prosperity over the past decade has attracted a large number of skilled Armenian migrants. The influx of Armenians into Australia has come from many different Diaspora countries. The main concentration of Armenians in Sydney are in Ryde, Willoughby, and Warringah. Smaller communities exist in Adelaide, Brisbane and Perth. Australians of Armenian heritage are well known in Sydney and hold an annual festival each year which attracts over 25,000 visitors. Increasingly, Australians of Armenian heritage are being recognized for their success in politics, banking & finance, and law.
The oldest and largest Armenian Church in Australia and throughout the world is the Armenian Apostolic Church, led by Archbishop Haigazoun Najarian, the Primate of the Australian and New Zealand Armenian Apostolic churches. The Armenian Catholic community is led by Father Parsegh (Basil) Sousanian. There is also a presence of the Armenian Evangelical Church in Sydney and Melbourne, in addition to the Holy Trinity Armenian Brotherhood Church and the Armenian Evangelical Brethren Church, both in Sydney.
Alenush Hagopian
President
Alenush Hagopian is originally from Sydney Australia, having moved to Melbourne in 2019 for her children to pursue their sporting goals. She completed an Advanced Diploma in Counselling in 2011 and graduated with Honors in Psychology in 2015. Alenush has worked as a counsellor specializing in children in sports, but with her move to Melbourne, her goals shifted, and she is currently work in the service sector.
Alenush is married with four children.  Her passion in life is keeping the Armenian culture alive and growing in the Diaspora. She was heavily involved in the Sydney Armenian community (Homenetmen Ararat) from a very young age, starting from scouts, then youth groups and later in children's sports groups and as a board member.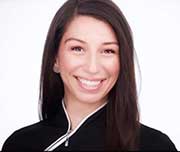 Taki Kafedjian, CPA
Taki Kafedjian earned a Bachelor of Arts in Accounting Information Systems from Queens College, City University of NY, and a Masters of Science in Taxation Law from Pace University Lubin School of Business. She is a Certified Public Accountant practicing in the NYS Jurisdiction. She has over 10 years of accounting and tax experience in the public and private sectors. Taki recently moved from New York City to Sydney, Australia with her husband, Dejan.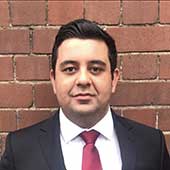 Alexander Sarian
Alexander has earned a Master's degree with a double specialisation in business management and marketing from Macquarie University. Currently Alexander works in a senior capacity for a French IT company locally based in North Sydney. In addition to his corporate sales experience Alexander holds an undergraduate degree in international business and has engaged in business activities across the United Kingdom, the United States and Southeast Asia. In conjunction with his professional interest in modern corporate technologies Alexander also has a keen interest in travel and music having received commendations for musicianship. Alexander looks forward to adding value to SOAR operations in Australia and is eager to make a positive impact.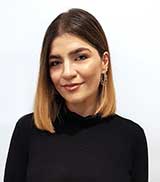 Patil Sevagian, BA/LLB
Patil Sevagian earned a Bachelor of Arts majoring in International Relations and Bachelor of Laws from the University of New South Wales (UNSW). She is preparing to commence her career as a graduate lawyer at Clyde & Co LLP. During her university years, Patil also attended the O.P. Jindal Global University in Sonipat, India and the University of California, Berkeley School of Law. She previously served as the Ethnocultural Officer of the UNSW Law Society and Vice President of the UNSW Armenian Students Association. Patil has always had a genuine interest in advocating for marginalized communities. She has carried out fieldwork in Thailand and Cambodia, volunteered at legal centers, and assisted with research projects for the improvement of conditions in correctional centers. During her time as a legal intern in Milan, Patil worked to empower traditional communities to withstand the impact of Covid-19 on their cultural heritage. Patil is honored to join the SOAR and help fulfill its long-term mission.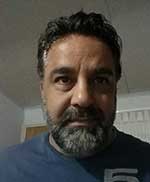 Armondo Vartanian
Armondo Vartanian, born 1965 in Iran, graduated from  technical collage in Iran, then doing military service in Iran during war with Iraq. With refugee status in Turkey in 1986, UNHCR transferred him to Denmark and where he served part time translating for refugees at the UNHCR office in Viborg, and worked in hospitality. He immigrated to Australia, is currently married with children, and has worked as a Swimming pool and Spa service & repair consultant, and owned/ run his own business for 11 years. Armondo is technical minded /problem solver, skilled negotiator and street wise. He likes to learn new skills all the time and upgrade his personal knowledge, and help others.