SOAR - Stockholm Chapter
SOAR-Stockholm joined the SOAR family in May 2014. According to Swedish legend, a navigator in the 10th century by the name of Petrus was so enchanted by the beauty of an Armenian princess that he travelled to Armenia and married her. Official Armenian presence in Sweden started in the 18th century when a group of Armenians accompanied Swedish King Karl XII to Sweden in 1714 and integrated into Swedish society over the years. Most Armenians in Sweden belong to the Armenian Apostolic Church, which has a Church in Botkyrka, and the Armenian Catholic Church, which holds services in Södertälje and Trollhättan. There are approximately 8,000 Armenians in Sweden today, residing primarily in Stockholm and Uppsala.
Arus Shahinyan
President
Arus holds a Master of Arts Degree in Teaching English as a Foreign language from the American University of Armenia. She has earned her Bachelor Degree in Journalism from the Russian-Armenian State Slavonic University in Yerevan, Armenia. Arus has worked for VivaCell-MTS (K-Telecom CJSC) since September 2008 and until October 2015 as the Career Development Specialist within the Human Recourses Department. Her previous work experience involves the Assistant Producer position at A1+ TV Company in Yerevan, Armenia. She has also volunteered at BEM Youth Progressive Action Center in Yerevan, Armenia as a volunteer and project coordinator from February 2005 to February 2006.
Arus moved to Stockholm, Sweden in August 2015 and is currently pursuing her Master of Science Degree in International and Comparative Education at Stockholm University. Her main career interest is leadership and career development, education planning and implementation.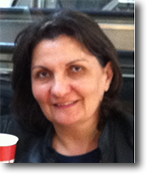 Annie Marcaryan
Annie is a Senior Technology Consultant at SAP SE EMEA, Database and Technology Group, Nordic Team in Stockholm, Sweden. She has more than 25 years of professional experience in IT. Annie worked in several international projects in different countries in Europe and also in Australia (on-premise and remotely). Annie earned her Master of Engineering degree from Yerevan Polytechnic Institute. She came to Sweden in February 2000, with the invitation of her spouse, where she have been living, studying, and working ever since.
Armine Saghyan
Armine has earned two higher education degrees: pedagogical and in Human Resource Management & Administration. She has worked as an English and Swedish teacher and has experience in management roles and chief positions. Armine currently lives in Stockholm and has a management position in one of the Swedish companies well known for good customer service and professional leadership. She has a genuine interest in people, leadership, and to be a good role model for others.
Ara Shanlian II
Originally from the United States, Mr. Shanlian has worked for numerous tech startups including electric car manufacturer Tesla Motors and artificial intelligence start-up Inspirient . He has volunteered with the nonprofit community as a member of the Education Committee for Armenian National Committee of America's Glendale Chapter. After graduating from the University of California Irvine with a Bachelor in Biological Sciences and a Bachelor in Sociology, he moved to Germany to pursue a Masters in Business Administration with a focus on International Healthcare Management. Ara developed a strong sense of devotion for the nonprofit sector as a beneficiary of numerous scholarships during his undergraduate and graduate education. This gave him a deep appreciation for how nonprofits seek to improve access to healthcare and education. By means of a project at SRH Hochschule Berlin he has consulted on a market entry strategy for a novel biomarker for early detection of Congestive Heart Failure. He is currently finishing research on how interoperability of smart devices can improve outcome measurement to reinforce the adoption of value-based healthcare.
Ara Shanlian serves on the board of SOAR's Berlin and Stockholm chapters overseeing the Orphan Transition Fund and Men's Empowerment Program.