Sofia joined the SOAR family in May 2015. Armenians are the fourth largest minority in Bulgaria, numbering 6,552 according to the 2011 census. They have been inhabiting the Balkans (including the territory of modern Bulgaria) since no later than the 5th century. Since then, the Armenians have had a continuous presence in the Bulgarian lands and have played an important part in the history of Bulgaria. The main centers of the Armenian community are in Plovid, Varba, Sofia, and Burgas. Three Armenian newspapers are published in Bulgaria: Armentsi, issued in Burgas every fortnight, the weekly Vahan, issued in Plovdiv, and the weekly Erevan, issued in Sofia. There are 10 Armenian Apostolic churches and two chapels in twelve cities.
Aram Setian
President
Aram earned his Ph. D. In Computer Science and his M.Sc. in Computer Sciences with a Grade of Greatest Distinction from the Technical University in Sofia, Bulgaria. He is the External ICT expert for innovation evaluation for the EU Program HORIZON 2020, ec.europa.eu , Bruxelles (Belgium) and currently works as Director of Strategy and Strategy and innovation development director for DANLEX Ltd. (Bulgaria/Austria).
Previously, Aram has held many positions such as Head of the Image Processing Systems Department, CEO of CIMAC US Inc., as well as entrepreneurship establishing two different businesses, Image Processing Machines & Equipment Ltd. and Art CAD Ltd.
He is fluent in Bulgarian, Armenian, Russian, English, Macedonian and can communicate in main Slavic languages and French.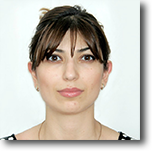 Margarita Gevorgyan
Margarita was born in Armenia and has been living in Bulgaria since 2011. She graduated from Yerevan State Linguistic University of V. Brusov, the Faculty of Roman and Germanic languages. Margarita earned her Master of Business Administration MBA in IFAG (Francophone Institute of Administration and Management) in Sofia. Teaching has always been her passion and she was hired as an assistant and teacher in the French department of the University of V. Brusov for three years. After graduating from IFAG, she held the position of financial administrator at IBM Global Delivery Center in Sofia for four years. Currently, Margarita is working for Coca-Cola Enterprises as the Senior Disputes Associate in the department of OTC (Order To Cash). She is fluent in French, English, Bulgarian, Russian, and Armenian. Margarita loves teaching, reading, and small talks about philosophical questions.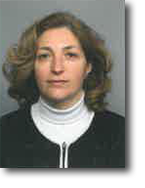 Varta Karagozian
Vartanush Karagyozyan has her PhD in Sociology from the Bulgarian Academy of Science. She has expertise in social studies, lecturing in Economic Sociology for 11 years at Varna University of Economics, Industrial Relations and HRM. After having created and managed the Vocational Training Center (VTC) at Varna Free University (VFU) for the last two years, Varta began working as an expert in the organization and delivery of vocational training courses since February of 2015. She has experience in counseling for personal and career development strategies, design and development of learning programs and subjects in both Bulgarian and English. Varta is working as a vocational training specialist for the Marstar Training Center, part of the Cosmos Ltd Group . As a director of the VTC of VFU she coordinated the participation of VFU in the Vocational Technology Enhanced Learning (VocTEL) Project under the Leonardo da Vinci Program. Varta is fluent in Armenian, English, French, German, and Russian.