Hovhannes Voskeridjian Scholarship
The Hovhannes Voskeridjian Memorial Scholarship was established in 2021 by George Yacoubian in memory of Hovhannes Voskeridjian.
The Fund, which is endowed with a $250.00 donation each calendar year, is earmarked exclusively for orphaned Armenians pursuing a pastorate vocation.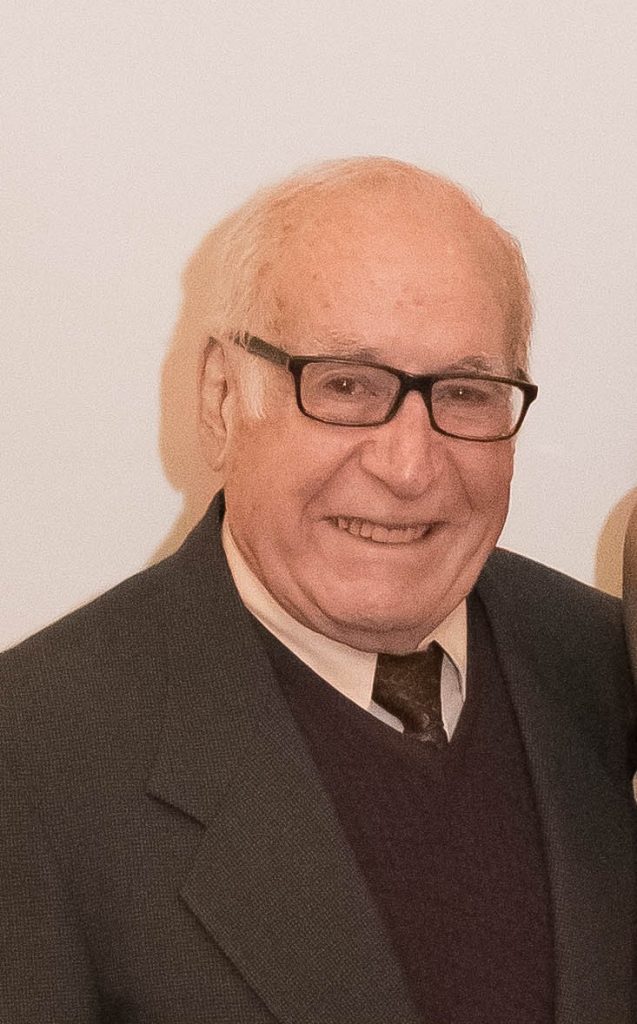 Hovhannes Voskeridjian was born on May 6, 1928, in Cairo, Egypt. He was the third child of Garabed and Aghavnie, both of whom were Genocide survivors. Unfortunately, Garabed died at a young age, leaving Aghavnie at the age of 35 to care for five children. The sudden death of their father solidified the bonds within the household. Family meant everything to Hovhannes. He revered his two older brothers Hagop and twin brother Khacho and adored his younger sisters Madeleine and Flora. They were active in the Church and the Armenian community. Hovhannes and his siblings were musically inclined. They played instruments and had wonderful singing voices. The five siblings were truly a singing and dancing group that loved to get together and celebrate.
Hovhannes began serving on the altar at the age of 8. He looked forward to every Sunday and would arrive at church extra early so he could secure his position as a candle holder. Hovhannes served the Armenian Catholic Church for over 84 years. In addition to the Church, Hovhannes was an avid lover of the stage. His veneration of the theater started at an early age. In Cairo alone, he participated in more than 40 plays. He continued his acting career in Beirut, Lebanon in the 1960s. While preparing for the role of Vartan in Vartanantz, he met Therese Djabrayan, playing the role of Mezdn Diginuh.
His love for the theater and love for Therese united and blossomed. Eventually they were to be married and started their lives together in the United States. As much as he loved serving the church and the stage, nothing compared to the love he had for his wife Therese and the life they built together. They were married for almost 55 years and were partners in every sense of the word. They lived and worked together every day from the very start. They owned and operated a dry-cleaning business where Hovhannes won several awards for his ability to remove the worst stains from the most fragile fabrics. For over a decade they left the dry-cleaning business and started Voskedar. During this time, they typeset hundreds of books from prominent Armenian writers and poets culminating with Therese's first book "Armadner"
and her second book, the first Western Armenian translation of Antoine de Saint-Exupery's The Little Prince.
Hovhannes and Therese had two children Armen (Patricia) and Arpy (Asadur) and five grandchildren, Vahe, Aleni, Sareen, Nare and Hovan. Nothing in this world brought Hovhannes more joy than his 5 grandchildren. Each one held a special place in his heart. He encouraged their talents and gifted them readily. He praised them often and always reminded them to listen and respect their parents. Hovhannes worked hard every day of his life. The boy who lost his father when he was only 10 spent a lifetime working to insure stability for his family.
To know Hovhannes was to love him. He epitomized the true meaning of a gentleman. He served his Church, his community, and his family and he did so with respect and love. Hovhannes was dedicated to all around him. He was the first to visit the sick, offer help to others, even giving financial aid when he himself needed money to pay bills. He was a true gentle giant of a personality, the last of a generation who paved the way for the rest of us and taught us the true meaning of loyalty and honor.