MANANA MANANYAN MEMORIAL FUND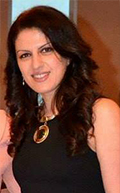 The Manana Mananyan Memorial Fund was created in September 2023 to honor Manana Mananyan. Manana joined the SOAR family in 2014, first as a volunteer for SOAR Vanadzor and then as our Development Manager. She received her degree in English and German, which allowed her to provide English language classes to the children of Vanadzor Orphanage. She was involved in various international projects targeted at the development of the country, both as translator/interpreter and as a project coordinator. For more than 5 years she coordinated the projects of the National Democratic Institute (NDI) in Northern Armenia and was very much involved in democracy development and protection of human rights.
She not only used her talents for SOAR but taught English to orphaned children and assisted with fundraising for Orran, a SOAR-supported center that helps underprivileged and socially vulnerable populations. Her life was spent in service to others, and her absence leaves an empty space in our hearts.
The Manana Mananyan Memorial Fund benefits orphaned and otherwise underprivileged children in Lori Region (Marz) in Armenia.