SOAR - San Diego Chapter
San Diego joined the SOAR family in March 2013. SOAR-San Diego continues our expansion in the West and is our fourth Chapter in California. San Diego has a large and diverse Armenian population, and we are pleased to welcome a young and enthusiastic Board of Directors.
Natali Minassian
President
Pic and Bio coming soon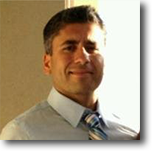 Vladimir Arutunian
Vice President
Vlad was raised on the East Coast, but has lived in San Diego, CA for over 10 years. He is proficient in Russian language, and holds a Master of Business Administration degree as well as a B.S. in Finance. Vlad's professional background is rooted in business development with a sustained track record of spearheading strategic growth and execution management. His primary focus is developing methods that maximize effectiveness of an organization's sales, partnerships and marketing efforts with an ability to develop a vision, achieve consensus and deliver results in a wide variety of corporate settings. He is currently serving as a VP of Business Development for a data analytics and technology firm.
Leonid Arzumanyan
Treasurer
Leo was born in Moscow, Russia, but came to the United States when he was only 6 months old and has lived here ever since. He has a Bachelors of Political Science from the UC San Diego and is currently working on his Juris Doctorate from the University of San Diego School of Law. Leo's professional background is concentrated in the legal world – he's worked for the Chief Justice of the Southern District and is now working at a business firm in Downtown San Diego. Leo is involved in a variety of non-profit organizations and volunteer groups and in his free time loves to travel, spend time with family and friends, play basketball, and go to the beach.
Emilia Arutunian
Emilia Arutunian has a Bachelor's of Political Science, Russian and Interdisciplinary Science from San Diego State University. In 2015, she earned a Juris Doctorate from University of San Diego School of Law and was bar-certified to practice law in the state of California. She is a practicing attorney in San Diego, California. Emilia is also an active committee member on the American Bar Association's Rule of Law Initiative, working to advance the rule of law, human rights, and economic opportunity in Armenia.
Markie Esmailian
Markie is passionate about providing all children the opportunity to thrive, whether it is access to healthy foods, education or healthcare.  She believes children will lead the world the way we teach them to lead, so let's teach them to lead with kindness, compassion, and generous hearts.
Markie grew up in San Diego with her three brothers and loved being a part of a small Armenian community and church with big dreams.  She has a Bachelor's in Arts and Sciences, Psychology and Master's in Business Administration from San Diego State University.  Her desire to make a positive impact in human health drove her to a career in Healthcare Diagnostics and Technology, where she has held many strategic business development and commercial leadership roles with startups and Fortune 500 companies.
Entrepreneur at heart, Markie founded a health data analytics startup aiming to provide insights for better health and business outcomes.   She is a board member for a non-profit engaged in developing a VR-enabled technology to bring health education to refugee families in San Diego and beyond.  She is also a board member for Armenian Professionals of San Diego and volunteers with San Diego Civic Youth Ballet, an organization inspiring young people to use arts to thrive.  Markie mentors San Diego State University business school students as a way of giving back and supporting business graduate students find their professional path.
In her free time, Markie enjoys cycling the north coast of San Diego and spending time with her family.