San Diego joined the SOAR family in March 2013. SOAR-San Diego continues our expansion in the West and is our fourth Chapter in California. San Diego has a large and diverse Armenian population, and we are pleased to welcome a young and enthusiastic Board of Directors.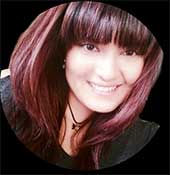 Hasmik Mkrtchyan
President
Born and raised in Burbank, California, Hasmik Mkrtchyan graduated from James Madison University in 2011 with a Bachelor's of Science in Biology. In 2018, she earned her Master's in Engineering Management from George Washington University.
In that same year, Hasmik accepted an offer to join Catalent Pharma Solutions, a global leader in providing integrated services, superior drug delivery technologies and manufacturing solutions to help life science innovators develop and launch successful pharmaceuticals, biologics and consumer health products. A year later in 2019, she was promoted and assumed the position of Global Lab Informatics Group Leader for Quality Enterprise Systems.
She is very passionate about supporting non-profit organizations and volunteering her time to positive initiatives. She has formerly served on the Steering Committee of Women in BioHealth – Madison, Wisconsin, and is a current member of: PMI, BioForward Wisconsin, and now SOAR. In 2019, she was a Speaker at PechaKucha Madison and at LabVantage CTEC.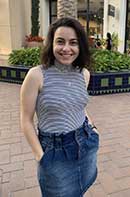 Anna Ivanyan
Treasurer
Anna Ivanyan was born in Moscow, Russia where she resided until her family immigrated to San Diego in 2013. Anna  is a senior at San Diego State University, pursuing a BA in Economics with Specialization in Quantitative Analysis and minoring in Mathematics. After graduation, she is planning on furthering her education by receiving an MBA. Anna is a treasurer of the Armenian Student Association at SDSU.
She is fluent in Russian. She enjoys spending time with family, baking, and taking road trips.
Anna is excited to be more involved in Armenian charity work. She is interested in and inspired by SOAR's cause to provide for orphaned children.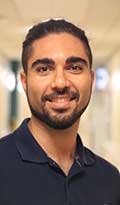 Levon Demirdjian
Director of Community Outreach
Levon was born and raised in Los Angeles, California and received his B.A. in Economics (2010) and M.S. in Mathematics (2013) from California State University Northridge, and his Ph.D. in Statistics (2018) from UCLA. In 2016, he completed an internship in advanced scientific computing at NASA Goddard Space Flight Center where he helped develop a model of extreme precipitation events using data generated from the Tropical Rainfall Measuring Mission satellite mission.
In 2018, Levon moved to Philadelphia as a Postdoctoral Fellow at the Children's Hospital of Philadelphia (CHOP). Levon was a founding steering committee member of the CHOP postdoctoral alliance which developed programming, built community, and created networking opportunities for the CHOP postdoctoral community. In 2020, Levon moved to San Diego where he is currently a data scientist for Janssen Pharmaceuticals. His work focuses on deriving novel medical insights from large biomedical datasets to help improve the lives of patients.
In his spare time, Levon enjoys playing the guitar with his band, as well as composing and recording his own music. He also enjoys hiking, reading, and playing with his (or anybody else's) dog.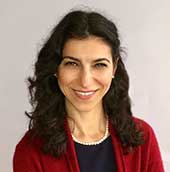 Naira Yeghian
Director of External Affairs
Naira Yeghian moved to San Diego, CA in 1998 to pursue her MBA in International Business at National University.  After attaining her degree and throughout her professional career that followed, Naira has held various management positions in the legal, investor relations, communications and education industries.  In her latest position as the Dean of Student Services, Naira oversaw the successful implementation of all student support services at a vocational college offering certificate programs in Information Technology and Holistic Health.
Naira is also the Founder of a health and wellness company called BELLY LAMA.  She started the company to help spread awareness about the importance of holistic living and clean eating.
Being born in Yerevan, Armenia, Naira speaks Armenian and Russian.  She also has a very basic knowledge of Portuguese.  Her passions include giving back to the community, leading a healthy lifestyle, traveling, cooking and photography.
Frandale Johnson
Pic and Bio coming soon