SOAR - San Diego Chapter
San Diego joined the SOAR family in March 2013. SOAR-San Diego continues our expansion in the West and is our fourth Chapter in California. San Diego has a large and diverse Armenian population, and we are pleased to welcome a young and enthusiastic Board of Directors.
Christina Mnatzaganian, PharmD, BCACP 
President
Christina is a member of the faculty at the University of California San Diego Skaggs School of Pharmacy and Pharmaceutical Sciences where she teaches student pharmacists, conducts educational and clinical research, and serves as Director for the Community Pharmacy Residency Program. Additionally, she is a board-certified ambulatory care pharmacist specializing in chronic disease management including diabetes, hypertension, hyperlipidemia, anticoagulation, and polypharmacy. She was born and raised in Tucson, Arizona and is a Wildcat at heart having completed both her Bachelors of Science in Business Administration and Doctor of Pharmacy degrees at the University of Arizona. In her spare time, she enjoys running, hiking, learning new languages, reading, and spending time with her husband and small dog. She is very excited to be a part of SOAR!
Rebecca Kandilian, PharmD, BCPS 
Treasurer
Rebecca currently works as a drug education coordinator at Kaiser Permanente San Diego where she oversees the drug use management team and is responsible for planning and coordination of the San Diego Service Area drug education program for physicians, pharmacists and other medical personnel. This includes strategy, analysis and implementation of drug cost containment programs and formulary initiatives, oversight of drug manufacturer marketing practices and supervisory duties. Rebecca was born in Aleppo, Syria and moved to the US when she was 13 years old. She received her undergraduate degree from University of Southern California and Doctor of Pharmacy degree from UC San Diego. She completed two additional years of post-graduate training concentrating on advanced data management, population health management, pharmacoeconomics and health outcomes. Rebecca is an avid reader and loves spending time in the great outdoors often hiking and camping in the company of her friends and family. A former swimmer and water polo player, she now spends most of her weekends cycling long distances. Growing up, her mother played a key role in the activities of the Armenian Relief Society in Aleppo Syria including its orphanage and is excited to give back to the Armenian community through SOAR.
Emilia Arutunian
Emilia Arutunian has a Bachelor's of Political Science, Russian and Interdisciplinary Science from San Diego State University. In 2015, she earned a Juris Doctorate from University of San Diego School of Law and was bar-certified to practice law in the state of California. She is a practicing attorney in San Diego, California. Emilia is also an active committee member on the American Bar Association's Rule of Law Initiative, working to advance the rule of law, human rights, and economic opportunity in Armenia.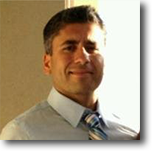 Vladimir Arutunian
Vlad was raised on the East Coast, but has lived in San Diego, CA for over 10 years. He is proficient in Russian language, and holds a Master of Business Administration degree as well as a B.S. in Finance. Vlad's professional background is rooted in business development with a sustained track record of spearheading strategic growth and execution management. His primary focus is developing methods that maximize effectiveness of an organization's sales, partnerships and marketing efforts with an ability to develop a vision, achieve consensus and deliver results in a wide variety of corporate settings. He is currently serving as a VP of Business Development for a data analytics and technology firm.
Leonid Arzumanyan
Leo was born in Moscow, Russia, but came to the United States when he was only 6 months old and has lived here ever since. He has a Bachelors of Political Science from the UC San Diego and is currently working on his Juris Doctorate from the University of San Diego School of Law. Leo's professional background is concentrated in the legal world – he's worked for the Chief Justice of the Southern District and is now working at a business firm in Downtown San Diego. Leo is involved in a variety of non-profit organizations and volunteer groups and in his free time loves to travel, spend time with family and friends, play basketball, and go to the beach.
Natali Minassian
Pic and Bio coming soon