SOAR - Salzburg Chapter
Salzburg joined the SOAR family in February 2016. The history of Armenians in Austria dates back to Vienna's liberation from the Turkish siege at the end of the 17th century, when several Armenian merchants found a new market in the Habsburg Empire. In the beginning of the 19th century, Austrian Armenians enjoyed their status as an autonomous religious community. The Armenian community in Vienna grew constantly, so that by 1896 the first efforts were made to found an Armenian-Apostolic community. After the appointment of the first Armenian pastor in Vienna in the 1920s, the number of Armenians in Austria continued to grow, boosted by refugees from Lebanon, Syria, Iraq, Iran, Turkey and, most recently, the Republic of Armenia. In 1968, the Soorp Hripsime Armenian Apostolic Church of Vienna was consecrated, giving a new impetus to the ever growing Armenian community in Austria. There are approximately 3,000 Armenians in Vienna today.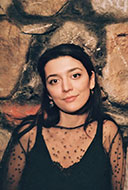 Alvina Saakyan
President
Alvina grew up in Russia and returned to Armenia for education. She holds a bachelor's degree in international relations from the Russian-Armenian University and a master's degree in political science and international affairs from the American University of Armenia. Currently, she is exploring her academic path further as a PhD student at Paris Lodron University of Salzburg. Alvina sees empathy and mutual help as the highest values in life. Her personal interests involve writing music and promoting sustainable fashion. She is fluent in Russian and has a strong knowledge of the Armenian language.