SOAR - Saint Petersburg Chapter
SOAR-Saint Petersburg joined the SOAR family in May 2014. Russia possesses the largest Armenian population outside of Armenia, home to approximately 3 million Armenians. The Armenian Diaspora is the fourth largest ethnic Diaspora in Moscow, after Ukrainians, Jews, and Tartars. The dissolution of the Soviet Union, the economic blockade of Armenia, and the war in Artsakh have caused a powerful stream of migration to Russia during the past twenty years.
The first Armenians came to Saint Petersburg in 1708. In 1730, under the leadership of Father Ivan Sheristanova, the first Armenian Apostolic Church was established. Throughout the 20th century the Armenian population of Saint Petersburg has steadily increased, with approximately 20,000 Armenians living in Saint Petersburg today.
Maria Stepanyan
President
Maria holds a degree in International Economy from the Russian-Armenian Slavonic University. She has more than seven years of management experience in all areas of Human Resources. She established and managed HR department in the Cafesjian Museum Foundation (Yerevan). Maria later worked as an HR and leadership and talent consultant with various Russian companies. Currently she is an HR director of a leading b2b event organizing company in Moscow.
Maria moved to Russia five years ago following her husband, Hayk Nazaryan, who was born in Russia. Here in Moscow they revere Armenian traditions are doing their best to bring up their son loving their motherland as well. Maria is honoured to become part of SOAR and believes that every Armenian deserves the best start in life and the chance to fulfil their potential.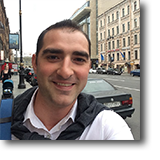 Rafael Arutyunyan
Rafael was born in Yerevan,Armenia in 1988. He moved to Russia with his family when he was 6 years old. He graduated from Saint Petersburg State University of Trade and Economics as a Hospitality Industry Manager and is continuing his education as a post graduate student. Rafael has been working in the Hospitality Industry for about 10 years and now works for the world's biggest online travel agency,Booking.com. At the moment, he is also taking Hospitality classes at Petrovsky College in Saint Petersburg.
Rafael enjoys playing guitar, traveling (hiking, backpacking, etc), and sports. He decided to join SOAR to help make the world better place to live.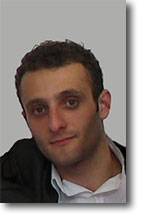 Arthur Varderesyan
Arthur received his Master's degree in Computer Science from the State Engineering University of Armenia, Inter-Departamental Chair of Microelectronic Circuits and Systems at Synopsys Armenia. He is currently working as a Software Quality Assurance Engineer with different customers worldwide. Arthur is married and doesn't have children yet, but his love for children brought him to join SOAR St. Petersburg.