SOAR - Saint Petersburg Chapter
SOAR-Saint Petersburg joined the SOAR family in May 2014. Russia possesses the largest Armenian population outside of Armenia, home to approximately 3 million Armenians. The Armenian Diaspora is the fourth largest ethnic Diaspora in Moscow, after Ukrainians, Jews, and Tartars. The dissolution of the Soviet Union, the economic blockade of Armenia, and the war in Artsakh have caused a powerful stream of migration to Russia during the past twenty years.
The first Armenians came to Saint Petersburg in 1708. In 1730, under the leadership of Father Ivan Sheristanova, the first Armenian Apostolic Church was established. Throughout the 20th century the Armenian population of Saint Petersburg has steadily increased, with approximately 20,000 Armenians living in Saint Petersburg today.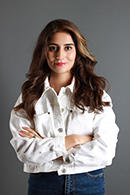 Mariam Prazyan
President
Mariam has spent all her life in Russia, traveling between its two biggest cities, Moscow and Saint Petersburg. She graduated from Moscow State Linguistic University with two diplomas in linguistics and culture studies. Her master thesis was dedicated to "Armenian culture representation in modern Russia in the frame of international cultural collaboration." She also graduated from the Armenian Sunday School of Moscow, where she was an extra-curriculum education developer.
Mariam works for a US-based EdTech startup as an HR manager. She is passionate about helping people thrive and reach their full potential. Being a volunteer in the Armenian youth association of Saint Petersburg, she is still a very active part of the local community.