SOAR - Sacramento Chapter
Sacramento became part of the SOAR family in November 2013. The first Armenians who settled in Sacramento came from Fresno in 1919. They were Mr. and Mrs. Arshag Sarkisian and family. In January 1929, a group of women organized the Ladies' Aid Society of the Armenian Apostolic Church. One year later, Bishop Karekin Khachaturian, the first Primate of the Armenian Churches in California, visited Sacramento and celebrated the Divine Liturgy in the Episcopal Church. On May 10, 1953, the consecration of St. James Armenian Church in Sacramento took place. This gave Armenians a permanent spiritual and social center in the capital of California.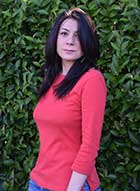 Narineh Mousa
President
Narineh earned her Bachelor of Science in Graphic Design from California State University, Sacramento in 2015. She currently works as senior Graphic Designer for a Sac-based finance and insurance training company. From early childhood she has been passionate about art. She is a self-taught scratchboard artist. In her free time she enjoys spending time with her husband and daughter, exploring new art mediums and biking. Narineh is excited to join SOAR Sacramento.
Alex Nejadian
Vice President
Alex Nejadian is a Sacramento native. He earned his undergraduate degree in financial management with a minor in economics from California Polytechnic State University of San Luis Obispo. He also holds an M.A. degree in International NGOs from Webster University in Leiden, the Netherlands as well as an additional M.A. in International Law-Human Rights from the United Nations mandated university in Costa Rica. He has spent his career working in international development and human rights, living and working in Mexico, Guatemala (RPCV), Costa Rica, Peru, Argentina, the Netherlands, and Armenia. Currently, Alex is working for FHI360 managing a USAID civil society project in 75 countries, including Armenia. In his free time, he enjoys playing soccer, tennis, basketball and extended bike riding. Alex looks forward to assisting with SOAR in realizing its mission.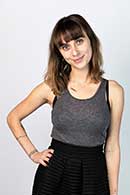 Astghik Manukyan
Treasurer
Astghik was born in Yerevan, Armenia and raised in Sacramento, California. She completed her Bachelor's Degree with a double major in Philosophy and Anthropology as well as a minor in Education at the University of California, Santa Cruz. Astghik is co-founder along with her sister Araxia of The Pomegranate Boutique and Together Midtown. Additionally, she is an artist and has certificates in Ayurvedic Therapy and Hatha Yoga. Astghik is married and has one amazing baby girl and another one on the way. Astghik has always been passionate about charity – she worked with Americorp in Sacramento for one year, has organized Armenian film screenings in Sacramento with her sister, and continues to give back regularly to Armenian charities through proceeds of sales from The Pomegranate Boutique. In her personal life she loves motherhood, wellness, travelling, and creating art.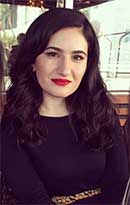 Lilit A. Minasyan, Esq.
Secretary
Lilit A. Minasyan was born in Armenia and raised in Sacramento, California. She earned her undergraduate degrees in International Relations and Comparative Literature from the University of California, Davis and her law degree from the University of California, Hastings College of the Law. She is a practicing attorney in Sacramento. Lilit is thrilled to join the Board of SOAR-Sacramento wielding her passion for advocacy and regard for her Armenian heritage.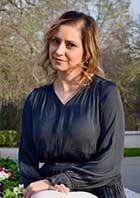 Kristine Gasparyan Howton
Kristine was born in Yerevan, Armenia and raised in Sacramento, CA. She earned her undergraduate degree in Business Administration and Management from the California State University. She has been in the insurance industry for 20 years, and currently working with independent agencies across the west coast as a Sales Manager at Nationwide Insurance. She is a licensed Property & Casualty, Life & Health insurance agent and holds Commercial Lines Coverage Specialist (CLCS), Personal Lines Coverage Specialist (PLCS) and Certified Insurance Counselor (CIC) designations within her line of work. Kristine is married and has 3 children: Gohar (18), Ava (4) and Otto (2). She is excited to be a part of the SOAR Sacramento chapter.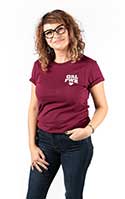 Araxia Manukyan
Araxia Manukyan was born in Yerevan, Armenia and raised in Sacramento, California. She earned her undergraduate degrees in Human Development and Psychology from the University of California, Davis and Master in Social Work Degree from Sacramento State University. She is a Licensed Clinical Social worker and works for Mercy Hospice. Araxia is also the co founder of The Pomegranate Boutique and Together Midtown. Araxia is married and has 3 children; George, Ani and Nora. Araxia is excited about joining the Board of SOAR-Sacramento.
Arlen Soghomonians
Arlen was born in Tehran, Iran. He received his secondary education at the Melkonian Education Institute in Cyprus where he had an opportunity to meet and interact with Armenian students of Diaspora. To further pursue his educational goals he relocated to the United states. He completed his Bachelor of Science in Molecular and Cellular Biology at the California State University in Fresno. He was involved with the Armenian Student Association and was a contributor to the campus Hye-Sharzoom newspaper. Arlen has further pursued his education at University of California, Davis obtaining both MS and PhD degrees in Biomedical Engineering. Arlen's passion has always been to help his local community. Throughout his education Arlen has been practicing as an Emergency Medical Technician/Paramedic in the greater Sacramento region for over 23 years. In addition to his full time employment as a pre-hospital emergency care provider he is an adjunct faculty and emergency medical services (EMS) educator at the American River College and UC Davis Fire Department. His goal is to establish an EMS training program in Armenia to help improve the quality and level of emergency medical services to the Armenian citizens. Arlen is excited to be a member of SOAR.
Elvira Soghomonians
Elvira a Mexican-American was introduced to the Armenian community and culture after meeting Arlen during her undergraduate years at the California State University Fresno where she graduated from with a degree in Criminology. Elvira relocated to Sacramento to pursue an additional degree in Psychology from Sacramento State university. Elvira has travelled with her spouse Arlen to both Iran and Armenia on numerous occasions and has embraced the Armenian culture. Both their sons were baptized in an Armenian church in Tehran. Elvira owns and manages two of the Sacramento area Edible Arrangements franchises and has been involved with SOAR for a few years. She has helped the team to organize fundraisers for the Society. Elvira is excited to continue her contribution to SOAR and the Armenian community.