SOAR - Rotterdam Chapter*
Rotterdam joined the SOAR family in May 2018. While the exact number of Armenians in the country is unknown, unofficially estimates suggest that between 15,000 and 20,000 Armenians live in the Netherlands. Armenian and Dutch interactions go back to the 4th century when the first bishop of the Netherlands came from Armenia. In the 13th century, Armenians brought carpets, dyes, cotton, and spices from around the world and from Armenia itself. In 1713, Amsterdam permitted the Armenians to erect a church of their own. After serving its purpose for about a century and a half, this edifice was closed because of the dwindling of its congregation. The largest modern group of Armenians arrived from Turkey in the 1970s, finding employment in textile plants. Currently, most Armenians live in Almelo, Amsterdam, Arnhem, Assen Alkmaar, Dordrecht, Eindhoven, The Hague, Leiden, Maastricht, Nijmegen, and Rotterdam. Armenian Church services are currently held in Amsterdam and Almelo.
*All Chapter Directors are volunteers and are not compensated for their contributions.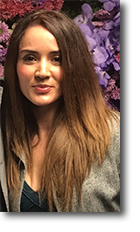 Rita Mikayelyan
President
Rita Mikayelyan was born and grew up in Yerevan, Armenia. She has her Master's Degree in Hospitality and speaks four languages fluently. Rita has lived in Moscow and currently resides in Rotterdam, so she is excited to volunteer for SOAR and undertake the activities of the Rotterdam Chapter. She hopes to diligently contribute to the quality of life of the Armenian orphans.