SOAR - Rome Chapter
Rome became part of the SOAR family in December 2013. There are approximately 3,000 Armenians living in Italy, primarily in Milan, Rome, Pisa, and Venice. Besides the general population, there are monastic communities on the island of San Lazzaro (Venice), at the Moorat-Raphael College of Venice, and Armenian clergy at the Holy See (Vatican). The first Armenian communities in Italy were formed in the 12th century when active trade was encouraged between Cilicia and Genoa, and Venice. Pisa is a growing Armenian community today. Under King Levon II, treaties allowed Italian merchants to open factories and to develop industrial activities in Cilicia. In the 15th century the process of catholicizing Armenians was strengthened in Italy, greatly contributing to their assimilation with the Italian people. In 2000, the Armenian Genocide was recognized by the Italian Parliament, and a memorial dedicated to the Genocide victims was inaugurated in the center of Rome. Besides the San Lazzaro, Italy has a number of very important Armenian churches and religious establishments: St. Gregory's Armenian Church (Rome); Holy Cross Armenian Church (on Calle Degli); St. Blaise Armenian Catholic Church (Rome); San Nicola de Tolentino Armenian Catholic Church (Rome); and the Armenian Apostolic Church of the Forty Martyrs (Milano).
Arpine Khachatryan
President
Arpine was born and raised in Armenia. She obtained her Bachelor of Political Science in International Relations from Yerevan State University and has studied at the University of Bologna as an exchange student for a year. Currently Arpine is studying for her Master's Degree at the European College of Parma. She speaks Armenian, Russian, English, Italian and French (beginner). Arpine is glad to be a part of the SOAR community and to make a contribution.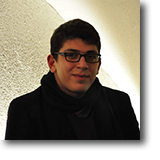 Krikor Boyadjian
Krikor is an Armenian and was born in Beruit, Lebanon. He moved to Italy in 2013 to pursue a joint study in Philosohy and Theology at Pontifical Gregorian University. Krikor has obtained a Bachelor's Degree in Philosophy and is currently in his second year of study for Theology. He is fluent in Armenian, Arabic, French, Italian, English, and Turkish (beginner).
Krikor has volunteered many times teaching the children in the professional care of Diramayr Hayastani Summer camp in Armenia, on a wide variety of subjects.
Marine Grigoryan
Marine Grigoryan was born in Armenia, Gyumri. Two of her many talents include, Professional Opera Singer and Professional Painter on Silk (Batika). Marine graduated from the University For Armenian Language and Literature (Bachelor) and the Conservatory State of Komitas (Master). She moved to Italy in 2016. Winning competitions, Maine was able to continue studying at Privet Music Academy (with the help of SOAR). She is also a former student of Our Lady of Armenia Center and of "YWCF".
Marine has volunteered extensively, teaching languages, drawing, and music. Much of her work has been with children and the elderly. Marine is fluent in Armenian, Russian, English, and Italian.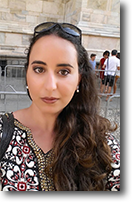 Diana Kassem
Diana was born in Modena (Italy) but her origins are Syrian. She is a senior at the University of Bologna studying Political Science and International Relations. She speaks Arabic, Italian, English and French.
Diana has volunteered with several associations that have helped Syria during the war, collecting clothing, medicine, and money.
Alice Rocca
Alice was born and raised in Italy, in a small city between Rome and Naples. When she was 19, she moved to the capital to study Cultural Anthropology at Sapienza, University of Rome, where she earned a Bachelor Degree in Theories and Practices of Anthropology (Teorie e Pratiche dell'Antropologia) in 2012, and a Master Degree in Ethno-Anthropological Disciplines (Discipline Etno-Antropologiche) in 2015. For her final thesis, Alice worked one year with the Eritrean Orthodox diasporal community of Rome. She speaks Italian, English, Spanish and French and she is currently learning Ukrainian. In her free time, she likes acting, reading, taking care of animals, watching movies and practicing belly dance.