SOAR - Riga Chapter
Riga joined the SOAR family in May 2018. Armenians in the Baltic states of Estonia, Latvia, and Lithuania settled there mostly during the Soviet occupation of the Baltic States. Armenians in Latvia number around 5,000, living mainly in Riga. The community is honored by an Armenian khachkar (cross stone) in the middle of Riga. In the heart of Riga is "Armenia," a restaurant offering an abundance of Armenian dishes and European cuisine that will satisfy even the most sophisticated gourmets.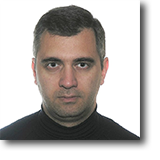 Norayr Gevorgyan
President
Norayr earned his Bachelor's Degree in Oriental Studies/Turkology from Yerevan State University. He went on to earn his Master's Degree in the same also from Yerevan State University.
Currently, Norayr holds the position of project manager, coordinator and sales manager at "Kreiss" LLC in Latvia/Riga. Norayr is fluent in Armenian and Russian and also speaks English and Turkish.