Prague joined the SOAR family in May 2015. Unlike Armenian communities throughout eastern and central Europe, the Armenian community of the Czech Republic is made up entirely of recent immigrants, as there are no previous history of Armenian communities in the region. Most came to the region after the dissolution of the Soviet Union, while others fled poor economic conditions in Armenia. The Armenian Community in the Czech Republic is still growing, as signified with the opening of an Armenian Saturday school in Prague in 1996, the establishment of an Armenian Cultural Center, and the later establishment of the Օրեր magazine (1999). The current Armenian population is unofficially estimated as being around 12,000.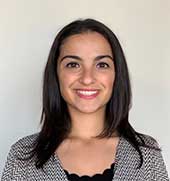 Geghetsik Afunts
Geghetsik recently moved to Prague and started her PhD studies in Economics at CERGE-EI to improve her economic knowledge and work in academia. She has been a Teaching Assistant of the Econometrics and Time Series courses at CERGE-EI since January 2016. Following her natural desire to contribute to charity and to a brighter future of Armenian orphans Geghetsik has also been a Board of Directors member of the Prague branch of The Society for Orphaned Armenian Relief since 2015.
Additionally, Geghetsik has more than 3 years of experience in news media improving her skills as an announcer and journalist, mostly communication, flexibility, presentation and analyzing skills. She started her professional work experience at Armnews TV company as a broadcast journalist and an announcer of the Business News. Later she also became the coordinator and announcer of Business Interview, which was analyzing important economic issues of the Armenian and international economy and received several diplomas for professional work. Now Geghetsik has research interests in political economics, labor economies, time series and econometric analyses of macroeconomic policies and forecasting.
Zara Zohrabian
Pic and Bio coming soon