SOAR - Portland (ME) Chapter
Portland (ME) joined the SOAR family in April 2018. The Portland Armenian Settlement began in 1896 with the arrival of the Yeghoian family from Turkey. They had fled the country to escape a massacre of Armenians ordered by Abdul Hamid II. With the assistance of his fellow Portland Armenians, Mr. Yeghoian erected a building at 166 Lancaster Street – an Armenian grocery store with two apartments over it. By 1908 there were 25 families in Portland's Armenian community. In 1910, an Armenian school was organized at 159 Lancaster Street. It had 22 students in 1922.
For the past 100 years, the Armenians of Maine have been prosperous, hard-working, and successful. Many of their children went into the field of education. Some served in government as city councilors, mayors, court commissioners and state legislators. Several went into medicine, law, and insurance. In 2003, the Armenian Cultural Association of Maine was founded. In conjunction with the City of Portland, the group erected a monument honoring the state's original Armenian settlers as well as those lost in the Genocide. The monument is located at the Armenian Plaza at the corner of Cumberland Avenue and Franklin Street, in the heart of Maine's original Armenian settlement.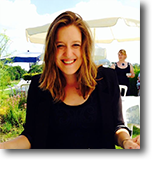 Ava Gurekian
President
Ava M. Gurekian is an Associate Director at The Beacon Group where she leads growth strategy engagements for major clients cross pharmaceutical/biotech, medical device, diagnostic, and health IT segments. She has experience executing go-to-market strategies, product value proposition analyses, opportunity/acquisition assessments, market sizing, industry benchmarking, and competitor assessments. Ava graduated from Mount Holyoke College with a BA in International Relations, French and Economics, and a focus on international peace and security. As a women's college graduate, Ava has a continued interest in girls's and womens' empowerment initiatives and in promoting genocide awareness, having worked at the Armenian Assembly of America and the Embassy of the Republic of Armenia, writing frequent op-eds, and curating exhibits on the topics. In her spare time, Ava enjoys hiking, reading French novels, providing career advancement support to local immigrant families, and interviewing prospective students for her alma mater.
Jessica Labbe
Jessica Labbe is the Accommodations Coordinator for the Disability Services Center at the University of Southern Maine, where she graduated with a Master of Social Work degree in 2017. Immediately following her graduation from USM, Jessica spent ten weeks volunteering in Gyumri, Armenia as part of the Birthright Armenia program. Jessica has experience providing emotional and academic support to youth ranging from children in preschool to college students. Prior to obtaining her Master of Social Work degree, Jessica graduated from Smith College with a degree in American Studies, which she found helpful while leading American culture classes in the American Corner branch in Gyumri. In her spare time, Jessica enjoys acting, singing, doing yoga, and attempting to learn both Armenian and non-Armenian recipes.