SOAR - Portland (ME) Chapter
Portland (ME) joined the SOAR family in April 2018. The Portland Armenian Settlement began in 1896 with the arrival of the Yeghoian family from Turkey. They had fled the country to escape a massacre of Armenians ordered by Abdul Hamid II. With the assistance of his fellow Portland Armenians, Mr. Yeghoian erected a building at 166 Lancaster Street – an Armenian grocery store with two apartments over it. By 1908 there were 25 families in Portland's Armenian community. In 1910, an Armenian school was organized at 159 Lancaster Street. It had 22 students in 1922.
For the past 100 years, the Armenians of Maine have been prosperous, hard-working, and successful. Many of their children went into the field of education. Some served in government as city councilors, mayors, court commissioners and state legislators. Several went into medicine, law, and insurance. In 2003, the Armenian Cultural Association of Maine was founded. In conjunction with the City of Portland, the group erected a monument honoring the state's original Armenian settlers as well as those lost in the Genocide. The monument is located at the Armenian Plaza at the corner of Cumberland Avenue and Franklin Street, in the heart of Maine's original Armenian settlement.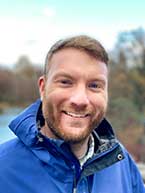 Kevin Boyle
Kevin Boyle is a community development professional working in Midcoast Maine. A 2013 graduate of the University of Pittsburgh, Kevin has nearly a decade of experience in public service and community work. He's helped build community capacity in a small first ring suburb of Pittsburgh by focusing on reinvestment, developed a vacant land strategy for another and is continuing his passion in his current role as Property & Programs Manager at Bath Housing Authority & Development Corporation. Kevin ensures adherence to program guidelines and works with individuals and families to maintain stable housing, including collaborative efforts at eviction prevention.  He especially enjoys problem solving with colleagues and residents.
Although from Away, Kevin is committed to investing in his new home state, learning from colleagues and making the most out of his endeavors.
As a board member for Society of Orphan Relief – Maine Chapter, Kevin is engaging his wider community by connecting more with his Armenian Heritage.  Since joining, he loved presenting on the Maine Coast and teaching the kids about all the different (and weird!) creatures that live in the sea. He even learned some things himself, too. He's excited to help grow the chapter and further the work of the organization.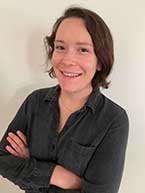 Clare LaVergne
Clare LaVergne works as a Product Manager at PhotoAssist, Inc., leading philatelic product research, promotion, and innovation for the U.S. Postal Service. She also works part-time as the Publications Manager at The Telling Room, where she gets to share the creative writing of young people with the world by publishing their work in books, and serves on the Board of Directors for the Munjoy Hill Neighborhood Organization. Originally from Houston, Texas, Clare holds a B.A. in creative writing and publishing from Emerson College and an M.A. in American Studies from the University of Massachusetts, Boston. An Armenian ally, she became involved in the Boston area's Armenian community while a graduate student. She joined SOAR Portland, ME in 2021 to assist in the organization's relief efforts and increase connections to Portland's Armenian community.