SOAR - Perth Chapter
Perth joined the SOAR family in January 2019. Armenian Australians have become one of the key Armenian Diasporas around the world and among the largest in the English-speaking world. While the Armenian community in Australia is among the youngest of all Diasporas, Australia's economic prosperity over the past decade has attracted a large number of skilled Armenian migrants. The influx of Armenians into Australia has come from many different Diaspora countries. The main concentration of Armenians in Sydney are in Ryde, Willoughby, and Warringah. Smaller communities exist in Adelaide, Brisbane and Perth.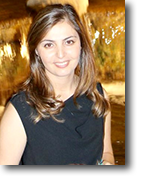 Marine Ivanyan, Ph.D
President
Marine Ivanyan has a Bachelor degree in Biology, a Master's Degree in Ecology from the Yerevan State University, Armenia, and a Ph.D in Chemistry from The National Academy of Sciences of Armenia. She worked at the Institute of Hydroecology and Ichthyology of National Academy of Sciences of Armenia from 2002-2009 as a senior scientific researcher and carried out scientific research related to Lake Sevan. She had also attended several national and international conferences on water resources, environmental impact, and awareness. Marine presently resides in Kuala Lumpur, Malaysia with her husband and son. She is a member of the International Water Association and active in Young Water Professional programmes.