Perth joined the SOAR family in January 2019. Armenian Australians have become one of the key Armenian Diasporas around the world and among the largest in the English-speaking world. While the Armenian community in Australia is among the youngest of all Diasporas, Australia's economic prosperity over the past decade has attracted a large number of skilled Armenian migrants. The influx of Armenians into Australia has come from many different Diaspora countries. The main concentration of Armenians in Sydney are in Ryde, Willoughby, and Warringah. Smaller communities exist in Adelaide, Brisbane and Perth.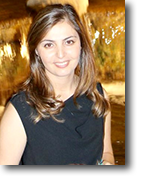 Marine Ivanyan, Ph.D
President
Marine Ivanyan has a Bachelor degree in Biology, a Master's Degree in Ecology from the Yerevan State University, Armenia, and a Ph.D in Chemistry from The National Academy of Sciences of Armenia. She worked at the Institute of Hydroecology and Ichthyology of National Academy of Sciences of Armenia from 2002-2009 as a senior scientific researcher and carried out scientific research related to Lake Sevan. She had also attended several national and international conferences on water resources, environmental impact, and awareness. Marine presently resides in Kuala Lumpur, Malaysia with her husband and son. She is a member of the International Water Association and active in Young Water Professional programmes.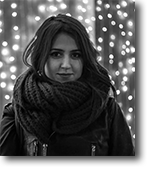 Anahit Galstyan
Anahit was born in Yerevan, but lived most of her life in London. Her career in non-profit management and development has taken her all around the world, including to Ecuador, Armenia, Kosovo, Colombia, El Salvador, Guatemala and Honduras.
Anahit spent a period of five years living and working in Armenia, where she worked with some of the most innovative organisations including TUMO Center for Creative Technologies, and more recently ONEArmenia, for which she ran operations as the Country Director in 2015-2017.
Since leaving Armenia in late 2017, Anahit has been working in the humanitarian sector with a landmine clearance charity to which she is bringing her insights on development and sustainability. She is currently based in Bogota working on Armed Violence Reduction projects in El Salvador, Guatemala and Honduras.
Anahit is completely fluent in both English and Armenian, and is working towards proficiency in Spanish. She has a mild obsession with dogs and can be seen taking selfies the world over with dogs both known and unknown to her.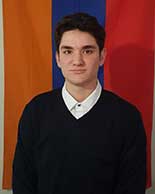 Hayk Tumanyan
Born in Perth to 2 Armenian parents, Hayk graduated from Duncraig Senior High School in 2020 and is currently completing a Bachelor in Biomedical Sciences at the University of Western Australia. After the 3 year course he will take the GAMSAT medical entrance exam and use his medical skills to serve Armenia once repatriated.
Hayk has frequently donated to Armenian fundraising projects and maintains a worldwide, online platform for Armenians, and those interested in Armenia, to come together and converse on relevant topics and issues. He hopes to expand this online platform to include fundraisers, and to be more accessible for all Armenians.
He has an interest in both politics and history, and vehemently supports the maintenance of Armenian culture and traditions within the diaspora, and within Armenia itself.