Association pour l'aide des Orphelins Arméniens
Paris joined the SOAR family in December 2012. Armenians in France are ethnic Armenians living within the modern republic of France. Like much of the Armenian Diaspora, most Armenians immigrated to France after the Armenian Genocide of 1915. After the end of the First World War, many survivors, including orphans, lived in the French-occupied part of the Ottoman Empire, Cilicia, and the future French Mandate territories of Syria and Lebanon. When French troops retreated in 1921 behind the present-day Turkish-Syrian border, most Cilician Armenians fled and resettled in refugee camps in Alexandria, Aleppo, Ainjar, and Beirut. From there, entire families fled to France. The Armenian refugees and orphans crammed into Turkey, Egypt and Lebanon, arrived by the boatloads to Marseille and journeyed to the mines and factories around Marseille, Valence, Grenoble, Lyon, and Paris. There, a quarter of a million Armenians settled into tight little communities of between 2,000 and 4,000 people. The foundations of the Armenian community in France had been set. Today, Armenian classes are organized in many localities with full bilingual kindergartens and primary schools near Paris and Marseille attended by several thousand children and youths.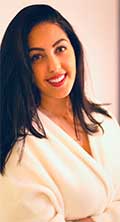 Hripsime Ovakimian
President
Hripsimé was born in Armenia and now lives In France, but her attachment to her country of birth and her roots is very strong. She is grateful for the opportunity to help orphans in Armenia.
She has a Bachelor of International Business and languages, from Université Sorbonne Paris (Paris, France) and recently graduated from Master Marketing and Business.
Her native language is Armenian, but Hripsimé is also fluent in Russian, English and French.
Hripsimé has volunteered at RESF ( Réseau Education Sans Frontières) in translation. Highly interested in humanitarian causes, she volunteered at LES RESTOS DU COEUR Paris, a French charity, the main activity of which is to distribute food packages and hot meals to the needy.
Lilit Aghabekian
Pic and Bio coming soon
Hospice Dossou-Yovo
Hospice Ladislas Dossou-Yovo, is of Beninese nationality. Currently, he is a Master 2 student in the field of Data Science at Ecole Polytechnique (Palaiseau, Ile de France, France).
Fascinated by charities, Hospice is a member of the association "Partage",which means "Share", sponsoring an Egyptian child in need. His motto is: "The more love and sharing there is, the better the world will be."
Max Kienitz
Maximiliano Kienitz is a German Olympic weightlifter, athlete from Buenos Aires, Argentina. He is highly interested in humanitarian causes. He is fluent in German, English, Spanish, and Portugese.
Viken Takvorian
Viken Takvorian is French Lebanese, economist with a Master's Degree in Economics – Monetary Policies, Banking and Finance, from Saint-Joseph University (Beirut- Lebanon) and an MBA in Active Portfolio Management from the Paris School of Business.
Since 2005 Viken has held a position as a Trade Finance Banker from Paris. He also launched, in 2014, a start-up company that provides tailor made IT solutions to its clients.
Viken has been active in various associations, including, Hamazkaine (Beirut), YP (Beirut) Association Saint Croix (Paris), Comité de la Veillées des Jeunes (Paris).
Viken is fluent in French, English, Arabic, and Armenian. He also speaks German, and is learning Russian.