SOAR - Oslo Chapter
Oslo joined the SOAR family in April 2018. The number of Armenians in Norway is estimated between 1,000 and 2,000, emigrating primarily from countries in the Middle East. Recently, Norway has seen influx from Armenia. Most Norwegian Armenians live in the capital Oslo and belong to the Armenian Apostolic and Armenian Catholic Churches. The Armenian Cultural Association in Norway is devoted to promoting Armenian culture and traditions in Norway.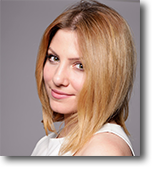 Kristine Sahakyan
President
Kristine has a BSc in Economics from the Russian-Armenian University. She went on to earn an MBA from American University of Armenia (AUA) and an MSc in Financial Economics from BI Norwegian Business School. She was also an exchange student in Stockholm School of Economics (SSE) in Riga as well as in Católica Lisbon School of Business & Economics.
Kristine has held several positions in economics and finance since she began her education. Currently she is a Price Desk Lead for Pricing and Optimization, Logistics in Norway is working on her PhD in Finance at ESCP Business School.
Kristine is fluent in Armenian, Russian, English, and is learning Norwegian and French.