SOAR - Orange County Chapter
The Orange County (OC) Chapter joined the SOAR family in August 2013. About 40 miles south of downtown Los Angeles, OC is a rapidly growing metropolis. Given its fairly close proximity to Glendale (about 50 miles) and strong job market, many Armenians have moved to OC over the last decade. Compared to other neighborhoods in California, OC is fairly nascent in terms of its Armenian population. The earliest record of a count of the Armenian population of the area is from the Board of Trustees of the OC Armenians in 1973. The group identified 150 local residents as Armenian and soon set out to build the community's first Armenian Church. Today, the largest population of Armenians can be found in northern and central OC, specifically in the cities of Newport Beach, Anaheim, Costa Mesa, and Irvine.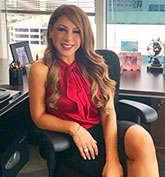 Tenny Amin
President
Born in Tehran, Iran and raised in Southern California, Tenny Amin is a Partner in the law firm The Amin Law Group, Ltd. which she established with her husband in 2005.
In 2000, Tenny graduated cum laude from the University of California, Irvine, earning a double major Bachelor of Arts in the disciplines of Political Science and Criminology, Law and Society. In 2003, she earned a Juris Doctorate from Pepperdine University School of Law. During her tenure at Pepperdine, Tenny served on the Moot Court Team for two years and participated in several Honors Appellate Advocacy Tournaments.
Tenny focuses her practice on General Business Litigation, including Real Estate and Insurance Coverage Litigation, as well as Labor and Employment matters. She also heads the firm's Family Law practice.
As a mother herself, Tenny knows how important it is for children to be in a safe and healthy environment and is very passionate about helping children through SOAR.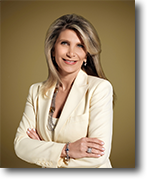 Silva Benlian
Vice President
Originally born and raised in Beirut, Lebanon, Silva moved to the US at the age of 14 with both of her parents and her brother and sister. She graduated from California State University, Fullerton with a BA in Business and Communications. Silva was Vice President of Sales and Marketing for Pangea Organics, and prior to that she worked for Arbonne International as their National Director where she lead efforts of opening new International Markets.
She has been very fortunate to have had an incredible career working in the Beauty and Health/Wellness industry for over 20 years for Fortune 500 companies. Most recently, Silva left her corporate career in Executive Management behind to build her own business helping others get healthy and improve their lives.
She is very passionate about helping others and now she would like to channel that passion by helping Armenian orphans through SOAR.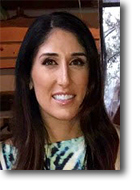 Maggie Attashian
Treasurer
Maggie Attashian was born and raised in Reno, NV. She graduated from the University of Nevada, Reno with a Bachelors in journalism, emphasis in broadcast and public relations and minored in business administration. During college she was in Delta Gamma and was Director of Social and Special Events for 2 years. After graduation she moved to Marina del Rey, CA for two years and in 2013 she made the move down to Orange County where she now lives in Irvine. Maggie went back to school in 2016 for her Certificate in project management from UCI. Some of my hobbies include working out at Barry's Bootcamp, hiking, snowboarding, and spending time with family and friends.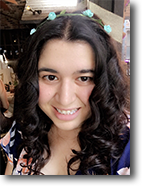 Marlin Agoub
Secretary
Marlin was born in Kuwait, then raised in Orange County since she was 3 years old.
She granduated from University of Califronia, Irvine in 2013 with a major in Political Science. At UCI, she was a peer educator for the Campus Assualt Resources and Education Center, as well as a photographer for the campus newspaper, yearbook, and athletics department. Continuing her interest in photography, she does freelance for various events, sports games and lifestyle portraits.
Marlin completed her Paralegal Studies certificate at UCI Extension in 2015 and currently works as an assistant at Snell & Wilmer law firm in Costa Mesa.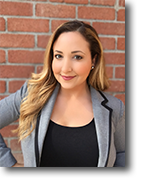 Jacquleen Alagozian
Jacquleen Alagozian is a marketing professional with a background in sales, public relations and event planning. Upon graduation from Whittier College in 2006, Jacquleen joined KABC-TV, Los Angeles, where she spent the next six years working side by side with the number one sales team in local commercial advertising in prime programming; gaining invaluable experience and a solid foundation in marketing and sales. Prior to joining Sabal Capital where she currently manages the company's marketing efforts, Jacquleen coordinated membership for the Orange County Bar Association where she also succeeded in guiding the launch of their 2016 media kit and sales outreach for Orange County Lawyer magazine. Born and raised in Los Angeles, Jacquleen moved to Huntington Beach six years ago and enjoys everything the OC has to offer, taking bike rides to the beach in her spare time. She has been involved in many charity organizations including Soroptimist International of Montebello, Junior League of Orange County, and Children's Bureau, among others where she has chaired committees and helped execute events to raise proceeds and awareness.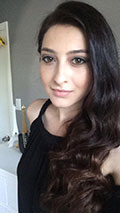 Tatev Papoyan
Tatev was born and raised in Yerevan, Armenia, where she developed interests in International Relations and Economics and moved to California in 2008 to continue her studies in University of California, Davis. With frequent moves across California, she has been volunteering and working in different cities and communities. With her cultural background from Armenia she has always striven to be a part of an organization in diaspora that would keep her close and connected to her heritage, as well as provide a platform to help the community. She has been a part of SOAR in both Sacramento and Orange county chapters and is excited to grow and develop the SOAR family. In addition to her charity work, she is working in a medical clinic and a student pursuing career in Medicine and Biotechnology. Tatev enjoys travelling, learning new languages and live concerts.
Christine Sarkisian
Born and raised in Huntington Beach, California, Christine has been a long time member and advocate for SOAR Orange County. An avid businesswoman and entrepreneur, Christine earned her Bachelor of Science Degree in Economics from California State University Long Beach before embarking on a career in corporate housing. Christine has spent the last 17 years managing her highly successful investment company in the Orange County area.
Christine and her husband John and their children currently live in Laguna Beach where they enjoy traveling, art, culture, and athletics. As a devoted mother herself, Christine realizes the importance of helping children thrive and succeed.