New Orleans became part of the SOAR family in July 2014. While New Orleans, unlike most of SOAR's Chapters, has a relatively small Armenian population, their local Board of Directors brings a heartfelt level of enthusiasm that epitomizes our mission and expectations.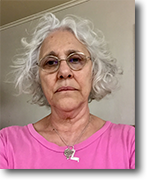 Hasmig Vartanian
Hasmig Vartanian is a visual artist and currently adjunct instructor at Southeastern Louisiana University in Hammond, Louisiana. She received her BFA from University of Wisconsin and MFA from Washington State University. Her primary interests include drawing, painting and sculpture with the use of conventional and non-conventional materials.
She has received numerous awards and residencies, including a Purchase award from American Academy of Arts and Letters and artist residency at the Josef and Anni Albers Foundation. Her work is in numerous public and private collections and exhibits her work regularly in two commercial galleries, Cole Pratt Gallery in New Orleans and Howard Scott Gallery in New York.