SOAR - New Jersey Chapter
Originally part of SOAR's New York-New Jersey Chapter that was formed in 2009, New Jersey branched out in April 2013. Home to 7 Armenian churches and one Armenian school in the Central and Northern parts of the state, New Jersey has more than 15,000 Armenians state-wide.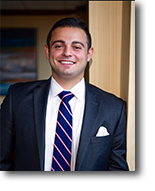 Steve Gokberk
Co-President
Steve Gokberk was born and raised in New York. He has his bachelor's degree in legal studies and his law degree from St. John's University. While in law school, he worked for a non-for-profit organization, assisting victims of domestic violence in family law related matters. Presently, he is in private practice litigating a variety of personal injury and medical malpractice matters throughout New York state. Steve has volunteered as a child mentor through the Nassau County Bar Association.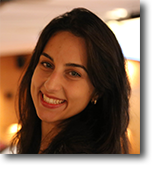 Celine Zakaryan
Co-President
Celine's primary motivation for joining SOAR is to assist one of Armenia's most vulnerable groups. As a descendant of (at least) five orphaned Genocide survivors, she understands the positive impact of SOAR.
She holds a Master's degree in Public Policy and Public Administration. She currently resides in NYC and works for city government.
Beata Safari
Co-Vice President
Pic and Bio coming soon
Alice Hallajian
Oversees All SOAR Junior Groups
Alice joined KPMG LLP in March of 1992 as a Registrar of the Quality Institute, (now known as Learning and Development) where she coordinated the training programs and delivery of the firm's onsite and offsite CPE courses and content material.
Alice is currently the Associate Director of Global Mobility at KPMG LLP where she supports the firm's Advisory, Business Process Group (BPG) and Tax business practices' with its long term Global Mobility initiatives. With over 27 years of expatriate management experience, Alice works closely with internal functional and business teams, as well as partnering with external providers to facilitate international assignments across borders for its KPMG professionals.
Prior to joining KPMG, Alice worked as a Recruiting Manager for Anthony Ryan Associates, an employment agency specializing in placing Data Processing and Systems Programming professionals within Fortune 500 Corporations.
She is also involved with a number of outside organizations including the Society for Orphaned Armenian Relief (S.O.A.R). She is currently the National Director of the SOAR Juniors program. Alice previously held the position of Superintendent of the Sunday Schools at the St. Mary Armenian Church in Livingston, NJ from September 2015 through June 2017 and where she is currently an active parishioner. Alice was formerly on the Board of Directors for 5 years at the REED Academy, a school for Autistic children located in Oakland, NJ.
Alice is also a member of the National Association of Realtors and is a Realtor with Coldwell Banker in Mendham, NJ where she assists with residential sales in Morris County,
Alice holds a BA degree from Montclair State University, where she majored in Communication Studies and minored in both English and Pre-Law Studies. She currently resides in Randolph, NJ with her husband and two children.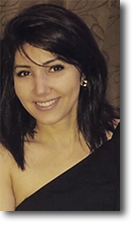 Suzanna Arutyunyan
Syuzanna currently works as a coordinator of operations at Giorgio Armani Corporation. She earned her MA in International Relations while in Russia, and will graduate as a Digital Marketing specialist from Zicklin School of Business this May.
Syuzanna moved to the US in 2008 from Russia, but was born in Armenia. Currently, she resides in Paramus, NJ with her husband and two children.
Maggie Kouyoumdjian
Maggie was born in Kuwait City, Kuwait and moved to New Jersey with her family in 1980. Since then, she graduated from Hovnanian Armenian School and has been an active part of Sts. Vartanantz Church in Ridgefield and its community center there. Maggie danced in the Hamazkayin Dance Group, was a Homenetmen Scout and AYF member. She grew up singing in the church choir and attended the Prelacy's Datev Summer Institute. Maggie attended Montclair State University for Early Childhood Education and presently continues taking classes for Behavioral Occupation Therapy.
Maggie has been married since 1995 to Vahan Kouyoumdjian, M.D. and they have three children. All three of their children have graduated from Nareg Armenian School at Sts. Vartanantz Church as well as the Sunday School. Maggie was the director of the school for fourteen years. She now serves as the Chairlady of the Church's Ladies' Guild and is an active member of the Armenian Relief Society NJ "Shakeh" Chapter.
Maggie has been blessed to have great faith in God, grown up in the church, serve Him and the Armenian Community in different capacities. She believes to whom much is given, much is expected!
Nayad Manukian
Pic and Bio coming soon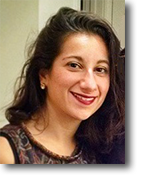 Talene Nargozian
After graduating with a B.S. in Communication from Boston University, Talene moved to NYC launching her career in advertising. Talene has worked in various aspects of advertising and has since 2010 specialized in the digital media industry. During the spring/summer of 2014 Talene participated in the Birthright Armenia program. Her time in Armenia was divided between Yerevan and Gyumri where she volunteered for various organizations. In her spare time she enjoys yoga, pilates, traveling, live music, cooking and reading.
Taline Sesetyan
Pic and Bio coming soon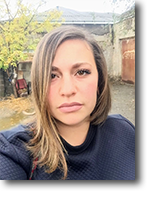 Maria Yeghiazaryan
After graduating from Montclair State University with a degree in Business Management and Hospitality in 2015, Maria has been working with several Marriott hotels in New Jersey and New York City as a guest services manager as well as an assistant front office manager. She participated in the Birth Right Armenia program from from July 2018 until November 2018 volunteering and interning at Greenlane NGO as well as Marriott in Yerevan.
Maria enjoys cooking, traveling, reading and hiking in her spare time.