SOAR - New Jersey Chapter
Originally part of SOAR's New York-New Jersey Chapter that was formed in 2009, New Jersey branched out in April 2013. Home to 7 Armenian churches and one Armenian school in the Central and Northern parts of the state, New Jersey has more than 15,000 Armenians state-wide.
Nayad Manukian
President
Nayad Manukian was born and raised in Istanbul and moved to Northeast Jersey at the age of 7. With a strong influence from her family to stay connected to her roots, she is thankful for her involvement in the Armenian community through dance, Saturday school, and church service. She received her M.S. in Technology Management and Information Systems from Stevens Institute of Technology in 2016 and works for Janssen Pharmaceuticals of J&J on the Data Science team. Her motivation for joining SOAR-NJ derives from her passion to advocate for those less fortunate and to help drive change for the greater good of our community.
Juliet Inan
Vice President
New Jersey Juniors Adult Advisor
Charity isn't about pity, it is about love.
–Mother Teresa
Juliet went to Sahakyan Nunyan Armenian school in Istanbul and graduated from the Journalism and Public Relations Department at Marmara University College of Communication.
She has media accreditation to cover the meetings and press conferences at the United Nations regularly for the "Turkish Journal. Juliet reports the news and also interviews various artists, musicians, and politicians for an Armenian bilingual weekly newspaper Agos. She has had many interviews, articles and poems published in Paros-Armenian Magazine,  Pari Yazarlar, and KINALIADA Haber Bulteni.
Juliet currently works for the "Strategic Planning Committee" in the Ridgefield Free Public Library. She is in charge of the involvement of the Turkish and Armenian communities in the library. Through her effort, the library was able to obtain the Turkish children and poetry books as well as magazine sections. Photography is her hobby. One of her photographs received an award for the Asian Heritage Art Contest with the theme of "I Am Local: Multiple Layers of Identity" at the Bergen Community College.
Juliet has been on The Women's Guild of the Holy Cross Armenian Apostolic Church since 2013, and is volunteering at the Kirikian Armenian School of St. Thomas Armenian Church on Saturdays.
Everybody can be great, because anybody can serve. You don't have to have a college degree to serve. You don't have to make your subject and verb agree to serve. You only need a heart full of grace. A soul generated by love.
–Martin Luther King
Alice Hallajian
Oversees All SOAR Junior Groups
Alice joined KPMG LLP in March of 1992 as a Registrar of the Quality Institute, (now known as Learning and Development) where she coordinated the training programs and delivery of the firm's onsite and offsite CPE courses and content material.
Alice is currently the Associate Director of Global Mobility at KPMG LLP where she supports the firm's Advisory, Business Process Group (BPG) and Tax business practices' with its long term Global Mobility initiatives. With over 27 years of expatriate management experience, Alice works closely with internal functional and business teams, as well as partnering with external providers to facilitate international assignments across borders for its KPMG professionals.
Prior to joining KPMG, Alice worked as a Recruiting Manager for Anthony Ryan Associates, an employment agency specializing in placing Data Processing and Systems Programming professionals within Fortune 500 Corporations.
She is also involved with a number of outside organizations including the Society for Orphaned Armenian Relief (S.O.A.R). She is currently the National Director of the SOAR Juniors program. Alice previously held the position of Superintendent of the Sunday Schools at the St. Mary Armenian Church in Livingston, NJ from September 2015 through June 2017 and where she is currently an active parishioner. Alice was formerly on the Board of Directors for 5 years at the REED Academy, a school for Autistic children located in Oakland, NJ.
Alice is also a member of the National Association of Realtors and is a Realtor with Coldwell Banker in Mendham, NJ where she assists with residential sales in Morris County,
Alice holds a BA degree from Montclair State University, where she majored in Communication Studies and minored in both English and Pre-Law Studies. She currently resides in Randolph, NJ with her husband and two children.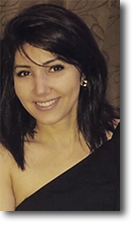 Suzanna Arutyunyan
Syuzanna currently works as a coordinator of operations at Giorgio Armani Corporation. She earned her MA in International Relations while in Russia, and will graduate as a Digital Marketing specialist from Zicklin School of Business this May.
Syuzanna moved to the US in 2008 from Russia, but was born in Armenia. Currently, she resides in Paramus, NJ with her husband and two children.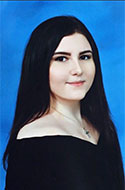 Elana Babich
Elana Babich is currently a junior at Ramapo College of New Jersey as a Pre-Pharmacy student. Her role as President of the Armenian Student Association at Ramapo College allows her to help bring Armenians together to help raise recognition for the Armenian Genocide as well as fundraise for SOAR. Alongside her studies, she works as a Certified Pharmacy Technician at Walgreens and is an employee of Kayal Orthopedic Center. Elana is very passionate about helping people and has made it her goal is to help as many people as she can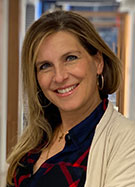 Valeria Moumdjian
Valeria Moumdjian is a third generation Armenian. Her grandparents emigrated from Zeitoun, Hadjn and Marash to Uruguay, South America. Her parents came to the US while expecting her, and during her childhood she emigrated back to Uruguay. Her participation was very active in the Armenian community, as she started in AGBU's Youth Group committee. After acheiving her teaching degree in Preschool and Elementary schools, she worked in both Nubarian-Alex Manoogian and public schools in tenure positions. She also was the Sunday school teacher and organist during a few years in the Armenian Evangelical Church. In 2005 she joined AGBU's Chapter Board focusing on cultural events and translations, and later became the chapter's secretary. During that role, she also was in charge of the enrollment in the Nubarian's Education Committee. In 2011 she participated in the NUR OLPC project in Arstaj. Searching for new horizons, she moved back to the US in 2012 to pursue her career in Graphic Design. She currently works as the Studio Production Manager of Prudential Financial's in-house ad agency. She is married to Dan Simon with whom she shares their son Avedis.
Tamar Purut
Tamar Purut is a first-generation Armenian-American who was born and raised in New Jersey. Her family immigrated to the States from Istanbul, Turkey and relentlessly instilled their rich culture within her from early childhood. Tamar's favorite outlet encompassing the Armenian community historically has been dance, which she practiced for over 15 years as a member of the Akh'Tamar Dance Ensemble. She has pursued active involvement within the community in a number of capacities over the years including interning for the Armenian National Committee of America and volunteering as a summer camp counsellor in the Republic of Georgia with Camp Javakhk. Tamar holds a Bachelor's Degree in Philosophy and Political Science from Seton Hall University and a Master's Degree in International Security from University College London. She is seasoned in operating anti-money laundering and compliance programs at first-tier global financial institutions and is presently an Authorized Officer at the Union Bank of Switzerland.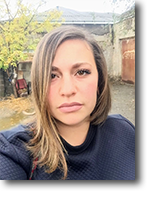 Maria Yeghiazaryan
After graduating from Montclair State University with a degree in Business Management and Hospitality in 2015, Maria has been working with several Marriott hotels in New Jersey and New York City as a guest services manager as well as an assistant front office manager. She participated in the Birth Right Armenia program from from July 2018 until November 2018 volunteering and interning at Greenlane NGO as well as Marriott in Yerevan.
Maria enjoys cooking, traveling, reading and hiking in her spare time.