SOAR - Munich Chapter
SOAR-Munich joined the SOAR family in January 2014. Like much of the Armenian Diaspora, most Armenians immigrated to Germany after the Armenian Genocide of 1915. After the Second World War, many Soviet Armenians, former prisoners of war, fled to the American occupied areas of Germany. The first Armenian organization in Germany was the Armenian Colony of Berlin, established in 1923. By the mid-1980s, multiple Armenian associations were established in Berlin, Cologne, Frankfurt, Hamburg, Munich, and Stuttgart. There are more than 30,000 naturalized Armenians living in Germany today.
Vardan Petrossiantz
Vice President
Vardan earned his LL.B. from Yerevan State University in 2017 and his LL.M. from the University of Augsburg  in 2019. He is currently working on his Ph. D. with the topic: "Legal advice through artificial intelligence", and is also employed as a Contract Specialist with legal department at rfrnz GmbH, Munich.
Vardan holds a 3rd Dan black belt certificate in WWF Traditional Karate-Do Vardan, also winning 14 gold medals. He is fluent in Armenian, German, Russian, and English.
Armine Khurshudyan
Armine Khurshudyan is working as a office manager at a design company in Munich. She holds B.S. degree in Theory of Economy from the Armenian State University of Economy. After a year of working experience as a credit manager at VTB Bank Armenia, she made a very important decision to move to Germany and build a new career. Armine feels it is a great honor for her to be part of SOAR and bring her ideas to life.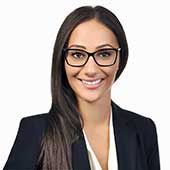 Jacqueline Papazian Gross
Jacqueline was born and raised in Boston, Massachusetts and has spent the last several years residing in Munich. She holds a master's degree in biotechnology from Georgetown University. As a management consultant working in Switzerland and Germany, Jacqueline focuses on strategy development in the pharmaceutical and life sciences industries. She is a passionate advocate for underprivileged children and vigorously supports community development initiatives in rural areas.
Laura Petrossiantz
Laura earned her LL.B. and LL.M. from Yerevan State University. She is currently working on her LL.M. in German Law at Augsburg University.  Laura has worked as a Legal Expert for the Environmental Public Advocacy Center in Yerevan, Armenia, and as an Intern at German Bundestag, Berlin, Germany. Currently, she is a working student at OSRAM, Munich, Germany.
Laura is fluent in Armenian,German,Russian,and English.  In her spare time, she loves engaging in art, yoga, and photography.