SOAR - Moscow Chapter
Moscow joined the SOAR family in February 2012.  Russia possesses the largest Armenian population outside of Armenia, home to approximately 3 million Armenians, with more than 1 million Armenians, including seasonal workers, in Moscow alone. The Armenian Diaspora is the fourth largest ethnic diaspora in Moscow, after Ukrainians, Jews, and Tartars. The dissolution of the Soviet Union, the economic blockade of Armenia, and the war in Artsakh caused a powerful stream of migration to Moscow (as well as other Russian cities and towns). In Moscow, the Armenian Diaspora has formed a multifaceted and versatile layer that touches nearly every aspect of society. The Armenian Diaspora of Moscow has a history of about 600 years (the city itself is 800 years old), and the city's cultural and educational life has been influenced by Armenians, beginning with the princely family of the Lazarevs, who promoted the resettlement of Armenians to Moscow in the 17th and 18th centuries. Armenian Yevgeniy Vakhtangov, the founder of a popular theater that now bears his name, and two great Armenian composers of the 20th century – Arno Babajanian and Aram Khachaturian – lived and created in Moscow.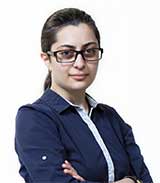 Laura Minasyan
President
Laura is a Director of Business Development and Client Service at an international financial organization.
Born in Tsaghkadzor (Armenia), raised in Gyumri (Armenia), she holds a Bachelor's Degree in Foreign Languages and Literature from the GSPI (now Shirak State University). Laura started her Masters in Film and TV Directing at the Yerevan State Institute of Theater and Cinematography (Gyumri branch) in 2010, but left for Moscow (Russia) chasing her dreams.
Back in Armenia, Laura was a part of S.P.F.A. Gyumri and was responsible for the library, as well as one of the responsible persons for the travels organized for the children attending the free courses of the non-profit organization. Till this day, she supports the organization and pays a visit each time she is in Armenia.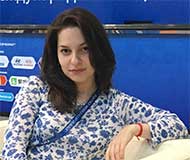 Rosanna Benedikt
Vice President
Rosanna was born in Yerevan but been raised in Moscow, as her family moved here when she was 2 years old.
She studied Foreign Trade Management at the Russian Foreign Trade Academy, then continued her studies in Business Administration at the Moscow Technological Institute.
Currently Rosanna is a Senior Client Relations Manager at Crocus Group in Moscow (Russia).
Apart of her daily work routine, she actively supports different causes that protect wildlife and children.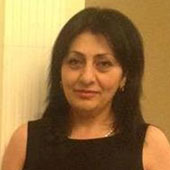 Gayane Minasyan
Vice President for Event Organisation
Born and raised in Gyumri, Gayane has seen the prosperity and the downfall of the city. She has witnessed the disastrous earthquake of 1988 which caused pain not only to her, but also destroyed lives of the majority of the city's population.
She has worked in the Armed Forces of Armenia as well as in the Ministry of Education (Gyumri branch). While working with Governmental structures, she has been able to assist students in need with their tuition fees, connecting with different organisations and benefactors. Currently, she is a Partner at an alternative investments company.
By joining SOAR, Gayane hopes to be a part of the solution for children in need.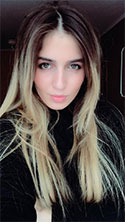 Amina Mugadaeva
Vice President for PR and Marketing
Amina is a Public Relations' specialist, graduating from the Moscow Aviation Institute (MAI) in 2013.
She has been an intern in Aeroflot and the Channel One Russia and has been working on different projects throughout the industry, as well as was taking various additional courses to improve her skills. With the hard work they put in their projects, her team has won the All-Russian Contest of Social Advertising.
Amina is currently working at Crocus Expo as a Client Relations Manager.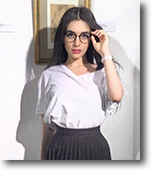 Mariam Hovsepian
Mariam was born in Goris, Armenia. Her parents were also born in Goris, but at the age of three Mariam and her family had to move to Yerevan, as her father received a job offer, as he worked for military. The pay was very little, however, and it was almost impossible to support the family, so the decision was made to move to Moscow. Every year she would visit Armenia on summer holidays. Along with high school, she was admitted to a British banking college in Moscow. Having successfully completed both the college and high school, she was admitted to People's Friendship University of Russia and has been developing a bakery business. Despite studies and maintenance of business, she has been always motivated by volunteering. Nothing energizes her with emotions like supporting children, who are sincerely in need of warmth and support, just as she is in need of the warmth they express towards her.
Aida Markosian
Aida earned her PhD from the Linguistic Institute of the USSR Academy of Sciences, Moscow, as well as as her Doctor of Pedagogy from Lomonosov Moscow State University.  She has held positions at several Universities throughout the years, but most recently Aida was a Lecturer of Armenian and Russian at Bucharest University.
Aida is the Author of a  textbook of Armenian as foreign language "Krunk Hayastani", which has been used at the Moscow Linguistic University and Lobachevsky State University of Nijny Novgorod and is now being used at Bucharest University as well. She has also authored more than fifty publications concerning French, Armenian, the technique of teaching of nonnative languages, the theory of bilingualism, informal speech theory in Armenia, Russia, France, and Romania.
Aida is fluent in Armenia (Native) and French and also speaks English, German, Italian, and Romanian.
Ruben Melkonian
Pic and Bio coming soon