SOAR - Minneapolis Chapter
Minneapolis joined the SOAR family in December 2015. The first Armenian families settled in Minnesota after the Armenian Genocide. They were later joined by refugees from Azerbaijan, Iraq, and Egypt. St. Sahag Armenian Church has been functioning in the city of Saint Paul for more than 10 years, while the Armenian Cultural Organization of Minnesota (ACOM) preserves and promotes Armenian culture, language, history and heritage in Minnesota and the upper Midwest. Founded in 1980, ACOM is the oldest and largest Armenian organization in the state.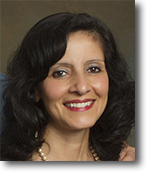 Dr. Caroline Melkonian Ylitalo
President
Dr. Caroline Melkonian Ylitalo was born and raised in Aleppo, Syria where she attended the AGBU Armenian school. After high school she moved to California and enrolled in UC Berkeley earning a B.S. in Chemical Engineering. Later she earned a Ph.D. in Chemical Engineering from Stanford University. In 1992 she moved to Minnesota to work as research scientist at 3M company. Dr. Ylitalo has over 90 issued and pending patents and 22 journal publications. Examples of her inventions include inks and films for digitally printed graphics and traffic signs, antimicrobial wound dressings, foam earplugs and disposable respirators.
Dr. Ylitalo has always been an active volunteer in various organizations, especially those involved in science encouragement. She served for five year on the 3M Foundation advisory board for health and human services, she co-founded the Discover/3M Young Scientist Challenge program, and chaired various scientific symposia and events. Currently she is a member of the Twin Cities regional science fair scientific review committee.
Dr. Ylitalo is a member of St. Sahag Armenian church in St. Paul, where she served two terms in the parish council. She is an active member of the church women's guild and regularly sings in the choir.
Armineh Khachatoorian
Armineh Khachatoorian was born and raised in Tehran, Iran. After graduating high-school she moved to California, USA to attend University of Southern California. After graduating with a B.S. in Chemistry she began working as an R&D Laboratory Technician at a Medical Device company in Southern California. During her 16 years of service she was promoted to the position of R&D Lab Manager responsible for many new product launches in the field of sterilization indicators along with 4 patents and many publications.
Armineh then moved to the Orthodontic Division of the Health Care Business of 3M. During her 22-year service at 3M she has held positions of: Senior Technical Service Engineer, Marketing Product Manager, Brand Manager, Procedure Marketer and Scientific Affairs Manager.
Armineh moved to Minnesota in 2016 to continue her career with 3M while her husband, son and daughter still live in Southern California.
Throughout her life, Armineh has had a strong connection with the Armenian community, culture and church. She attended Armenian schools in Tehran as well as Ararat athletic and girl-scout organization. She has been active in the Iranahay Society in Glendale, California as well as serving 9 years on the AESA (Armenian Engineers and Scientists of America) Executive Council. During her 3 years in Minnesota she has been an active member of St. Sahag Armenian church Parish Council, ACOM (Armenian Cultural Organization of Minnesota) and recently SOAR (Society for Orphaned Armenian Relief).
Hayk Margaryan
Hayk received his Bachelor degree at Minot State University in ND specializing in Computer Science. He is currently a software engineer at Digi-Key Electronics in MN. Throughout his studies Hayk received several scholarships and rewards, such as the DAAD scholarship, presidential honor list rewards. Hayk speaks English, German, French, Russian and Armenian languages, and his hobbies include traveling, programming, soccer, chess.
Julianne Shelton
Julianne Shelton is Research Lead at brightpeak financial, a division of Thrivent Financial. She relocated to Minneapolis for the job in January 2017 from Raleigh, NC. While attending Fuller Theological Seminary in 2006, she enjoyed her first cup of surge in the home of an Armenian while living in Glendale, California. She then served as a Peace Corps volunteer in Armenia from 2010 to 2012, living in the town of Charentsavan and working alongside an English teacher in School 4. She also worked with local teachers to introduce the government's new Healthy Lifestyles curriculum to the school and assisted local professionals in developing projects to benefit the community and receive grant funding.
Upon her return to the U.S. she began her Masters in Public Policy at Duke University, with a concentration in International Development, focusing her Master's project on developing the free and independent media in Armenia. She returned to live among Armenian people again in 2015 as a Peace Corps Response volunteer in Ninotsminda, Georgia, working with community radio station, NOR, to promote the voice of the people. She keeps close connections with her family and friends in Armenia and seeks to connect with the Armenian community wherever she goes.