Milan became part of the SOAR family in August 2013. There are approximately 3,000 Armenians living in Italy, primarily in Milan, Rome, Pisa, and Venice. Besides the general population, there are monastic communities on the island of San Lazzaro (Venice), at the Moorat-Raphael College of Venice, and Armenian clergy at the Holy See (Vatican). The first Armenian communities in Italy were formed in the 12th century when active trade was encouraged between Cilicia and Genoa, and Venice. Pisa is a growing Armenian community today. Under King Levon II, treaties allowed Italian merchants to open factories and to develop industrial activities in Cilicia. In the 15th century the process of catholicizing Armenians was strengthened in Italy, greatly contributing to their assimilation with the Italian people. In 2000, the Armenian Genocide was recognized by the Italian Parliament, and a memorial dedicated to the Genocide victims was inaugurated in the center of Rome. Besides the San Lazzaro, Italy has a number of very important Armenian churches and religious establishments: St. Gregory's Armenian Church (Rome); Holy Cross Armenian Church (on Calle Degli); St. Blaise Armenian Catholic Church (Rome); San Nicola de Tolentino Armenian Catholic Church (Rome); and the Armenian Apostolic Church of the Forty Martyrs (Milano).
Ani Harutyunyan
President
Ani was born in Gyumri, Armenia. She holds an MA in Pedagogy from Gyumri State Pedagogic University (English, Russian and Russian Literature) and another MA in Political Science and International Relations from the American University of Armenia (AUA) Yerevan. Currently, she is pursuing her third MA in World Politics and International Relations at the University of Pavia, Italy. Ani is working as a Business Development Manager and Tech support for Cinqtech. Inc based in New York, USA.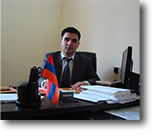 David Pipoyan
Vice President
David got the degree of Doctor of Veterinary Medicine at the Armenian State Agrarian University. In 2010, he completed his PhD in Production quality and safety at the University of Tuscia (Italy).
Between 2010 and 2011 David worked for the Armenian Government as an expert of food safety and export. Since 2011, he has served as the head of information-analytical center for risk assessment (The Center for Ecological Noosphere Studies). David also gave lectures at Armenian State Agrarian University, ATC (Agribusiness Teaching Center) and National Academy of Sciences.
David is fluent in Armenian, English, Russian and Italian.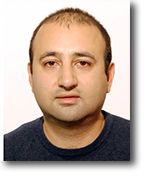 Khoren Boghikyan
Khoren was born and raised in Armenia. He graduated from the Institute of Theatre and Cinema of Yerevan in 2008. Currently, Khoren lives in Turin, Italy and is a professional photographer and camera operator.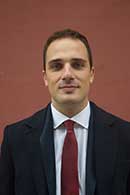 Pierluigi Chiaiese
Pierluigi was born in Italy and he moved to Milan, where he is currently living. He attended military school and then graduated in Law. Pierluigi is now working in a relocation company, which helps people from other countries to move to Italy.
Pierluigi knew about SOAR projects thanks to other members and he decided to join their initiatives.
Nelly D'addeo
Nelly earned her Bachelor's Degree in Finance from Armenian Agrarian Academy and went on obtaining a lot of experience in Export and Taxation. She is currently the mother of three wonderful children. Nelly speaks Armenian, English, Russian and Italian and is excited to join SOAR.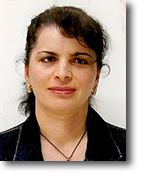 Lusine Hovhannisyan
Lusine has her degree in Physics and in Mathematics. She also has extensive experience with working with kindergarten children in Armenia. While still in High School in Italy, Lusine earned her license as a professional baker.
Lusine is fluent in Armenian, Russian and Italian.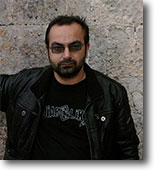 Seiran Sarkisyan
Seiran has completed his education at the Institute of Radio Engineering in Tbilisi. He has run a shoe factory in Tbilisi for many years. Currenlty Seiran lives in Italy. He speaks Armenian, Italian, Russian and Georgian.