SOAR - Melbourne Chapter
Melbourne joined the SOAR family in December 2016. The first Armenians migrated to Australia from Asia in the 1850s, during the gold rush and later from the 1915 Genocide and the Second World War. However, the majority came to Australia in the 1960s and 1970s from the Middle East, starting with the Armenians of Egypt after Nasser came to power. In the early 1990s, a small number migrated to Australia to escape the hardships in Armenia caused by the combination of the collapse of Soviet Union, the devastating Armenian earthquake of 1988 and the Azerbaijani aggression in Nagorno Karabakh.
The Armenian community in Australia is estimated to be 50,000 people who primarily reside in Sydney and Melbourne. In both, communities have established a number of organizations that cater ​to the educational, cultural, sport and welfare needs of the ​Armenian ​community.​ ​The Melbourne Armenian community, numbering upward of 10,0​0​0, has cultural cent​er​s, two Saturday language schools​,​ and ​the Armenian Apostolic Church of St Mary.​ ​The community takes pride in the significant contributions that have been recorded in politics, business, academia, sports and culture.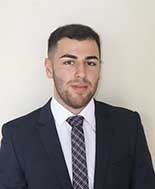 Tom Ebeyan
President
Tom works as an investment banker, advising clients on M&A transactions. He holds a BCom from the University of Melbourne and is currently studying to attain his CFA charter. Tom has extensive experience working with children as a maths tutor and rowing coach. Some of his past charity work include a trip to Vietnam to work with orphans affected by the lasting impacts of Agent Orange; tutoring young, underprivileged students locally; and involvement in the Red Shield Door Knock Appeal.
Born in Melbourne to Armenian immigrants, Tom is passionate about giving back to children who have not been afforded the same opportunities that he was. He hopes to lead the Melbourne chapter in its goal of making tangible contributions to the lives of Armenian orphans.
In his personal life, Tom is a keen rugby player and avid Melbourne Rebels fan.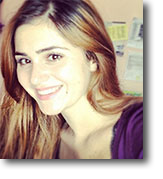 Anna Gabrielyan
Anna is currently a PhD candidate in Medicine, Dentistry and Health Sciences at the University of Melbourne, Australia and is doing her  research on cancer. She is also an Education Mentor Coordinator at WEHI and Science tutor for high school students in Australia. Anna obtained her MSc degree in Biomedicine at University of Cadiz (UCA, Spain) in 2015. Prior to that she also had a BSc degree in Environmental Sciences (UCA, Spain) and studied Biology at Yerevan State University (YSU, Armenia) specializing in Molecular Biology. Anna recently worked in Prom-Test laboratories as an assistant biomedical scientist and did her internship at Cadiz University Hospital in Spain. Her previous experience includes her work at the Institute of Molecular biology NAS RA as a research assistant, exchange student in Denmark and the internship in Labaqua S.A. (Jerez, Spain).
Anna learns foreign languages very fast. She is fluent in Armenian, Spanish, English and Russian. Her hobbies are travelling, doing lab experiments, painting and participating in many outdoor activities. Anna has been a member of NGOs since her childhood and took part in many activities in Spain and whenever she was in Armenia.
Anna adores volunteering and entertaining children. She always finds a good way to keep an interesting conversation with them. It would be a great pleasure for her to have any kind of contribution to this project, which she is sure will make her very proud, happy and very satisfied.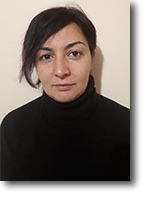 Evelina Gyulkhandanyan
Evelina Gyulkhandanyan holds an MA Degree in Sociology from Yerevan State University. She has worked in human rights and development for over 15 years. In 2008 she co-founded "Socioscope" NGO and directed it utill 2014, promoting democracy and development in Armenia and in the region. Since February 2014 she has been living and working in Melbourne, Australia with her husband Alex, daughter Mariam and son Mark.
Arpi Oksayan
Arpi was born in Istanbul and is married with one daughter and has had the recent addition of a grandson.
An Industrial Engineer by profession, she received her BS at Bogazici University in Istanbul, her MS and Professional Degree in Industrial Engineering at Columbia University NY. Arpi worked 11 years in Istanbul at a major construction company, moving to Melbourne Australia in 1995. She is currently self employed as a property developer.
Arpi strongly believes that in this world, where there is no equal opportunity, we should do as much as we can to close that gap. If we can in any way help to improve the chances of children born into disadvantageous conditions then it should be our duty to do so once the opportunity presents itself. Our reward would be once in a while a smile on their faces if we can help it.