SOAR - Madrid Chapter
Madrid became part of the SOAR family in April 2018. There are approximately 50,000 Armenians in Spain today, living primarily in Valencia (14,000), Barcelona (12,000), and Madrid (8,000). The first Armenian Church was opened in a small town near Barcelona in August 2009. Most Armenians in Spain speak Spanish, Armenian, Persian, and Arabic, and most belong to the Armenian Apostolic Church.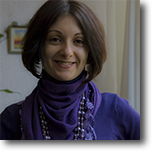 Anna Arakelyan
President
Anna was born and grew up in Yerevan. As a teenager, she participated in the USA Educational Board Exchange Program in Armenia and won a FLEX scholarship for studying one year in the USA. Upon her return to Armenia, she joined the Armenian YMCA as a volunteer and stayed there five years. In 2001, she went to study in Sweden, at Lund University within the framework of LUMES, International Environmental Sciences Master Program. Upon her graduation, she returned to Armenia and since then has been working in the field of international organizations, such as UNDP, UNFPA, and IREX. In 2011 I met Jesus, her Spanish husband, and since then they have formed a family in Madrid, living with their two year old son. Her favorite life quote is: "Never give up; for even rivers someday wash dams away".