SOAR - Lyon Chapter
Lyon joined the SOAR family in April 2015. Like much of the Armenian Diaspora, most Armenians immigrated to France after the Armenian Genocide of 1915. After the end of the First World War, many survivors, including orphans, lived in the French-occupied part of the Ottoman Empire, Cilicia, and the future French Mandate territories of Syria and Lebanon. When French troops retreated in 1921 behind the present-day Turkish-Syrian border, most Cilician Armenians fled and resettled in refugee camps in Alexandria, Aleppo, Ainjar, and Beirut. From there, entire families fled to France. The Armenian refugees and orphans crammed into Turkey, Egypt and Lebanon, arrived by the boatloads to Marseilles and journeyed to the mines and factories around Marseilles, Valence, Grenoble, Lyons, and Paris. There, a quarter of a million Armenians settled into tight little communities of between 2,000 and 4,000 people. The foundations of the Armenian community in France had been set.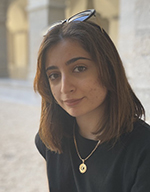 Anita Tonoian
President
Having set foot in France 17 years ago, Anita is now a student at Sciences Po Lyon in the Public Affairs section. She earned a Bachelor degree in Applied Foreign Languages from the University of Jean Moulin Lyon 3, and studied for a year at UCLA where she followed classes on globalization and world politics.
Having been raised in diverse environments, Anita cultivated an intercultural understanding and sensitivity which allows her to be aware of a lot of social issues and wanting to be an agent for change.
Professionally, she would like to work in an agency where she could analyse public policies related to international development.
Anita also speaks five languages : Russian, French, English, Spanish and Armenian.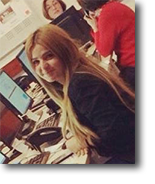 Narine Igityan
Narine is a third year student at the University of Lyon 2 in the faculty of political science. She completed her studies at Yerevan State University in the faculty of Iranologie. Narine has been a member of Young AGBU and Young Rotary and has participated in Phoneton during 2015-2016. She has also volunteered for the Red Cross in Armenia.
Narine is fluent in Armenian, Russian , Iranian, and French and also speaks English.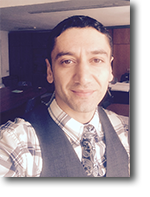 Lernik Hovsepyan
Lernik earned his Certificate of Economics and Management from the University of Paris 2, Pantheon ASSAS. He went on to earn his Bachelor of Arts in French with a minor in Economics from California State University, Los Angeles. Still continuing his education, Lernik attended California State University, Long Beach, earning his Master of Arts in Francophone Studies. He has earned his second Master's Degree and is currently in the PhD program at UCLA.
Lernik has worked at Tea, Group BGME in Paris, France where he did work for the prestigious Law Firm Pechenard and Associates, for magazines, oil companies, and as a Russian-English-French translator for events within companies such as CCFD, AFDI, ORANGE for the International Development of Agriculture in foreign countries, just to name some of the work he had done within the company. He has also worked as a tutor at Los Angeles City College in classes of 200 and 300 level courses. Lernik is part of the University of France in Armenia professorial team in the chair of French language, teaching there for the 2014-2015 academic year. For the past nine years, Lernik has also been working in the coin industry, being responsible for many aspects within the companies he has worked for.