SOAR - Lyon Chapter
Lyon joined the SOAR family in April 2015. Like much of the Armenian Diaspora, most Armenians immigrated to France after the Armenian Genocide of 1915. After the end of the First World War, many survivors, including orphans, lived in the French-occupied part of the Ottoman Empire, Cilicia, and the future French Mandate territories of Syria and Lebanon. When French troops retreated in 1921 behind the present-day Turkish-Syrian border, most Cilician Armenians fled and resettled in refugee camps in Alexandria, Aleppo, Ainjar, and Beirut. From there, entire families fled to France. The Armenian refugees and orphans crammed into Turkey, Egypt and Lebanon, arrived by the boatloads to Marseilles and journeyed to the mines and factories around Marseilles, Valence, Grenoble, Lyons, and Paris. There, a quarter of a million Armenians settled into tight little communities of between 2,000 and 4,000 people. The foundations of the Armenian community in France had been set.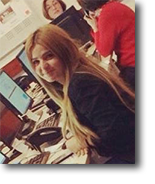 Narine Igityan
President
Narine is a third year student at the University of Lyon 2 in the faculty of political science. She completed her studies at Yerevan State University in the faculty of Iranologie. Narine has been a member of Young AGBU and Young Rotary and has participated in Phoneton during 2015-2016. She has also volunteered for the Red Cross in Armenia.
Narine is fluent in Armenian, Russian , Iranian, and French and also speaks English.