SOAR - Los Angeles Chapter
P.O. Box 5935
Glendale, CA 91221
SOAR-LA became part of the SOAR family in October 2007. The highest concentration of Americans of Armenian descent live in the Greater Los Angeles area, where approximately 175,000 Armenians reside. Glendale, a suburb of Los Angeles, is widely known as the center of Armenian American life.
Lauren Hovanesian
President
Lauren Hovanesian graduated from the University of San Diego in 2013 and received a Bachelor's Degree in Visual Communications and Business Marketing. She then began working for Entertainment Partners in Burbank, CA as a T.C.E. Analyst. During her time at EP she reestablished the EP Outreach Committee. The committee collaborated with Relay for Life, Habitat for Humanity, the Special Olympics, and the Burbank Temporary Aid Center. Now, Lauren has been working at Liberty I. Exchange Inc. as a Global Purchasing Director for luxury goods and jewelry. In her spare time, she enjoys working with the KEEN Los Angeles to provide one-to-one sports and recreational opportunities for children and young adults with developmental and physical disabilities. She also serves on the Executive Board as Membership Director of the Armenian Professional Society.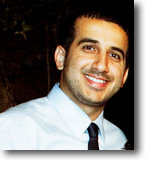 Mario Bahramjian
Treasurer
Mario Bahramjian graduated from UCLA in 2007 and received his bachelor's degree in Political Science. He then established his own real estate brokerage in 2008, here in Southern California. Mario came to SOAR-LA to carry out his late grandmother's wishes to help orphaned Armenian children. After visiting the "Nor Kharberd" orphanage in Armenia, Mario has geared his efforts towards helping our orphaned brothers and sisters back home. Through SOAR-LA, Mario seeks to brighten the lives of the less fortunate.
Dina Deukmajian
Secretary
Dina Deukmajian is a Speech Language Pathology Assistant who works with kids that are 18 months to 12 years of age. She earned her Bachelor's degree from California State University Los Angeles in Communicative Disorders in 2012. She provides speech and language services to a variety of children in the areas of articulation, social skills, and pragmatic language skills. Teaching and helping children with their communication challenges has always been a passion of hers. She is a new member of SOAR-LA, and hopes to become another lending hand to help to Armenians around the world that are in need.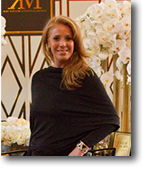 Kat Minassi
Event Coordinator and Advisor
Recognized for her creative design solutions and ultra stylish events, Kat Minassi of Kat Minassi Events & Design joins SOAR-LA as Event Coordinator and Adviser with a dedication to SOAR's cause and patrons. Growing up catering and event planning was her father's life-long career, which greatly influenced Kat as she observed spectacular, lavish New York Park Avenue parties. She completed her business degree at New York University and thereafter began working for a fortune 500 company based in Los Angeles. Soon after she gave into her creating calling and launched Kat Minassi Events & Design. Kat is a much sought after wedding planner and event coordinator with strong event industry relationships with the highest quality vendors. With these skills, combined with her love for her Armenian heritage and children, Kat looks forward to many successful SOAR-LA events to come.
Linda Ohanessian
Marketing Director
Linda Ohanessian graduated from California State University Northridge in 2009 with a Bachelor's degree in Business Management. She then began working for an Occupational Therapy Clinic at The University of Southern California as a Practice Plan Administrator. During that time she was the liaison between Doctors, patients and insurance professionals.  She established new policies and procedures to grow the Practice and helped increase its footprints throughout the community.  She received her Master's degree at the University of Southern California in Healthcare Administration in 2016, where she was able to utilize her business skills and passion for healthcare and well-being of the community to advocate for patient care. Linda is now working for Children's Hospital Los Angeles focusing on Enterprise Contracting with various health systems. She also helps build CHLA's strategic initiatives throughout the community. Linda has a special interest in working with the under-served population. She has a passion for advocating for children and wants to pursue her passion further by joining the SOAR community to help a vulnerable population and give them a chance at pursuing their dreams.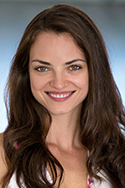 Zara Aleksanyan
Zara Aleksanyan graduated from California State University Northridge in 2010 with a BA in photojournalism and has since worked as a photographer specializing in portraits, head shots and events.
She was born and raised in Yerevan, Armenia and has always been an active participant in cultural events and fundraisers. She has been published internationally and enjoys exploring new creative opportunities.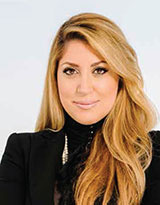 Tamar Arminak, Esq.
Tamar Arminak is a civil litigator and principal of Arminak Law, APC, who joined SOAR-LA in 2010. She has a Bachelor of Arts degree in Legal Studies with a minor in Russian Art History. She earned her law degree from Loyola Law School. During her college years, Tamar also attended the University of London, studying European History, living in London, England. She has been voted a Southern California Super Lawyers "Rising Star" for seven years in a row, as well as authored a chapter in the Book Reaching the Bar: Stories of All Women at All Stages of Their Law Careers. In 2014 she was honored as a guest speaker at Harvard Law School's Symposium on Sports and Entertainment Law in Cambridge, Massachusetts where she spoke to law students about her many high profile cases. Because of her love of children, Tamar is pleased to be working with SOAR to help the Orphans of Armenia. SOAR –LA has a special place in her heart, as she met her husband Vicken Touzjian while they both served on the Los Angeles board.
Josie Kalbakian
Community Relations Director
Josie Kalbakian was born and raised in Pasadena, California. She graduated from the University of California, Irvine with a Bachelor's Degree in Political Science and pursued a career in the waste and recycling industry. For over 10 years, Josie has assisted various government agencies on sustainability programs through public education and outreach directly and on a consultative basis. In May 2013, she moved to Sacramento, where she continues her career as the Community Relations Manager of Republic Services, a Fortune 400 waste and recycling company.
Josie was fortunate to be blessed with amazing Armenian parents and grandparents and feels it is the right of every person to have fond childhood memories. She hopes her efforts through SOAR will positively impact orphaned children so they grow up fulfilled as a child.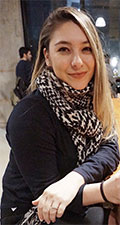 Meg Isagholi
Inclusive Designer and Advisor
Meg Isagholi graduated from UCLA with an undergraduate degree in Sociology in 2009 and a Master's Degree in occupational therapy in 2013.  She has been practicing as an occupational therapist since 2013 working with both the pediatric and adult population. Meg is passionate about inclusive design to increase accessibility for individuals with disabilities. She has volunteered as a basketball coach for Ararat, Runway of Dreams and completed a fellowship at Parsons in New York for OpenStyleLab (OSL). Through, SOAR-LA she hopes to use her knowledge as an occupational therapist and an inclusive designer to help children in orphanages in Armenia with playground design, play skills, and program development.
Angela Khurdajian
Philanthropic Advisor
Angela Khurdajian earned her M.S. in healthcare administration and brings over 10 years of experience from the non-profit health sector. Throughout her career, she has served in a variety of roles aimed at helping individuals and non-profit corporations develop strategic initiatives to maximize their philanthropic impact in communities across Los Angeles. Angela has a special interest and commitment to improving the health of underserved and marginalized populations.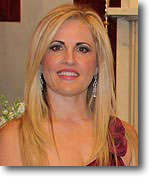 Berta Baghjajian
Berta Baghjajian is from Beirut, Lebanon. She is a CPA & Business Manager. She has been practicing public accounting and Business Management for more than 22 years. Her practice concentrates on business management of high profile producers, managers, record labels, professional athletes and performing artists along with their touring entities, publishing and endorsement companies.
Berta holds a master's degree in Accounting and a bachelor's degree in Business Administration. She is a Certified Public Accountant. A member of AICPA, CALCPA and American Institute of Music Publishers.
She currently lives in Los Angeles with her three children Mano, Lida and Maya. What brings her to SOAR-LA is her love for children and her strong belief that children are our most valuable assets and any chance to help them is a privilege.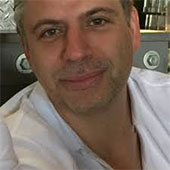 Christopher Kaypekian, M.D.
Dr. Christopher Kaypekian is part of the new wave of young Armenian doctors treating Glendale's population today. He received his undergraduate degree from UCLA and is a graduate of the AUC School of Medicine in the Netherlands, Antilles. Dr. Kaypekian completed his residency in Anesthesia at world renowned Memorial Sloan Kettering in New York City; and subsequently, a fellowship in Interventional Pain Medicine at the University of Iowa Hospitals and Clinics under the mentorship of recognized figures who are pioneers in the field of Pain Medicine, before making his home in Glendale. Dr. Kaypekian established his medical practice, Glendale Pain Medicine Associates, to treat those in our community suffering from various chronic pain conditions with invasive and non-invasive forms of treatment. Christopher K. Kaypekian, M.D. Pain Management Specialist Director, Glendale Pain Medicine Associates, Inc. He and his wife lovely wife Natalie share two beautiful children, and are proud supporters of SOAR-LA.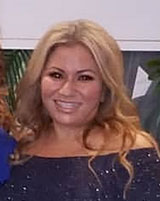 Dania Minassian
Pic and Bio coming soon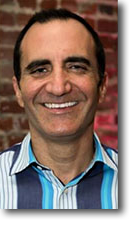 Vicken Touzjian 
Vicken Touzjian is a self made entrepreneur and business owner in the Los Angeles area. He was born in Beirut, Lebanon, but moved to Los Angeles with his family before turning four, calling Los Angeles home. Vicken attended Rose and Alex Pilibos Armenian School from Pre-K to 8th grade, transferring to and graduating from Holy Martyrs Armenian High School. Vicken later graduated Phi Betta Kappa / Cum Laude from the University of California, Irvine with a degree in Biological Sciences and a minor in Philosophy in 2000. He supported himself through school tutoring Organic Chemistry with the UCI LARC program, and running his own packaging business. Upon graduation and acceptance into medical school, he decided that Medicine was not for him, and continued his efforts in business, enjoying the freedom that being a business owner provides. He also has an appreciation for the arts and music, and enjoys taking photographs of nature and beauty.
"I am so happy to be a part of SOAR's efforts to support orphaned children around the world. Due to circumstances beyond their control, these children are left without any parents or support. Our efforts, both financial and emotional, give these innocent children a better chance at a higher quality of life."