SOAR-LA became part of the SOAR family in October 2007. The highest concentration of Americans of Armenian descent live in the Greater Los Angeles area, where approximately 175,000 Armenians reside. Glendale, a suburb of Los Angeles, is widely known as the center of Armenian American life.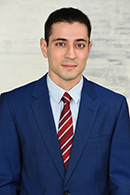 Artem Tiliev
President
Artem Tiliev is a real estate expert specializing in residential and commercial properties including probate, trust and foreclosure sales.
Prior to joining the real estate sector, Artem held a number of executive positions in the San Francisco Area. In 2013 he launched a design and manufacturing company specializing in eco-friendly office and residential furniture. Clients included are Sales Force, Merck, SmartNews, JDV Boutique Hotels etc.
Artem holds a Bachelor degree in Philology and History from Pyatigorsk State University in Russia.
Margret Trashian
Secretary
Dr. Trashian is part of a new wave of young Armenian diasporans repatriating to Armenia. She received her undergraduate degree from LMU and is a graduate of Yerevan State Medical University. Dr. Trashian is currently Senior Medical Consultant at HCL America, Inc. where she provides her medical expertise to Fortune 500 companies such as Baxter and Johnson & Johnson. She has volunteered for other organizations in Armenia, including Center for Rights Development NGO, Homeland Development Initiative Foundation, and Artsakh Relocation Project. Dr. Trashian is passionate about Armenian repatriation and its indelible role in nation-building.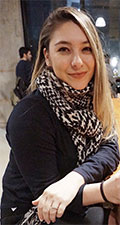 Meg Isagholi
Inclusive Designer and Advisor
Meg Isagholi graduated from UCLA with an undergraduate degree in Sociology in 2009 and a Master's Degree in occupational therapy in 2013.  She has been practicing as an occupational therapist since 2013 working with both the pediatric and adult population. Meg is passionate about inclusive design to increase accessibility for individuals with disabilities. She has volunteered as a basketball coach for Ararat, Runway of Dreams and completed a fellowship at Parsons in New York for OpenStyleLab (OSL). Through, SOAR-LA she hopes to use her knowledge as an occupational therapist and an inclusive designer to help children in orphanages in Armenia with playground design, play skills, and program development.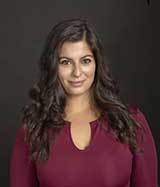 Mary Kozanian
Public Relations Director
Mary Kozanian is a Glendale native who graduated with a B.A. in Communication and Public Relations from California State University Los Angeles in 2014. She went on to manage the family business and dedicated her time to building the business portfolio in the food & beverage industry. She has spent the last five years focused on expanding distribution and creating manufacturing opportunities for food products made in Armenia. Outside of work, her passions are theatre, giving back to her community and dinners with friends.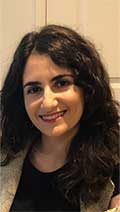 Ani Mirijan
Social Media Director
Ani Mirijan graduated from California State University from Fresno in 2015 with a Bachelor's degree in Family Consumer Science and a Master's degree in Human Resource Management
from National University. She has been working in education for the past 10 years in private and public school settings teaching elementary through high school students. Her passion is working with students and families by supporting them academically, emotionally, and helping them strive for success. By contributing to SOARLA she hopes to promote more awareness and love for this organization, support the children to give them a better life, and proudly represent the Armenian community.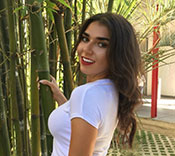 Kameliya Abelyan
Kameliya Abelyan graduated from Northeastern University in 2016 after receiving a Bachelor's degree in Business Marketing & Communications. She then migrated to Los Angeles to pursue a career in Hospitality Sales — a path that afforded her invaluable experience in both event planning and creative design. Kameliya has always been driven by an entrepreneurial spirit, an attitude she carries through her multiple projects today. Kameliya was born in Moscow, Russia and visited Armenia in 2017 for the first time. From the moment she stepped foot in the bucolic country, she was spellbound by the rich sense of culture, tradition and history that Armenia has to offer. In the long term goal, Kameliya's goal is to oversee the opening of a school in Armenia. By contributing to SOAR, Kameliya hopes to channel her interests of event planning, design and cultural curiosity towards building a positive outcome for the children of Armenia.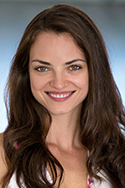 Zara Aleksanyan
Zara Aleksanyan graduated from California State University Northridge in 2010 with a BA in photojournalism and has since worked as a photographer specializing in portraits, head shots and events.
She was born and raised in Yerevan, Armenia and has always been an active participant in cultural events and fundraisers. She has been published internationally and enjoys exploring new creative opportunities.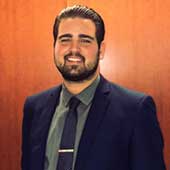 Patrick Barbarian
Patrick Barbarian was born in Los Angeles, California, but moved to Beirut, Lebanon with his family at the age of 5. Right after graduating from high school in 2012, Patrick packed his bags and moved back to Los Angeles. In 2017, Patrick graduated from California State University, Northridge / Cum Laude with a Bachelor of Science in Finance, focusing his degree on Insurance and Risk Management. He began his career in the insurance industry as an insurance underwriter trainee in late 2017. Today, he works in Marketing and Distribution for a publicly traded insurance company based out of California. In his spare time, Patrick enjoys the outdoors, motorcycle riding, self-education and most importantly, giving back to the society in any way possible. By being a part of SOAR-LA, he hopes to contribute as much as possible to help SOAR continuously carry out their mission and vision.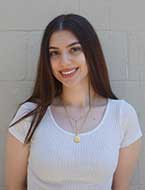 Celine Ghanbarian
Celine Ghanbarian is an undergraduate student at the University of Southern California. She is pursuing a major in Political Science and a minor in Legal Studies. She was born in Tehran, Iran and strives to become a powerful Armenian woman in law.
Lauren Hovanesian
Lauren Hovanesian graduated from the University of San Diego in 2013 and received a Bachelor's Degree in Visual Communications and Business Marketing. She then began working for Entertainment Partners in Burbank, CA as a T.C.E. Analyst. During her time at EP she reestablished the EP Outreach Committee. The committee collaborated with Relay for Life, Habitat for Humanity, the Special Olympics, and the Burbank Temporary Aid Center. Now, Lauren has been working at Liberty I. Exchange Inc. as a Global Purchasing Director for luxury goods and jewelry. In her spare time, she enjoys working with the KEEN Los Angeles to provide one-to-one sports and recreational opportunities for children and young adults with developmental and physical disabilities. She also serves on the Executive Board as Membership Director of the Armenian Professional Society.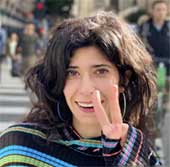 Nareh Hovhannisian
Nareh is a Washington, DC native who relocated to Los Angeles as a teenager, and went on to earn a degree in Anthropology from University of California Santa Cruz.
After graduating, she worked as a United Nations volunteer in Armenia, teaching English to refugee children from surrounding conflicted countries. While in Armenia, she also served as a translator for Plasticos Foundation, that provides surgery to local children with severe burns and cleft lip.
In the spirit of loving to learn from meeting new people, Nareh is now a UX Researcher/Designer who had been living in Mexico City for 3 years and has now returned to LA.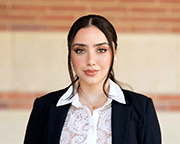 Elena Ismailyan
Elena Ismailyan is an aspiring law student, who recently completed her undergraduate studies at UCLA. She has a Bachelor of Arts in Political Science with a concentration in International Relations, and a minor in Armenian Studies. As a young, motivated, and determined member of the Armenian diaspora, Elena's passion lies in working towards creating forward-looking change within underprivileged communities, providing a voice for the voiceless, and advancing the Armenian Cause through advocating for policy changes, participating in philanthropic work, and raising awareness for important issues regarding Armenia and its people. She has worked with and continues to be involved in several non-profit organizations such as the Center for Truth and Justice, the Hidden Road Initiative, and the Armenian International Medical Fund to do just that. In the future, Elena plans on becoming a human rights attorney, with an ultimate goal of working towards bringing about justice for victims of human rights and war crime violations internationally, with a specific focus on Armenia and Artsakh.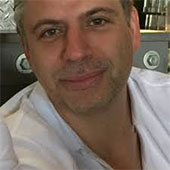 Christopher Kaypekian, M.D.
Dr. Christopher Kaypekian is part of the new wave of young Armenian doctors treating Glendale's population today. He received his undergraduate degree from UCLA and is a graduate of the AUC School of Medicine in the Netherlands, Antilles. Dr. Kaypekian completed his residency in Anesthesia at world renowned Memorial Sloan Kettering in New York City; and subsequently, a fellowship in Interventional Pain Medicine at the University of Iowa Hospitals and Clinics under the mentorship of recognized figures who are pioneers in the field of Pain Medicine, before making his home in Glendale. Dr. Kaypekian established his medical practice, Glendale Pain Medicine Associates, to treat those in our community suffering from various chronic pain conditions with invasive and non-invasive forms of treatment. Christopher K. Kaypekian, M.D. Pain Management Specialist Director, Glendale Pain Medicine Associates, Inc. He and his wife lovely wife Natalie share two beautiful children, and are proud supporters of SOAR-LA.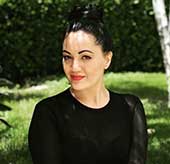 Araksya Keshishyan
Araksya Keshishyan was born in Gyumri-Leninakan, Armenia but moved to Glendale CA with her family at the age of nine calling Los Angeles home. Araksya visited Armenia for the first time in 2018 and every year moving forward seeking for avenues to give back to her home country and community.
Araksya attended and studied Business Marketing and Finance at the University of Woodburry in Burbank CA. She is a self-made entrepreneur and a business owner working in the industry Real Estate Development. She has always been an active participant in cultural events and fundraisers.
Araksya's passion in life is to help the children of orphanages in Armenia with Real Estate Development projects providing children a safe environment to strive for success.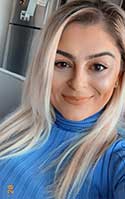 Dr. Olga Kozanian
Dr. Kozanian is a Los Angeles, CA native who graduated with her Bachelor's degree in Psychology in 2008 and Master's degree in Neuropharmacology in 2011. She then obtained her PhD from UC Riverside in Systems Neuroscience and completed her Postdoctoral fellowship at the world-renowned Scripps Research Institute in La Jolla, CA. Dr. Kozanian is a published neuroscientist and faculty member teaching Psychology and Neuroscience courses at various California State University campuses. She currently works in pharmaceutical scientific communications in Los Angeles and is passionate about serving her community. Aside from nerding out, Dr. Kozanian is sailing certified, an avid cycler and enjoys cooking.
Pateel Krikorian
Pateel Krikorian is a Los Angeles native with a background in manufacturing and supply chain management, specializing in the food industry.
Pateel graduated from California Polytechnic State University, San Luis Obispo with an undergraduate degree in Food Science in 2013. She began her career working at Anheuser-Busch as an Operations Group Manager, and continued holding various roles within the organization, such as a Business Process Manager for the Quality and later the Logistics departments.
Pateel completed her MBA at California State University, Los Angeles in 2019 and continues to work as a leader in supply chain at Puratos Corporation. She recently became accredited as a Certified Supply Chain Professional. Outside of work, Pateel enjoys hiking, cooking, and mentoring youth. By being a part of SOAR, she hopes to work with an extraordinary team, carry out the organization's mission, and ultimately serve the Armenian community.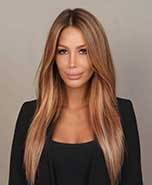 Talin Shadmany
Talin was born in Tehran, Iran. She grew up in a family where supporting Armenia and Armenians were always a top priority, either through charity events, churches or even directly with families in need.
Talin moved to LA in 2007 and graduated from California State University in 2014 with a Bachelor's in Aviation and Finance. She is currently working on her MBA and CFP. She has a real estate license with a little background in the field. Talin has been in banking and investment since 2010. Currently she is a Financial Advisor at Merrill Lynch.
Talin is a UNICEF advocate and has always been passionate about helping children all around the world and she believes every child matters. She has strong feelings for Armenians and her country, and believes we are all responsible for our country and that the Armenian children are the future of Armenia.
Talin is so happy to be a part of SOAR's efforts to support orphaned children around the world. Due to circumstances beyond their control, these children are left without any parents or support. Our efforts, both financial and emotional, give these innocent children a better chance at a higher quality of life.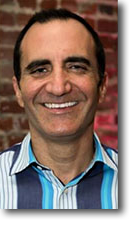 Vicken Touzjian 
Vicken Touzjian is a self made entrepreneur and business owner in the Los Angeles area. He was born in Beirut, Lebanon, but moved to Los Angeles with his family before turning four, calling Los Angeles home. Vicken attended Rose and Alex Pilibos Armenian School from Pre-K to 8th grade, transferring to and graduating from Holy Martyrs Armenian High School. Vicken later graduated Phi Betta Kappa / Cum Laude from the University of California, Irvine with a degree in Biological Sciences and a minor in Philosophy in 2000. He supported himself through school tutoring Organic Chemistry with the UCI LARC program, and running his own packaging business. Upon graduation and acceptance into medical school, he decided that Medicine was not for him, and continued his efforts in business, enjoying the freedom that being a business owner provides. He also has an appreciation for the arts and music, and enjoys taking photographs of nature and beauty.
"I am so happy to be a part of SOAR's efforts to support orphaned children around the world. Due to circumstances beyond their control, these children are left without any parents or support. Our efforts, both financial and emotional, give these innocent children a better chance at a higher quality of life."
Linda Ohanessian
Advisor
Linda Ohanessian graduated from California State University Northridge in 2009 with a Bachelor's degree in Business Management. She then began working for an Occupational Therapy Clinic at The University of Southern California as a Practice Plan Administrator. During that time she was the liaison between Doctors, patients and insurance professionals.  She established new policies and procedures to grow the Practice and helped increase its footprints throughout the community.  She received her Master's degree at the University of Southern California in Healthcare Administration in 2016, where she was able to utilize her business skills and passion for healthcare and well-being of the community to advocate for patient care. Linda is now working for Children's Hospital Los Angeles focusing on Enterprise Contracting with various health systems. She also helps build CHLA's strategic initiatives throughout the community. Linda has a special interest in working with the under-served population. She has a passion for advocating for children and wants to pursue her passion further by joining the SOAR community to help a vulnerable population and give them a chance at pursuing their dreams.