SOAR - Lisbon Chapter
Lisbon joined the SOAR family in May 2017. Portugal formally recognized the independence of the Democratic Republic of Armenia on August 10, 1920, and entered into a solemn compact not only to respect, but to preserve as against external aggression, the territorial integrity and political independence of Armenia. One of the most notable Armenians who resided in Portugal was Calouste Gulbenkian, a wealthy Armenian businessman and philanthropist, who made Lisbon the headquarters for his businesses. He established an international charity, the Calouste Gulbenkian Foundation, in Lisbon.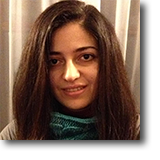 Tsovik Khachatryan
President
Tsovik grew up in Saint-Petersburg, Russia where she has finished her Bachelor degree at the State University of Saint-Petersburg, Faculty of Philology and Arts (Romanian languages and Literature). Afterwards she has received her MA degree (2014) from the University NOVA of Lisbon Faculty of Social and Human Sciences (Political Science and International Relations). Tsovik has been awarded Armenian Studies Scholarship from Calouste Gulbenkian Foundation for pursuing her PhD degree studies in Armenian Studies in Portugal, Lisbon.
In 2015 she took academic traineeship in Moscow, Russian Academy of Sciences (Institute of World Economy and International Relations; Institute of Oriental Studies – Center for Russian, European and Eurasian Studies); and in 2016 she took part at the 3 month internship program at the ICHD (International Center for Human Development) in Yerevan, Armenia, – during this period of time she has been involved as a working group member in the project "Combating Gender-Biased Sex Selection in Armenia".
Anna Matvei
Anna was born in Kapan, Armenia. She earned her first degree from Yerevan State University of Languages and Social Sciences and obtained Bachelor of Laws from Yerevan State University. She is currently in process of earning her Executive MBA from Nova School of Business & Economics/Catolica Lisbon Business & Economics.
Anna has many years of experience in management roles in human resources for international companies overseas that are the largest in their industries. She currently holds the position of HR Director at Lydian International, a gold developer focusing on a project that is the biggest international investment project in Armenia.
Although Armenian is Anna's native language, she has native language skills in both English and Russian. Being based in Lisbon, Portugal she also masters Portuguese, and can speak some Spanish.