Lisbon joined the SOAR family in May 2017. Portugal formally recognized the independence of the Democratic Republic of Armenia on August 10, 1920 and entered into a solemn compact not only to respect, but to preserve as against external aggression, the territorial integrity and political independence of Armenia. One of the most notable Armenians who resided in Portugal was Calouste Gulbenkian, a wealthy Armenian businessman and philanthropist, who made Lisbon the headquarters for his businesses. He established an international charity, the Calouste Gulbenkian Foundation, in Lisbon.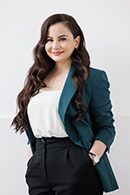 Lori Ashekian
Co-President
Lori was born and raised in Kessab (a populated Armenian town) in Latakia, Syria.
She holds a bachelor's degree in production engineering from Tishreen University. Lori studied for her degree during the war in Syria and moved to the United Arab Emirates soon after graduation in 2016.
Her career in UAE included various positions in Dubai and Abu Dhabi. First, she worked with Emirates Group and then joined Etihad Airways building professional experiences in both aviation operations and sales.
Lori moved to Porto earlier this year, and she is currently an international MBA candidate at Porto Business School. Her career in UAE and her education in Portugal have played a vital role to expand her horizons and sharpen her skills for professional and personal growth.
Lori's interest in helping orphans stems from her childhood, realizing how her parents were always connected to support cases of orphans. She has learned as a child that such cases are the most significant in life.
Hence, she is very pleased to be joining SOAR, and contribute to this noble cause that holds a very special place in her heart.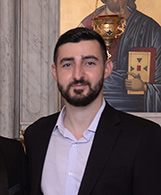 Raffi Kazjian
Co-President
Raffi was born and raised in Beirut, Lebanon, in the strong presence of an Armenian community life and spirit. After graduating with a Bachelor's degree in Physics from the American University of Beirut in 2015, he moved to Switzerland where he completed his Master's degree in Energy Management at the Swiss Federal Institute of Technology in Lausanne (EPFL). At the end of his studies, Raffi moved back to his hometown of Beirut where he took up employment as a business consultant for a Dubai-based IT company, and was active in the Armenian community life through his involvement in the Armenian Church's University Students Association (ACUSA) based at the Catholicosate of Cilicia in Antelias, Lebanon. In January 2022, Raffi relocated to Lisbon, the sunny capital of Portugal. Currently employed as a business consultant for a Dutch IT company, he splits his time between Portugal and the Netherlands. It's an absolute joy for him to be able to contribute to SOAR's noble mission, and he is committed to doing everything in his capacity to bring much needed help and relief to the orphans in Armenia and to put a smile on their faces.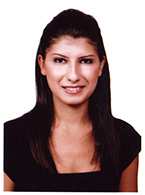 Laure Georges Kurde
Laure is studying Multimedia Design at the Universidade da Beira Interior-Covilhã, Portugal. She also earned her diploma in Tourism Studies from St. Basile Institute for Tourism, Aleppo. Since 2012, Laure has participated in many photography exhibitions as well as holding her own exhibition.
Using her talents to give back, Laure's volunteer experience is vast, ranging from helping with deaf children to helping in art camps and many other social development groups.
Laure is fluent in Armenian, Arabic, English, and is learning Portuguese.
Rebeka Yeghiyan
Pic and Bio coming soon