SOAR - La Cañada Chapter
P.O. Box 4
La Cañada, CA 91012
Nestled in the picturesque Crescenta Valley, La Cañada-Flintridge is situated between the San Gabriel Mountains and Angeles National Forest to the north and San Rafael Hills to the south. The city is home to Descanso Gardens and NASA's Jet Propulsion Laboratory.
La Cañada-Flintridge has been home to many celebrities over the years, including Vince Vaughn; Angela Bassett; Mark Geragos; Ron Howard; Chris D'Elia; Diane Farr; Haley Joel Osment and Emily Osment; Kevin Costner; Bill Plaschke, Miley Cyrus, Billy Ray Cyrus and Steve Priest. Three of Walt Disney's top animators, Frank Thomas, Ollie Johnston and Eric Larson, as well as Academy Award winner Chris Buck, settled in this community. It is also a popular filming location, where portions of "American Pie," "Date Movie," "Old School," and the 1946 Frank Capra / James Stewart holiday classic, "It's a Wonderful Life," were filmed.
The Crescenta Valley is heavily populated with an expanding Armenian community and has numerous Armenian organizations and centers. SOAR La Cañada brings SOAR's important mission to the region, continuing to raise awareness of the needs of orphaned Armenians around the world.
Alisa Badryan
President
Pic and Bio coming soon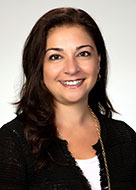 Caroline Mesropian
Treasurer
Caroline was born in Beirut Lebanon, immigrated to California in 1991 to escape Lebanon's endless civil war. She received her BA in French with a minor in Armenian from California State University, Northridge. She is a Senior Mortgage banker and a proud mother of two amazing daughters. She has always been very passionate about volunteering and community service since her scouts days in Lebanon, and has continued her involvement by being a member of Cancer Support Community Pasadena, an Associate director serving on the board of directors for Wescom Credit Union foundation. She takes the most pride in her involvement as the finance Chair for Assistance league of Santa Clarita, a nonprofit organization assisting those in need in the Santa Clarita Valley through their philanthropic programs. Serving students in all 55 public schools and College of the Canyons, and helping families and seniors through their Community Outreach Programs.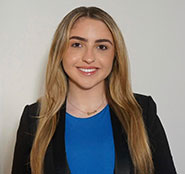 Karolin Markarian
Secretary
Karolin was born in Baghdad, Iraq and grew up in Los Angeles, California. Karolin earned a Bachelor's of Science in Physiology and Neuroscience from University of California, San Diego. Driven by a passion for research and medicine, she currently works as a Clinical Research Coordinator. In this role, she spearheads a multitude of research studies exploring various medical conditions. Beyond her professional pursuits, she is actively engaged in community outreach initiatives, which uplift both her local community and community in Armenia. Whether through involvement in diverse organizations or volunteering at a local healthcare clinic, her mission remains unwavering: to better her community and effect positive change.