SOAR - Krasnodar Chapter
Krasnodar joined the SOAR family in December 2019.  A city in Southern Russia on the Kuban River, Krasnodar is the administrative center of Krasnodar Krai (also known as Kuban). There are many Armenians living in the Krasnodar city and Kuban region who are active participants in the region's social and political life. As many as 250,000 Armenians are estimated to reside in Krasnodar today.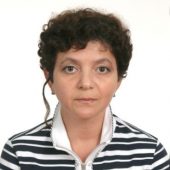 Inna Gayamyan-Grigoryan
President
Inna was born in 1970 in the city of Baku, Azerbaijan SSR. In 1986 she graduated from high school there. In the same year she entered the Kuban State University. Her family moved in 1990 to  Krasnodar because of the known persecution of Armenians in Baku. Inna graduated from the Department of Applied Mathematics in 1991 and worked as a programmer until 1999 after which she has been an entrepreneur.
Ernst Grigoryan
Ernst was born in Krasnodar, and graduated from the Physics Department of the Kuban State University in 2015, specializing as a medical equipment engineer. In 2012, he studied at the Catholic University of Leuven (Belgium) as part of a student exchange program.
Ernst now works as an engineer for the repair of medical equipment in Krasnodar. He is fluent in Armenian, Russian, and English.