SOAR - Kiev Chapter
Armenians first appeared in Ukraine during the times of Kievan Rus. During the 10th century, individual Armenian merchants, mercenaries, and craftsmen served at the courts of various Ruthenian rulers. A larger wave of Armenians settled in southeastern Ukraine after the fall of the Armenian capital of Ani in the 11th century. They arrived mainly at the Crimean peninsula and established colonies in Kaffa, Sudak, and Solcati. Their numbers were further strengthened between the 12th and 15th centuries by Armenians fleeing from a Mongol invasion. This gave the peninsula the name Armenia Maritima in medieval chronicles. Smaller Armenian communities were later established in central Ukraine, including Kiev, and the western regions of Podolia and Halychyna.
During the Second World War (1944), Armenians were deported en masse along with Greeks, Bulgarians, and Tatars as an "anti-Soviet element" and allowed to return only in the 1960s. During Soviet rule Armenians came to Ukraine to work in the heavy industry located in the eastern parts of the country. Today, there are approximately 100,000 ethnic Armenians who live in Ukraine. The Armenian population in Ukraine has nearly doubled since the dissolution of the Soviet Union, largely due to instability in the Caucasus. Today, Ukraine is home to the 11th largest Armenian community in the world.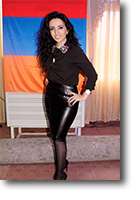 Amaliya Grigoryan
President
Amaylia graduated from East Ukrainian Volodymyr Dahl National University and earned her Master's Degree in Finance and Banking. With more than 6 years experience in international business development, she had a big passion for different cultures and that passion helped her to become a part of different social communities, having in mind development of Armenian Culture and spreading it around the world.
From 2011 – 2013 Amaylia has been a part of the International Youth Organization AIESEC, where she worked with volunteers from all around the world and implemented many social projects.
For more than 10 years she has been actively involved in the Armenian community in Lugansk city. Amaylia was elected in a role of Chairman of the Armenian Youth Union «URARTU», Lugansk, Ukraine in 2017 and has held that role since.
Her personal qualities include: single-minded, responsible, sociable, not conflict, always ready to help people, always achieves her goals and objectives, regardless of the level of complexity, always tries to improve her personal and professional qualities and skills.
INTERESTS: self-development, education, training, social responsibility, social projects, human rights, foreign languages, business, marketing, advertising, sales, PR.