SOAR - Kansas City (MO) Chapter
Kansas City (Missouri) joined the SOAR family in May 2018. The history of the Kansas City metropolitan area started in the 19th century as Frenchmen from St. Louis, Missouri moved up the Missouri River to trap for furs and trade with the Native Americans. The Kansas City metropolitan area, straddling the border between Missouri and Kansas at the confluence of the Kansas and Missouri Rivers, was a strategic point for commerce and security. Kansas City, Missouri was founded in 1838 and defeated its rival Westport to become the predominant city west of St. Louis. The area played a major role in the westward expansion of the United States.
The City of Kansas City, Missouri's population has steadily increased during the past two decades. By 2017, the city had grown to a population of almost 480,000 people. In recent years, the Kansas City area has undergone extensive redevelopment, with over $6 billion in improvements to the downtown area on the Missouri side.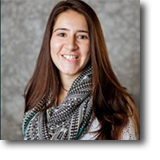 Anoush Kabalyan
President
Anoush Kabalyan was born in Armenia. She lived in Armenia until 2013. After graduating from the French University in Armenia, she's worked as a digital marketing specialist in companies of different sizes and industries. During her life in Armenia, Anoush worked with several organizations as a volunteer helping families in need and children with disabilities. She's also been a member of Homenetmen-Hask (Armenian National Scout Movement) for many years, leading scout troops and helping organize camps.
Anoush earned her MBA from Grand Valley State University in 2015, after which she moved to Kansas City with her family. She's worked in different fields of digital marketing, including website design and developments, optimization and customer performance analysis. She is currently a Senior Digital Analyst at a digital analytics agency in Kansas City. Anoush is an alumna of FLEX (2003).