SOAR - Johannesburg Chapter
Johannesburg joined the SOAR family in May 2018. Johannesburg, the largest city in South Africa and one of the 50 largest urban areas in the world, is located in the mineral-rich Witwatersrand range of hills and is the center of large-scale gold and diamond trade. Approximately 250 Armenians reside in Johannesburg.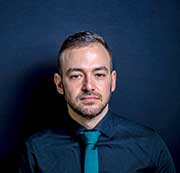 Dylan Arslanian
President
Dylan is a linguist and writer. He graduated from Rhodes University with a degree in linguistics and classical Greek, before joining the British Council in southern Africa. From there, he went to Cyprus to complete his national service and improve his Armenian language skills. Dylan has lived and worked throughout Africa and the Middle East and had the pleasure of visiting Armenia. He now lives in Johannesburg, where he works as a digital marketer and copywriter.
Dylan is also a professional viola player and has played in a number of orchestras and ensembles. His main musical interests are baroque, 20th century, and of course Armenian music. He looks forward to working with SOAR and building bridges between South Africa and Armenia.