Jerusalem became part of the SOAR family in April 2015. The first recorded Armenian pilgrimage to the Holy Land was an Armenian delegation of priests in the early 4th century. The visit is alluded to in an Armenian translation of a Greek letter written by Patriarch Makarius of Jerusalem to his contemporary, St. Vertanes. The Armenian Patriarchate of Jerusalem was founded in 638. It is located in the Armenian Quarter, the smallest quarter of the Old City of Jerusalem. Many Armenians from Kutayka, a city in Turkey, were known for their hand-painted ceramic wares and tiles. In 1919, several master craftsmen were brought to Jerusalem to renovate the tiles covering the facade of the Dome of the Rock. They remained in Jerusalem and developed the art of Armenian ceramics.
After the 1948 Arab-Israeli War, and the establishment of the State of Israel, a number of Armenians residing in what had been the British Mandate of Palestine took up Israeli citizenship, while other Armenian residents of Old City of Jerusalem assumed Jordanian nationality. Two groups of Armenians emerged: Armenians with Israeli citizenship living within the borders of the state and Armenians with Jordanian nationality in Jerusalem's
Armenian Quarter and the West Bank.
A great majority of Armenians in Israel are Armenian Orthodox, but there are also a small number are Armenian Catholics and Armenian Evangelicals. The Armenian Orthodox remain under the jurisdiction of the Armenian Patriarchate of Jerusalem and the residing Patriarch under the auspices of the Armenian Apostolic Church (See of Holy Echmiadzin), whereas the Armenian Catholics are under the jurisdiction of the Armenian Catholic Church.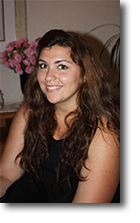 Nanor Arakelian
President
Nanor Arakelian, grew up in Ramallah -Palestine, currently living in Jerusalem, and graduated with a B.A. degree in Sociology from Bethlehem University.
Since a young age she has been volunteering with various organizations such as Sabeel Ecumenical Center, OneVoice Movement, the YWCA-Palestine. She attended several workshops and trainings related to leadership, communications, conflict resolution, and nonviolent resistance, and conferences related to interfaith, and the on-going political situation in Palestine/Israel. She did Birthright Armenia in Gyumri and Tsakhkadzor in 2011, volunteered at the summer camps with "Our lady of Armenia" as an English teacher, and as a mentor at "Nor Luyce" in Gyumri, having an empowering young women program through workshops and discussions to teenage girls who come from different orphanages. She also initiated a community campaign "smile" where the local community helped with collecting clothes and gifts that were given out to children with cancer. In addition, with the help of the local churches, she was able to fundraise through their activities and send to "Nor Luyce" where they were able to buy the girls winter clothes.
Nanor currently works as a local Programs coordinator at Sabeel Ecumenical center in East Jerusalem, and believes in social change, interested in politics, religion and social justice.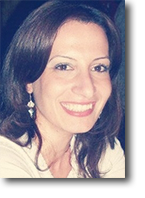 Arda Aghazarian
Arda Aghazarian was born and raised in Jerusalem. She has a B.A. in English Literature and attended several workshops related to media, communications, and filmmaking. She has worked as presenter and producer at Ram FM Radio Station, and as Media and Advocacy Coordinator/Project Supervisor at the YWCA of Palestine. She was the first young woman from the Middle East Region to be represented at the World YWCA Board (elected in Nairobi, Kenya, 2007), and has since had an active role in promoting young women leadership including at the United Nations CSW (NYC, USA, 2010-2012), the YWCA World Council (Zurich, Switzerland, 2011), and the Sthree Mela Conference (Colombo, Sri Lanka, 2011). She assisted the YWCA of Armenia (during a formal visit to Noyemberyan and Gyumri, Armenia, 2014) to become formally affiliated within the World YWCA movement (as of 2015). Arda has delivered various talks on conflict and peacemaking, and has been invited as an international speaker in the United States and Australia. She also has work experience in proposal writing, editing and translating, and is developing her skills in writing, producing and directing.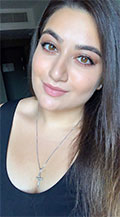 Sarin Gejekoushian
Sarin Gejekoushian, born and raised in the Armenian Quarter of Jerusalem's Old City, graduated from the Sts.Tarkmanchatz Armenian School of Jerusalem in 2017. Today, Miss Gejekoushian majors in Criminology and International Relations in the Hebrew University of Jerusalem. In the meantime, she works in the archives of the Armenian Patriarchate, remaining active in her community. Sarin is the secretary of the Armenian Young Men's Society in Jerusalem, an Executive Committee member of the Hoyetchmen Club. She is also the secretary of the newly founded Armadner Committee, whose mission is to preserve and develop the Armenian identity, presence and culture in Jerusalem. She is a member of Jerusalem's United Committee of the Armenian Genocide as well. Sarin is honored to be part of the SOAR family.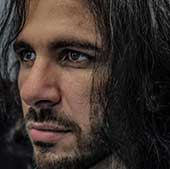 Malkon Marizian
Malkon earned his Bachelor's Degree in Psychology  from the American University of Beirut, Lebanon and his MSc in Human Rights from the London School of Economics and Political Science, England. Over the years he has held positions in both social work and the human rights fields. During this time he has also done work as a free lancer in several arenas; English/Arabic Translator/Teacher, Geopolitical Tour Guide, Leader at Kids4peace, and a Research Assistant on Gaza issues.
Malkon is fluent in Arabic and English, is proficient in Armenian, and also speaks Hebrew and German.