SOAR - Inland Empire Chapter
Inland Empire (IE) became part of the SOAR family in February 2015. IE is a metropolitan region of Southern California, situated directly east of Los Angeles. The term "Inland Empire" was first documented by the Riverside Enterprise newspaper in April 1914. Developers in the area introduced the term to promote the region and to highlight the area's unique features. The "Inland" part of the name is derived from the region's location, about 60 miles inland from Los Angeles and the Pacific Ocean.
The metropolitan area consists of Riverside and San Bernardino Counties. The Counties are home to more than 4 million people, and together they comprise the 13th most populous metropolitan area in the US and the 3rd most populous in California. At the end of the 19th century, IE was a major center of agriculture, including citrus, dairy, and wine-making. Agriculture declined through the 20th century, and since the 1970s a rapidly growing population, fed by families migrating in search of affordable housing, has led to more residential,
industrial, and commercial development.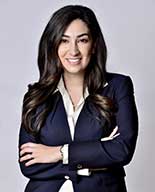 Nora Kaprielian
President
Nora Y. Kaprielian is a healthcare lawyer working as corporate counsel for a biosciences company. Previously, Nora worked on healthcare litigation and regulatory matters at a national firm, representing hospital systems and smaller health care providers. She graduated Loyola Law School of Los Angeles in 2017, and UCLA in 2011 with a B.S. in Political Science.
Growing up in the Inland Empire, Nora retained her Armenian roots through active membership in Armenian organizations and is eager to continue to do so in her role with SOAR.  In her free time she enjoys playing tennis, hosting friends, and spending time with her husband, their twin sons Isaac and Philip, and their Vizsla, Rozie.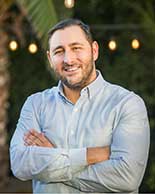 Nareg Kaprielian
Treasurer
Nareg Kaprielian is the sales manager at a boutique brokerage firm, Huntington Mortgage, located in South Pasadena. Nareg is known for providing exemplary service to his clients and specializes in the origination, servicing and closing of mortgage loans of all sizes – from $100,000 to the multi-million dollar level. Mr. Kaprielian has closed over one billion dollars in mortgage loans since starting in 2010.
Nareg graduated from the University of Southern California with a BS in Business Administration in 2007 and received his MBA from California State University: Los Angeles in 2013.
In his free time he enjoys, hosting friends, spending time with his wife Nora, their twin sons Isaac and Philip, and their Vizsla, Rozie. Nareg's hobbies are twofold: copious amounts of physical therapy and massage to make sure he functions at an older age, and top notch restaurant experiences!