SOAR - Helsinki Chapter
Helsinki joined the SOAR family in June 2018. The Finland-Armenia Association was founded in 2013 to support the Armenian community in preserving the Armenian culture and language in Finland.
The Association also promotes the development of good relations between Armenia and Finland, and, as a unique bridge, enhances the mutual cultural cooperation between two countries. The majority members of the Association are Armenians who moved to Finland from Armenia and different parts of the world, but also Finns who are and/or want to be connected to Armenia and the Armenian culture. The Association carries out a wide range of activities and events throughout Finland, such as organizing receptions for the Armenian National holidays, Armenian movie screenings, and participating in various cultural festivals). The Association is also actively involved in organizing Armenian language lessons which provide children with excellent opportunities not only to learn the Armenian language, but also to learn about the Armenian traditions, values, religion, and history. There are approximately 1,000 Armenians living in Finland today.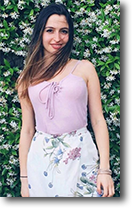 Diana Gabrielyan
President
Diana studied Computer Science at Yerevan State University in Armenia continuing on to earn her Master's Degree in Quantitative Economics at the University of Tartu in Estonia. After graduation, Diana started working at the British Embassy in Tallinn, then moving to Helsinki for a different job. She is currently working toward her PhD in Economics.
Diana has lived in different countries and speaks fluent Armenian, Russian, English and is conversational in French, Spanish and Italian.