Hartford became part of the SOAR family in June 2013. In 1926, Armenian immigrants gathered to consecrate the first Armenian church in Connecticut, coming together to celebrate their future in the New World and put their tragic past behind them. Victims of the first genocide of the 20th century, Armenians came to Connecticut in great numbers during the 1920s. It was there they found work, freedom, and safety. Most were orphaned children or members of families separated by geography. Their first order of business was to establish a church, historically the center of Armenian society. Today, there are three Armenian churches in the Hartford area.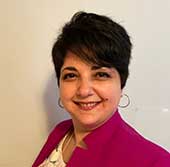 Lusine Zhamkochian Lopez
President
Lusine graduated from Central Connecticut State University with Bachelor's Degree in Marketing.   She has over 20 years of professional experience with Fortune 500 companies including Managed Healthcare, Broadband Telecommunication, and Real Estate where  she held different roles in sales, administration, and operations.  Currently Lusine works as a Sr. Consultant at one of the leading Health Insurance companies specializing in process improvement and project management.
Lusine was born in Yerevan, Armenia and currently resides in Connecticut with her husband and two beautiful daughters.   Lusine's volunteering experience includes serving as a President on the Board of Trusties with a local Condominium Association and was in charge of financials, operations, and general management. Lusine is an active member of local Armenian community where she served as Parish Council Chairman of St. George Armenian church, ACYOA Jrs advisor assistant, and Armenian School teacher.  Lusine also has a leadership role in Connecticut Armenians for Peace group that works to recognize Independence of Artsakh.
Lusine is fluent in Armenian and Russian.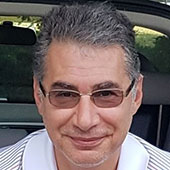 Avetik Harutyunyants
Vice President
Avetik is a project management professional with 10+ years experience in design and implementation of public health and social development programs, at senior and executive levels. He also has 9+ years of US Government experience in administrative general management, acquisition of services and goods and contracts administration.
Avetik was 22 when he returned to Armenia from Uzbekistan, where his parents moved to in 1968. Avetik graduated from Yerevan State Medical University after Mkhitar Heratsi, and also possesses a bachelor's degree in management.
After completion of his mandatory medical practice in Lori Marz as general practitioner, in 1996 Avetik joined USAID/Armenia. He managed the executive office as the team lead/acting executive officer and accountable property officer. Avetik is the USAID procurement professional, as well as the USAID certified cognizant technical officer for acquisition and assistance programs.
In 2006 Avetik has joined World Vision Armenia as health sector manager/Chief of Party. He led proposals development and managed implementation, monitoring and evaluation of the WVA health projects in over 220 villages of Armenia.
Avetik represented WVA with the key stakeholders, promoted the WVA intuitional visibility and fostered institutional collaboration with stakeholders for joint programming.
For 5 years Avetik was a member of the Working Group of the country coordination committee of the National HIV prevention program.
As a country director/CEO of the country's largest pediatric NGO, the "Howard Karagheusian" MBSO (2013-2014), Avetik provided leadership, operational and programmatic support to over 140 employees of the organization's 6 dental/ophthalmological clinics and child development groups in Armenia & Artsakh republics.
Avetik is married and resides in Hartford County, CT.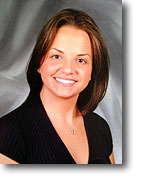 Tammy Bagdigian
Treasurer
Tammy Bagdigian grew up in Connecticut where she was an active member of the Armenian Church of the Holy Resurrection in New Britain, CT. When she was younger she was very active in the ACYOA Juniors and Seniors, where she took on many roles including serving one term on the ACYOA Central Council. Bagdigian is a former Sunday School teacher and continues to teach Traditional Armenian Folk Dancing Lessons to Armenian youth during the summer months.