SOAR - Hartford Chapter
Hartford became part of the SOAR family in June 2013. In 1926, Armenian immigrants gathered to consecrate the first Armenian church in Connecticut, coming together to celebrate their future in the New World and put their tragic past behind them. Victims of the first genocide of the 20th century, Armenians came to Connecticut in great numbers during the 1920s. It was there they found work, freedom, and safety. Most were orphaned children or members of families separated by geography. Their first order of business was to establish a church, historically the center of Armenian society. Today, there are three Armenian churches in the Hartford area.
Stella Tangiyan
President
Stella Tangiyan is from from Yerevan, Armenia. She lived in Yerevan until she was 16 years old, after which she was accepted into theUnited World Colleges USA (UWC-USA) and completed her last two years of high school in Montezuma, New Mexico, USA. Stella was then accepted into Trinity College in Hartford, Connecticut where she is currently a Senior double majoring in Political Science and Human Rights Studies. She has several jobs on campus (Admissions Office as Student Admissions Associate, Information Services Desk in Library), as well as holding memberships in different clubs on campus (ex. Amnesty International, Pre-law Society). Stella is also a student mentor for several international students at Trinity College as well as a mentor for several female-identifying students. She is interested in International Human Rights Law and planning to pursue a career in that field.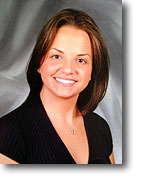 Tammy Bagdigian
Tammy Bagdigian grew up in Connecticut where she was an active member of the Armenian Church of the Holy Resurrection in New Britain, CT. When she was younger she was very active in the ACYOA Juniors and Seniors, where she took on many roles including serving one term on the ACYOA Central Council. Bagdigian is a former Sunday School teacher and continues to teach Traditional Armenian Folk Dancing Lessons to Armenian youth during the summer months.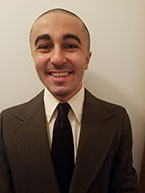 Nathaniel Fair
Born and raised in Connecticut, Nathaniel spent most of his life in New England. In 2017, he graduated from the University of Massachusetts Amherst with a dual degree in Spanish and Middle Eastern studies. During his time there, he was active with various organizations on campus and in the local community, including 2 years as a board member of the Armenian Students' Association. Currently, Nathaniel works as a teacher and a translator. He is passionate about helping make a high-quality education accessible to all people and is always searching for new ways to further that goal.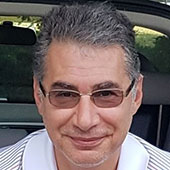 Avetik Harutyunyants
Avetik is a project management professional with 10+ years experience in design and implementation of public health and social development programs, at senior and executive levels. He also has 9+ years of US Government experience in administrative general management, acquisition of services and goods and contracts administration.
Avetik was 22 when he returned to Armenia from Uzbekistan, where his parents moved to in 1968. Avetik graduated from Yerevan State Medical University after Mkhitar Heratsi, and also possesses a bachelor's degree in management.
After completion of his mandatory medical practice in Lori Marz as general practitioner, in 1996 Avetik joined USAID/Armenia. He managed the executive office as the team lead/acting executive officer and accountable property officer. Avetik is the USAID procurement professional, as well as the USAID certified cognizant technical officer for acquisition and assistance programs.
In 2006 Avetik has joined World Vision Armenia as health sector manager/Chief of Party. He led proposals development and managed implementation, monitoring and evaluation of the WVA health projects in over 220 villages of Armenia.
Avetik represented WVA with the key stakeholders, promoted the WVA intuitional visibility and fostered institutional collaboration with stakeholders for joint programming.
For 5 years Avetik was a member of the Working Group of the country coordination committee of the National HIV prevention program.
As a country director/CEO of the country's largest pediatric NGO, the "Howard Karagheusian" MBSO (2013-2014), Avetik provided leadership, operational and programmatic support to over 140 employees of the organization's 6 dental/ophthalmological clinics and child development groups in Armenia & Artsakh republics.
Avetik is married and resides in Hartford County, CT.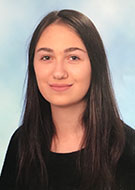 Anna Tangiyan
Anna Tangiyan is originally from Yerevan, Armenia. After living in Yerevan for 16 years, she moved to the Netherlands where she completed her studies in United World Colleges Maastricht. Anna then continued her studies in Trinity College, where she is currently a Sophomore double majoring in Biology and Neuroscience with pre-med track. She is highly involved on campus, while undertaking various on-campus positions (Health Educator in Trinity College Health Center, PHAB co-coordinator in The Women and Gender Resource Action Center, Career Studio intern in the Center for Student Success and Career Development), as well as working with different academic departments as Research Assistant, Supplemental Instruction leader, and Teaching Assistant. Anna is highly motivated to spread awareness about body positivity and healthy lifestyle, and believes that a career in Medicine will help her to continue this journey.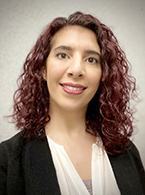 Lauren Varjabedian
Lauren Varjabedian is a Connecticut native, born and raised in the Hartford area. Lauren has always had a strong connection with her church, and at one time served as a choir member, and as the sole Sunday School Teacher/Director. In 2015 for the 100th Anniversary, Lauren served as a co-chair of the Armenian Genocide Commemoration Committee. Lauren attended the University of Connecticut and graduated with a Bachelors in History, and in recent years she returned to UCONN to receive a Masters Certificate in Corporate and Regulatory Compliance. It is also where she is presently enrolled in their MBA program. She currently works as a Sr. Associate in Contracts in the Aerospace industry which is both fast paced and exciting. In their free time, Lauren and her partner Evan enjoy spending time with their dogs, cooking, and being active outdoors.