SOAR - Hartford Chapter
Hartford became part of the SOAR family in June 2013. In 1926, Armenian immigrants gathered to consecrate the first Armenian church in Connecticut, coming together to celebrate their future in the New World and put their tragic past behind them. Victims of the first genocide of the 20th century, Armenians came to Connecticut in great numbers during the 1920s. It was there they found work, freedom, and safety. Most were orphaned children or members of families separated by geography. Their first order of business was to establish a church, historically the center of Armenian society. Today, there are three Armenian churches in the Hartford area.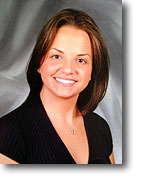 Tammy Bagdigian
Co-President
Tammy Bagdigian grew up in Connecticut where she was an active member of the Armenian Church of the Holy Resurrection in New Britain, CT. When she was younger she was very active in the ACYOA Juniors and Seniors, where she took on many roles including serving one term on the ACYOA Central Council. Bagdigian is a former Sunday School teacher and continues to teach Traditional Armenian Folk Dancing Lessons to Armenian youth during the summer months.
Krikor Norsigian
Co-President
Krikor Norsigian grew up in Wethersfield, CT and graduated from the Sunday school program at St. George Armenian Church in Hartford. During his childhood, he enjoyed being a counselor at St. Vartan camp and enjoyed organizing and participating in ACYOA Jr. events. During his time at Trinity College, he was the president of Trinity College Armenian Club. Krikor is currently the secretary of the Gamsaragan Lodge in the Knights of Vartan, and is looking forward to linking Armenian communities from around the world together.
Mariam Avagyan
Mariam Avagyan grew up in Yerevan, Armenia where she attended Lyceum after Anania Shirakatsy and got deeply interested in natural sciences. She then moved to Hartford, CT to start her studies in Engineering and Mathematics as an undergraduate at Trinity College. Having a passion for education, Avagyan volunteered as a tutor for over 8 years throughout Armenia and Hartford. She organized various training sessions for high school students about volunteerism (as a little perk, the training sessions also included Armenian Folk Dancing!) After moving to Hartford, Avagyan has been organizing Robotics lessons for middle school students in various schools in CT in collaboration with IEEE Robotics and Automation Society.
Nellie Massoni
Pic and Bio coming soon