SOAR - Harrisburg Chapter
Harrisburg joined the SOAR family in May 2018. The history of Harrisburg, the state capital of the Commonwealth of Pennsylvania, has played a key role in the development of the nation's industrial history, from its origins as a trading outpost to the present. During part of the 19th century, the building of the Pennsylvania Canal and the Pennsylvania Railroad, allowed Harrisburg to become one of the most industrialized cities in the Northeastern United States.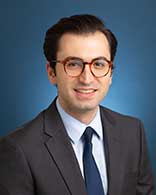 Vartan Matossian
President
Vartan is a medical student currently spending his days at the hospital as part of his hands-on curriculum to become a physician. He comes from a first-generation Armenian background with various prior experiences ranging from managing volunteers at the UCLA hospital in Los Angeles to being an Eagle Scout who has been an active member and organizer of community service projects. Vartan also served as a tutor for the Committee for Armenian Students in Public Schools (CASPS) in Los Angeles, supporting educational advancement, and actively endeavoring to solve social and academic challenges facing Armenian students in local public schools.
Vartan speaks two languages, English and Armenian, and is working on medical Spanish as a third. He lives in Harrisburg, Pennsylvania though he is from Los Angeles originally. In his free time, he enjoys playing the drums with his cover band at local restaurants and watching classic films.
Mariam Melkumyan
Mariam was born in Yerevan, Armenia and moved to Maryland in 2013, where she completed her high school and undergraduate degree in Neuroscience. Mariam is now a dual-title PhD student in neuroscience and clinical and translational sciences at Penn State College of Medicine in Hershey, Pennsylvania. Mariam aims to improve mental healthcare and understanding of neuroscience in Armenia after she becomes an established scientist. Mariam tries to be involved in Armenian community, and has been the president of the Armenian student association at her undergraduate institution, American University, in Washington, DC. Outside of her studies, Mariam enjoys playing with her cat, doing jigsaw puzzles, playing mini-golf and board games, and going on walks. Mariam is very excited to be part of the SOAR Harrisburg chapter and the Armenian community in the area.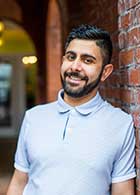 Serge Terzian
Serge was born in Beirut, Lebanon and raised in Atlanta, GA after emigrating to the US at the age of 10. He migrated North in 2020 settling in Harrisburg, PA where he now resides with his wife and two sons. He holds a B.B.A in Management Information Systems from the University of Georgia and works as a Sr Solution Consultant at ServiceNow. Working primarily with healthcare systems, Serge has had the opportunity to learn more about the area and the inner workings of Pennsylvania's providers to help them to grow and optimize their business as well as user experiences.
When Serge is not busy helping healthcare communities, he enjoys spending time with his family, golfing, and cheering on his favorite sports teams. Serge is very excited to be involved in the Armenian Community and the Harrisburg chapter of SOAR.