SOAR - Geneva Chapter
Switzerland became part of the SOAR family in September 2013. The first Armenian families settled in Switzerland at the end of the 19th century, fleeing persecution of Sultan Abdul Hamid in the Ottoman Empire. They settled mainly in French-speaking Switzerland. During and immediately after the Armenian Genocide of 1915, other refugees arrived. In the 1920s, Pastor Kraft Bonnard created an orphanage in Begnins where more than 200 orphans and genocide survivors found refuge. After finishing their studies, some remained permanently in Switzerland.
At the end of the Second World War, the community in Switzerland reached approximately 300 people. Since then, the number has continued to grow. The situations in the Middle East, in the former Soviet Union, and in independent Armenia have encouraged many Armenians to immigrate to the West. It is estimated that approximately 5,000 Armenians live in Switzerland today.
The majority of Swiss Armenians are members of the Armenian Apostolic Church, under the jurisdiction of the Mother See of Holy Echmiadzin. There are four church regions: Geneva, Zurich, Neuchatel and Lugano. The Saint Hagop Church in Troinex serves mainly the West of the country, while Armenians living in the East conduct their religious services in a number of sister Swiss churches. There are also a smaller number of Armenian Catholics belonging and even a smaller number of Armenian Evangelicals.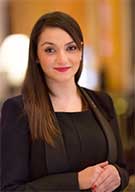 Caroline Khosrovian
President
Caroline was born in Yerevan and moved to Marseille with her mother and two brothers in 1994. She was born Parandzem Khosrovian but changed her name to Caroline Khosrovian after moving to France.
Caroline has a Bachelor degree in Public Relation and Communication and has worked in the hospitality business for the past ten years. The last six of those years she spent in Cannes  as a Guest Relation Manager in one of the nicest hotels on the French Riviera. Currently, she is working in Geneva in the head office of Ultima Collection of hotels, chalets, and villas as a Guest Experience and Quality Director.
Caroline's passions are world travel, reading books and being with her family and friends. Being a godmother to a young lady named Meri in Spitak, her goal this year is to visit Armenia as it has been twenty years since she has been there.
As a Président of SOAR Geneva Chapter, Caroline intends to bring a new dynamic with new ideas to continuously improve their commitment to Armenian Children around the world.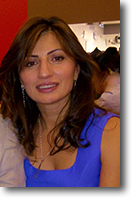 Astrig Marandjian
Vice President
Astrig is from Gumri, Armenia. After the earthquake in 1988 she became an orphan and was helped by humanitarian NGO's and donators. Once an adult, she decided to devote her life to people in need. After her studies in foreign languages in Yerevan State University at the age of 24, she became the director of SPFA, a French humanitarian NGO, one of most successful organizations in the field of family sponsorship, charity restaurants, children summer camps, youth clubs, etc. Her professional experience provided her knowledge and expertise about the problems faced by orphanages in Armenia and related issues. To strengthen her capacities she earned a Masters degree in Humanitarian Action from Geneva University.
She is currently living in Switzerland and working at the Armenian Center of Geneva, as administrator. She is the author of 2 books for children: "Armenian Popular Tales" in French and "Armenian Songs and Poems of Our Childhood" in Armenian. Married, she is mother of two children: Ararat and Loucine.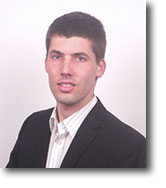 Joachim Berney
Treasurer
Joachim was born in Switzerland and got a Master's degree in Political Science at the University of Lausanne. Being very interested in the field of development and cooperation, he worked several months with a Swiss NGO in an educational centre in Nicaragua. His main activities and responsibilities included fundraising, working with children as well as teaching sports and English. Joachim is currently working in Brussels for the Mission of Switzerland to the European Union, as Attaché to the Science & Technology Counselor. By getting involved in SOAR, he wishes to support those who need it the most.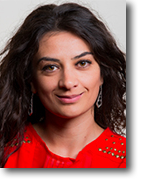 Victoria Abrahamyan
Regional Director overseeing Fundraising/Event Planning Chapters in the Eastern Hemisphere
Victoria was born in Armenia and has lived Belgium since 2008. She has 2 Master degrees in Arabic and European Political and Administrative Studies from Yerevan State University and College of Europe (Belgium). Humanitarian work has always been her field. She has volunteered a few months at the Zatik orphanage in Yerevan, studied and worked for a year in Damascus and Beirut volunteering for local NGOs. For two years Victoria has worked in one of the centers of the Belgian Red Cross as a social assistant working with vulnerable groups of people such as asylum seekers, refugees and immigrants. For the last 3 years she has been working in the field of development and cooperation, previously as a Task manager for Central Asia, Asia and Middle East regional programmes at the European Commission, Directorate General for Development and Cooperation and currently at GIZ International Services, German Development Agency. She is fluent in English, French, German, Russian, Arabic and Armenian. By helping SOAR, Victoria wishes to bring a change to the lives of those who need it the most.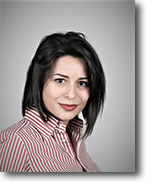 Anna Hovhannisyan 
Anna was born in Yerevan but moved to Geneva in 2008 at the age of 28. As a student in Armenia she was often involved in volunteering activities, working with children with disabilities in Oshakan Pediatric Rehabilitation Center and participating in various donation programs for orphaned children in Yerevan.   
Anna graduated from the Foreign Languages University after Briusov she held as well a diploma from the French University ParisXII in International Trade Management having done her studies simultaneously.  She is fluent in  French, English, Russian and Armenian.  
Anna has many years of work experience in international corporate environments both in Armenia and Switzerland, working in various departments like marketing, production, supply chain, order management and finance. Recently she changed her career path towards Interior design and architecture after her studies in Geneva.  
Currently Anna started her own company and managing renovation projects. Her husband and two children support her in all her activities. 
After Anna moved to Geneva, she never stopped volunteering, giving her time and efforts to those in need.  She has been volunteering for Fondation Claire Bois, Caritas and Emmaüs. Anna is happy to be able to continue her volunteering activities with SOAR.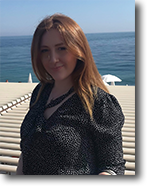 Mariam Stepanyan
Mariam Stepanyan is currently Master of Science in Management student at University of Geneva and Hosted Meetings Programme Manager at Learnit. Mariam graduated from Anania Shirakatsy Lyceum in Yerevan, Armenia and holds Bachelor of Arts in Business degree from the American University of Armenia, where she has also worked as academic Teaching Assistant. Along studies at college Mariam interned at ARARATBANK OJSC, Technology and Science Dynamics INC. and Microsoft Armenia.
She has always been an active student involved in university life and an active community member.