SOAR-Frankfurt/Bonn joined the SOAR family in January 2014. Like much of the Armenian Diaspora, most Armenians immigrated to Germany after the Armenian Genocide of 1915. After the Second World War, many Soviet Armenians, former prisoners of war, fled to the American occupied areas of Germany. The first Armenian organization in Germany was the Armenian Colony of Berlin, established in 1923. By the mid-1980s, multiple Armenian associations were established in Berlin, Cologne, Frankfurt, Hamburg, Munich, and Stuttgart. There are more than 30,000 naturalized Armenians living in Germany today.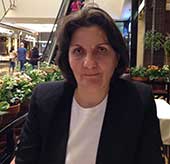 Annie Marcaryan
President
Originally from Yerevan, Annie currently lives  in Walldorf, Germany, working at SAP SE – a German Multinational Software Company. She married and moved to Sweden in 2020, later moving to Germany with her husband.
Annie has been a volunteer with SOAR since 2015. She is fluent in Armenian, Russian, English, and Swedish, and is currently learning German.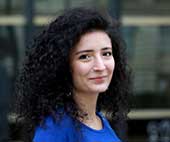 Geghetsik Afunts
Geghetsik is a Ph.D. candidate in economics at CERGE-EI, a joint workplace of Charles University and the Economics Institute of the Czech Academy of Sciences, and a research assistant at the Research Centre of the Central Bank of the Federal Republic of Germany.
From 2017 she was a member and from 2018 to 2021 a member of the Executive Committee of the Armenian Youth Association in the Czech Republic, which organizes cultural, educational, informative and humanitarian events.
She was a member of the board of directors of the Prague branch of the Society for Orphaned Armenian Relief from 2015 to 2021, before moving to Germany. She was a teaching assistant for econometrics and time series at CERGE-EI and University of Economics in Prague since January 2016.
Before moving to Prague in 2014, she was a TV host on a news channel in Armenia for more than 3 years. She had two programs that were delivering and discussing economic news: Business News and Business Interview. She received her master and bachelor degrees at Armenian State University of Economics in Yerevan.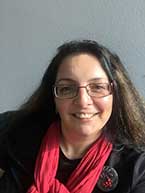 Lusine Schahramanyan
Mother of three, born in Yerevan, Lusine currently lives in Germany and works now for 15 years for GIZ actively involved in German development cooperation all over the world.
Being graduate of the Yerevan State University, Lusine has experience of teaching languages at universities, translation/interpretation and is fluent in Armenian, Russian, German, English and Polish.
Arman Zhamharyan
Arman Zhamharyan was born in Yerevan, Armenia. He obtained his Bachelor's degree in Business Administration with honors from the American University of Armenia (AUA) in 2018. The same year he moved to Frankfurt, Germany to pursue his Master's degree. Currently he is enrolled in his last semester of the MS in Money and Finance of the Johann Wolfgang Goethe-University of Frankfurt.